Data Visualization Data visualisation is an important visual method for effective communication and analysing large datasets. Through data visualisations we …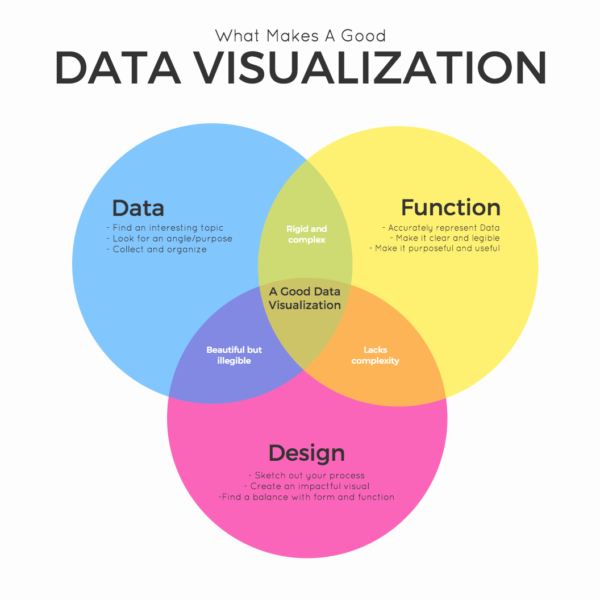 Data Visualization
Data visualisation is an important visual method for effective communication and
analysing
large datasets. Through data visualisations we are able to draw conclusions from data that are sometimes not immediately obvious and interact with the data in an entirely different way. This course will provide you with an
informative
introduction to the methods, tools and processes involved in visualising big data. It is focused on communicating complex information with visually appealing charts, graphs and maps. Participants will learn to create clear and meaningful visualizations using publicly available data, tell stories with interactive maps, and create beautiful and effective graphs and charts.
Objective
We will use a variety of tools to help you understand and grow skills in analyzing and visualizing big data using maps, graphics, mashups and related tools. You'll work hands-on with the tools and create real examples of charts, graphs and maps. This assures that you will be able to apply your new skill set immediately upon completion of the training.
Course Duration:
 2 months (four hours a day, 3days a week) or 1month 5days a week
Targeted market:
 ideal for people interested in a rapid-paced, immersive experience in data visualization tools & techniques. This workshop is ideal for scientists, communication professionals, journalists, bloggers, educators, communications academic faculty, and those interested in becoming proficient in learning to communicate data with clarity and creativity.
DV: Information visualization

FREE

03:00:00

DV: Design approaches for visualisation

Unlimited

DIG: Visual communication

Unlimited

Understand the different aspects of visual communication and how to use it in your communications

DV: Graphic design techniques with data visualizations

Unlimited

DV: Interactive data illustrations for the web

Unlimited

DV: Create interactive maps

Unlimited

DV: Importance of and how to clean and process data for visualizations

Unlimited

DV: Hands-on experience using different data visualization tools

Unlimited