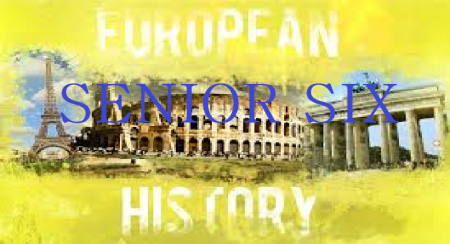 Instructors
EUROPEAN HISTORY SENIOR SIX (S.6)
EUROPEAN HISTORY SENIOR SIX (S.6)
Course Curriculum
ORLEANS MONARCHY LOUIS PHILIPPE 1830-1848

FREE

03:10:00

This unit is about The Orleans monarchy under Louis Philippe in 1830-1848
SPANISH MARRIAGES 1846

FREE

03:20:00

This unit is about the Spanish Marriage of 1846, under queen Isabella and her sister infinite (heir to the throne).
THE AUSTRIAN EMPIRE

03:27:00

This unit is about the Austrian Empire a small German state called Austrian which was german in population and origin (Austria proper), bohemia and Moravia which were inhabited by czechs Slovaks and Germans, Hungary occupied by Magyars with many minorities namely Serbs and Croats, Galicia. Occupied by Ruthenia's and poles acquired during the partition of Poland.
1848 REVOLUTION IN FRANCE

03:50:00

This unit is about thhe 1848 Revolution in France and It was important to note that although the 1848 revolutions occurred in different countries, they happened to share a number of similarities in regard to their origins, causes and effects.
1848 REVOLUTION IN GERMAN STATES

02:00:00

This unit is about the 1848 Revolution in Germany States, The German 1848 revolutions were nationalistic though with a strong desire for a constitutional parliament, an elected assembly for all Germans (liberalistic demand).
1848 REVOLUTION IN AUSTRIA

03:50:00

This unit is about The 1848 Revolution in Austria Though Metternich helped Austria to escape the 1830 revolutions through his Metternich system, austral succumbed to the 1848 revolutions because of the inherent weaknesses are of which its heterogeneous nature.
THE EASTERN QUESTION

03:00:00

This unit is about the Eastern Question which was a true description of turkey in the nineteenth century.
SYRIAN QUESTION 1831-1840

03:00:00

This unit is about the Syrian Question of 1831-1840, This was the 2nd phase and it began immediately with the questions of Syria.
BULGARIAN QUESTION AND CONFERENCE OF BERLIN

03:00:00

This unit is about the Bulgarian Question and the Berlin Conference.
Course Reviews
5 stars

0

4 stars

0

3 stars

0

2 stars

0

1 stars

0
No Reviews found for this course.