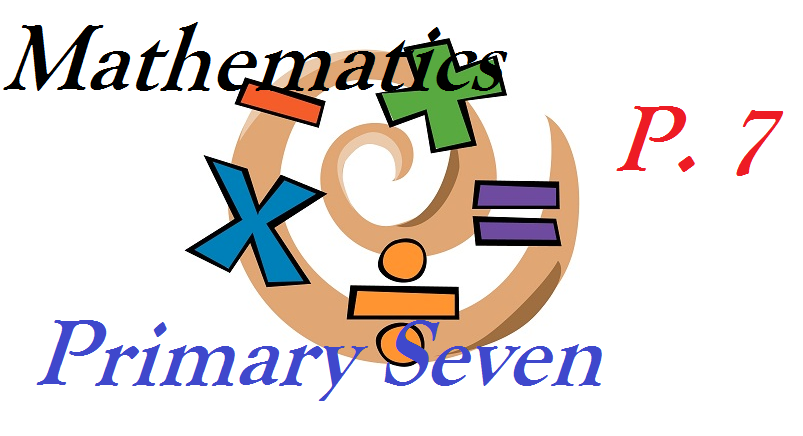 PRIMARY SEVEN MATHEMATICS
PRIMARY SEVEN MATHEMATICS
This Unit is about Primary Seven Mathematics. It can be offered by all pupils who under go the primary program.
They are able to do it effectively if they finished Primary Six Mathematics.
The topics involved may be studied in other levels but here, they are studied on a broader scale.
The topics include Volume, Speed, Circles, Pie charts , Shapes among others.
Course Curriculum
VOLUME-P.7

FREE

01:20:00

This unit show how volume can be found like in cylinders and total surface area.It also gives emphasis on the Triangular Prism in relation to calculating volume.Finding speed ,time and distance is looked at here also.
CIRCLES-P.7

FREE

01:15:00

This unit talks about circles.it also shows how area is calculated in circles.
PIE CHARTS-P.7

00:45:00

This unit talks about pie charts and how the used to represent information.its also talks about the temperature graphs and probability.
COORDINATES-P.7

00:45:00

This unit talks about coordinates and shows how to plot numbers on the grids.It also teaches how to interpret travel graphs.
NUMERATION SYSTEM AND PLACE VALUES-P.7

01:00:00

This unit talks about Numeration system and Place values.It shows what they are and how they are used.
Number facts sequences

00:45:00

This unit talks about Number facts sequences.it shows the different categories in which different numbers fall in like even or odd.It also talks about shapes
Fractions.P.7

00:30:00

This unit is about fractions.It shows the different types of fractions and how to calculate different fractions.
PERCENTAGES-P.7

01:15:00

This unit is about percentages and their application.it shows how can calculate profits and losses. It also talks about commission in terms of percentages.
ADDITION AND SUBTRACTION OF DECIMALS-P.7

01:00:00

This unit is about addition and subtraction of decimals.it also shows the application of fractions.
SETS AND RATIOS-P.7

01:15:00

This unit talks about sets and ratios.It shows how sets are formed like on a venn diagram and how sharing is done given different ratios.
Course Reviews
5 stars

0

4 stars

0

3 stars

0

2 stars

0

1 stars

0
No Reviews found for this course.