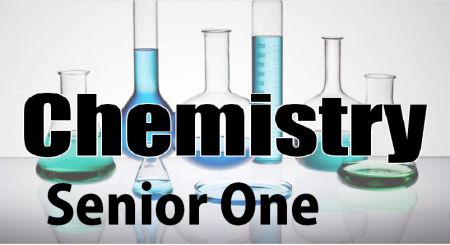 This Course is Chemistry Senior One and is offered by students who finished Primary Leaving Examinations to continue to Secondary.
This Course has topics which introduce a student to topics like Matter, Mixtures , chemical elements among others.
These topics make one understand more about chemical compounds among other things.
Course Curriculum
CHE1: CHEMISTRY INTRODUCTION

FREE

01:00:00

This is an introduction to Chemistry in Secondary education. It gives the basic elements that are essential in understanding the subject in order to connect with different aspects of the subject.
CHE1: MATTER

FREE

01:15:00

This unit gives an an in depth discussion about how matter is composed and how it can be formed into different other substances forming different components of matter
MATTER

10, 00:00

CHE1: MIXTURE S.1

FREE

00:00:00

This unit shows how different solutions can be mixed together to form more substances for formation in chemistry.
MIXTURES

10, 00:00

CHE1: CHROMATOGRAPHY

FREE

01:00:00

Chomatography entails separation of mixtures. It involves mixing different substances to form different solutions.
CHROMATOGRAPHY

10, 00:00

CHE1: ELEMENTS,COMPOUNDS AND MIXTURES

FREE

01:00:00

A description of how molecures and different componets are formed.The physical composition of different elements and substances is provided with their formation
MIXTURES

10, 00:00

CHE1: THE ATMOSPHERE AND OXYGEN

FREE

01:00:00

This unit involves the preparation of Oxygen from various substances through different experiments carried out.
THE ATMOSPHERE AND OXYGEN

10, 00:00
Course Reviews
5 stars

0

4 stars

0

3 stars

0

2 stars

0

1 stars

0
No Reviews found for this course.