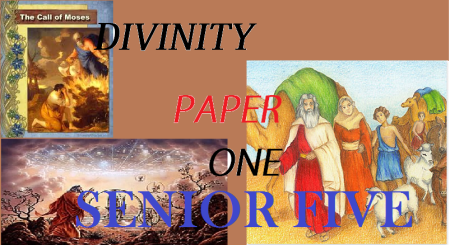 Instructors
DIVINITY PAPER ONE SENIOR FIVE
DIVINITY PAPER ONE SENIOR FIVE
This Course is about Divinity Paper One and is offered in the Advanced Level of Secondary Education.
The Course has topics which relate to the bible and mostly the Old testament. It has topics like the creation accounts and the differences or similarities they have as a whole.
The Course also has topics like the prophets in the bible and relevance of what they did to Christians as a whole.
The Course has some supporting information like in the links and also has videos to explain more about those topics.
Course Curriculum
DIV1/5: CREATION STORIES IN THE OLD TESTAMENT

FREE

02:00:00

This unit is about the two creation stories in the bible and the differences and similarities they have.
CREATION STORIES IN THE OLD TESTAMENT assignment

10, 00:00

DIV1/5: THE FALL OF MAN

FREE

02:00:00

This unit is about the Fall of man and also leads you straight into the story of Cain and Abel also the Tower of Babylon.
THE FALL OF MAN assignment

10, 00:00

DIV1/5: CAIN AND ABEL

FREE

01:00:00

This Unit is about Cain and Abel and also about the tower of Babylon.
DIV1/5: THE CALL OF ABRAM

FREE

03:00:00

This unit is about the call of Abraham and his significance in the bible.
THE CALL OF ABRAM assignment

10, 00:00

DIV1/5: PASSOVER FESTIVAL

FREE

01:30:00

This unit is about the Passover festival in the bible and its relevance.
DIV1/5: MOUNT SINAI

FREE

01:00:00

This unit is about the Israelites on Mount Sinai
MOUNT SINAI assignment

10, 00:00

DIV1/5: THE TEN COMMANDMENTS

FREE

01:30:00

This unit is about the ten commandments and how they were modified in the new testament.
THE TEN COMMANDMENTS assignment

10, 00:00

DIV1/5: MOSES AND JESUS

FREE

01:00:00

This unit compares the lives of Moses and Jesus till their death.
MOSES AND JESUS assignment

10, 00:00

DIV1/5: LEVITICUS

FREE

02:00:00

This unit is about the book of Leviticus and mainly about sacrifices.
LEVITICUS assignment

10, 00:00

DIV1/5: AARON AND HIS SONS

FREE

01:00:00

This unit is about the life of Aaron and his sons in Israel.
AARON AND HIS SONS assignment

10, 00:00

DIV1/5: LAWS CONCERNING LEPERS

FREE

01:30:00

This Unit is about the laws that were affecting the lepers in the bible. it also compares how the people in the Old testament treated them compared to how Jesus did.
LAWS CONCERNING LEPERS assignment

10, 00:00

DIV1/5: DEUTERONOMY

FREE

01:00:00

This unit is about the book of Deuteronomy and specifically about the first commandment in this book.
DIV1/5: ACT OF HEREM

FREE

01:00:00

This unit is about the Act of Herem as seen in the bible.
DIV1/5: THEME OF ELECTION AND BLESSINGS

FREE

02:00:00

This unit is about the theme of election in the bible and blessings and curses.
THEME OF ELECTION AND BLESSINGS assignment

10, 00:00

DIV1/5: CONQUEST AND SETTLEMENT IN CANAAN

FREE

03:00:00

This unit is about the conquest and settlement in Canaan and their religion.
CONQUEST AND SETTLEMENT IN CANAAN assignment

10, 00:00
Course Reviews
5 stars

0

4 stars

0

3 stars

0

2 stars

0

1 stars

0