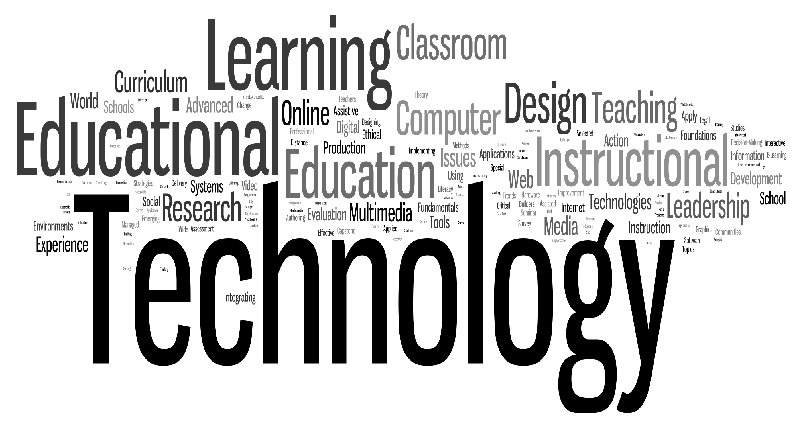 DOWNLOAD TO ACCESS THIS COURSE
This course will expose you to the understanding of many concepts and theories in educational technology as they affect the teaching profession.
It will assist you to be able to apply the concepts and theories to the task and roles that you are expected to perform as a teacher in private and public educational institutions.
Course Curriculum
ET: Meaning and interpretation of Educational Technology

FREE

03:00:00

This unit will help you to identify the major terminologies to be used in the course and also help you to get broader picture of the course you are taking.
ET: HISTORY OF EDUCATIONAL TECHNOLOGY: GLOBAL PERSPECTIVE

FREE

01:30:00

This unit as the name suggests will help you to trace the foot steps of educational technology in regard to human development. It is well packaged to help you put the concept of Educational technology in perspective....
ET: INSTRUCTIONAL TECHNOLOGY

FREE

00:00:00

This unit will help you understand the applicability of the concept of Educational technology. It gives you a set of variables and an approach that will help you enhance the capacity of your learners to adapt to the approach of the goals you have set to achieve.
ET: INFORMATION AND COMMUNICATION TECHNOLOGY IN DISTANCE EDUCATION

FREE

03:00:00

In this unit, you will get to understand the usage of information technology gadgets among other things to enhance distance education.
ET: INSTRUCTIONAL COMMUNICATION SYSTEM AND DEVELOPMENT

FREE

03:00:00

This unit is about communication which is also a key factor in the teaching process. it will help you to understand the concept of communication and the applicability of communication skills in the teaching process. It also offers theories in the communication process alongside other key issues in communication
ET: EDUCATIONAL RESOURCE CENTERS (ERC)

FREE

02:00:00

This unit helps you to understand the supplements to your learners understanding. It will help you to define the concept of educational resource centers, and variables the concept has to offer in your line of duty
ET: INSTRUCTIONAL SYSTEM DESIGN

FREE

01:30:00

This unit is about the concept of information system designing but in lineage to your career as a teacher. it gives you an eye opener test to the concept by explaining this rather complex term in further detail
ET: SYSTEMS AND SYSTEMS APPROACH

FREE

01:30:00

This unit introduces you to systems and systems approach, instructional design and instructional development and it will also discuss the five logical reasons for adopting instructional design and development principles and techniques in our teaching.
ET: FACTORS OF METHODS, MEDIA SELECTION, TIME AND EVALUATION, IN INSTRUCTIONAL SYSTEM DESIGN AND DEVELOPMENT

FREE

00:00:00

This unit looks at the role of methods, Media, time and evaluation in designing instructional mediadeveloping instructional systems. It explains and discusses factors to consider in the selection of media, methods and evaluation strategies in the designing and development of instructional systems
ET: TECHNIQUES OF INSTRUCTIONAL MEDIA PRODUCTION

FREE

01:30:00

In this unit, you will be exposed to the three main ways by which you can make instructional resources available for your use as a teacher.
ET: INSTRUCTIONAL MEDIA IMPROVISATION

FREE

01:00:00

This unit is about instructional media improvisation in absence of relevant media. it will guide you on the technique to safeguard teaching-learning activity from problem of scarcity of required media in the classroom setting.
ET: LETTERING

FREE

00:00:00

This unit discusses the types of lettering which are basically blocks and scripts, these are further subdivided into Gothics, Romans and Italics and Text respectively. Lettering helps to identify, label, emphasise, explain, clarify, notify, in fields of human communication. You will learn more about lettering as a form of communicationas you read on
ET: PRODUCTION OF AUDIO MEDIA

FREE

01:00:00

This unit is about production of audio elements which can aid your learners to conjure visual images to aid their comprehension capacity
ET: PRODUCTION OF VISUAL AND AUDIO VISUAL MEDIA

FREE

01:00:00

This unit is supplementary to the previous one. It will help you to identify other media Production forms of visual and audiovisual media materials is are important aspects of the application of Educational Technology to improve the quality of instruction in the classroom.
ET: PHOTOGRAPHY

FREE

01:00:00

This unit is about photography as a medium of communication you your learners. It will teach you the basic types of photo shots that can help to convey meaning to a photograph
Course Reviews
5 stars

0

4 stars

0

3 stars

0

2 stars

0

1 stars

0
No Reviews found for this course.