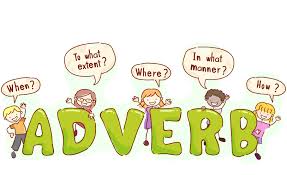 uAn adverb is a word which goes with a verb to tell how, where or when an action is done. In other words, an adverb describes a verb (action). They are words that explain /modify / tell us more about verbs.
Example of adverbs.
Heavily                                       clearly                                       badly
Noisily                                       easily                                          nicely
Lazily                                         quickly                                       well
Carefully                                   occasionally                               fast
Carelessly                                  immediately                             hurriedly
Formation of adverbs.
Most adverbs are formed by adding……ly to the adjective. Others are formed by changing –v- to –i- before adding …..ly.
Examples
Adjective
Adverb formed
CarefulUsualQuiet

Near

Beautiful

Good

Scarce

Bad

Easy

Noisy

General

Sharp

Happy

Heavy

Slow

Lucky

Tidy

Interesting

Nice

Kind

Humble

Proud

High

Swift

clumsy

CarefullyUsuallyQuietly

Nearly

Beautifully

Well

Scarcely

Badly

Easily

Noisily

Generally

Sharply

Happily

Heavily

Slowly

Luckily

Tidily

Interestingly

Nicely

Kindly

Humbly

Proudly

Highly

Swiftly

Clumsily
THIS VIDEO SHOWS THE USE OF ADVERBS
Exercise
Underline the adverbs in the following sentences.
The twins behaved well.
The ball rolled fast to the goal post.
Adam talks slowly.
A crested crane moves humbly.
I fell down heavily as I was playing with my friends.
Our teacher speaks softly.
The performance was ably done on stage.
The angry mother talked rudely to her daughters.
That hymn was nicely sung by the choir.
He answered the questions sensibly.
Form adverbs from these words.
Cruel
Gentle
Cheerful
Terrible
POSITION OF ADVERBS.Adverbs can follow the object of the sentence.
Examples
I drove the car carefully.
She slammed the door angrily.
He talked to me softly.
She sings sweetly.
The boy fell down suddenly.
Where there is no direct object, the adverb can follow the verb it refers to.
Examples.
Maria did well in the exams.
The door opened slowly.
The magazine is published weekly.
Exercise
Complete the following sentences using the words given in the brackets.
The puppy ate the food ……………………………….(greed)
The bull dog growled …………………………….at the stranger.(fierce)
I sat …………………………in the arm chair.(comfort)
The staff choir sang…………………………..at the dedication service.(sweet)
The headmaster left the office …………………….(hurry)
We worked out numbers ……………………………..(easy)
Grandpa laughed………………………………at his own joke.(heart)
The old man gazed …………………………..at the fire.(thought)
I hate people who walk ………………………………..forgetting about heaven.(proud)
His flowers spread…………………………….and covered the whole compound.(wide)
The chief guest arrived…………………….the choir stepped on stage.(immediate)
The National Budget is read…………………………..by the Minister of Finance.(year)
The thief was…………………………beaten by the angry mob.(bad)
As the train was …………………………loaded, it couldn't move very fast.(heavy)CLASSES OF ADVERBS.

Adverbs of manner.

These adverbs tell us how something happens or happened. They are commonly formed from adjectives.

Examples.

They sing beautifully.
He speaks fluently
This pen writes nicely.
His work is badly written.

Adverbs of time.

These adverbs tell us when something happens or happened.

Examples.

He came here yesterday.
We are learning now.
I will be back soon.
I was in p.4. last year.

Words like : now, yesterday, since, soon, before, after, today, tomorrow, already, last, etc are used in telling time.

Adverbs of duration.

These adverbs tell us about the period an action lasted.

Examples.

They waited for three
I haven't seen him for a week.
She has been here moments ago.

Adverbs of frequency.

This class of adverbs also tells us when something happens or happened.

Examples.

She often shouts in class.
He has always been punctual.

Other words in this class include: usually, generally, occasionally, sometimes, rarely, seldom, ever, never, probably etc.

Adverbs of place.

These adverbs tell us where something happened or happens.

Examples

My aunt lives in
Here is the book you are looking for.
I opened the door and there was my brother.

NOTE.

Adverbs are not positioned between a verb and a direct object. They are positioned according to the following.

At the beginning of a sentence e.g

-Yesterday, I saw a mad man.

In the middle of a sentence e.g

-There is commonly no supper on Fridays.

-He always shares.

At the end of a sentence e.g

-Mundu beat his wife badly

-He arrived in town safely.

Exercise Put the adverbs in the right places.

You are right.(probably)
I am here when something happens.(usually)
Her mum cooks food in the evening(usually)
She has been nervous(always)
Do you read upside down?(usually)
I have had a long illness in my life.(never)
We do tests.(daily)
They are against me.(always)
It is difficult to understand.(sometimes)
He has gone to town.(already)

 

Comparison of adverbs.

Some adverbs, like adjectives, have three degrees of comparisons.

Examples.

| | | |
| --- | --- | --- |
| positive | Comparative | superlative |
| Fasthard | Fasterharder | Fastesthardest |

If the adverb has one syllable, we form the comparative by adding ….er and the superlative by adding ….est to the positive.

Examples.

| | | |
| --- | --- | --- |
| positive | Comparative | superlative |
| soon | Sooner | soonest |

Adverbs ending in ….ly form the comparative by adding ….more and the superlative by adding …most.

Examples.

| | | |
| --- | --- | --- |
| positive | Comparative | superlative |
| Swiftlyskillfully | More swiftlyMore skillfully | Most swiftlyMost skillfully |

But not early ,earlier or earliest.

Some of the commonest adverbs form their comparative and superlative degrees irregularly.

Examples

positive
Comparative
superlative
BadlyWellMuch

Late

Little

Near

far

WorseBetterMore

Later

Less

Nearer

farther

WorstBestMost

Last

least

Next

farthest

 Oral work

Use the following adverbs each once to complete the sentences.

Badly, faster, well, rudely, easily.

Timothy performed …………………………than I expected.
He drove……………………………….than our driver did.
Nimbi was treated……………………..by her mother.
She sang ………………………….in the concert than she had ever sang.
This work was ………………………………..done than the first one.

Exercise .

Use the correct form of the word given in brackets to complete the sentences.

The new secretary types ………………than the former old one.(quick)
He is ……………………than his sister.(young)
Tamale bought the mangoes ……………………(cheap).
Nakacwa reads ………………………..than Nambasa.(fast)
That boy is ………………….behaved, that is why every teacher likes him.(good)
She works the ……………………………in the whole class.(hard)
Our driver drives the ……………………………..of all drivers.(fast)
Angella speaks Arabic………………………than I do.(correctly)
She spoke ………………..and every pupil got scared.(rude)
Damiano ……………….received the gift from the guest of honour.(happy)

More exercise on adverbs (topical)

Form adverbs from these words.

| | |
| --- | --- |
| Word | Adverb formed |
| Polite | |
| Careless | |
| Bitter | |
| Sad | |
| Cautious | |
| Suitable | |
| Frequent | |
| Strong | |
| Abrupt | |
| Kind | |
| Prompt | |
| Awkward | |
| Fluent | |
| Patient | |
| True | |
| High | |
| Calm | |
| Wise | |
| Peace | |
| lazy | |
| Interesting | |
| Mental | |
| Economic | |
| Clear | |
| Hurry | |
| Complete | |
| Able | |
| Clumsy | |
| Childish | |
| Horrible | |
| Dangerous | |
| Playful | |

Complete the table below.

| | | |
| --- | --- | --- |
| Positive | Comparative | superlative |
| Highly | | |
| Quickly | | |
| Calmly | | |
| Good | | |
| Bad | | |
| Nicely | | |
| densely | | |
| Greedily | | |