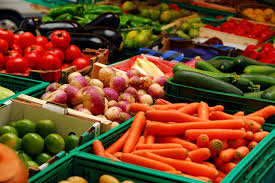 Political instability, inadequate growth in food production, lack of organized marketing arrangements, poverty, and income inequality pose serious challenge to food security in sub- Saharan Africa. Although the food situation is less severe in Uganda (except in regions that have constantly suffered from civil wars, droughts and cattle raids), many areas which have adequate food in the aggregate suffer from debilitating seasonal and regional shortages which urgently need to be addressed.
Food security prospects are further complicated by uncertain trends in food prices across the year, natural disasters and conflicts that drive people out of their communities into internally displaced peoples' camp (IDP), the multiple impacts of HIV/AIDS and malaria, changes in neighbouring countries, and inadequate national policy responses. While food prices have been fairly staple in the past few years, they could start moving upwards if demand in neighhbouring countries particularly Southern Sudan (as recorded in recent years) continues rising, and if major producing regions continue being affected by conflicts and natural disaster (the worst floods in history has been experienced in Teso and the northern Uganda in 2007). How all these trends will interact in unclear, but one cannot exclude the possibility that food output and prices may worsen in future, thus aggravating food security and vulnerability.
Investors consider Uganda's agricultural potential to be among the best in Africa, with low temperature variability and two rainy seasons in the southern half of the country leading to multiple crop harvests per year.  According to the Food and Agriculture Organization of the United Nations, Uganda's fertile agricultural land has the potential to feed 200 million people. Eighty percent of Uganda's land is arable but only 35 percent is being cultivated.
Agriculture accounted for about 23.6 percent of GDP in 2016, and 46 percent of export earnings, and the UBOS estimates that about 72 percent of all Uganda's working population is employed in agriculture.  Uganda produces a wide range of food products including: coffee; tea; sugar; livestock; edible oils; cotton; tobacco; plantains; corn; beans; cassava; sweet potatoes; millet; sorghum; and groundnuts.

Challenges include the lack of high quality packaging capabilities, the lack of storage facilities, high freight costs, the lack of feeder roads in rural areas, a complicated and inefficient land tenure system, and untrained manpower.  Ugandan producers often find it difficult to meet sanitary and phytosanitary standards required to export goods to Europe and the United States. Following decades of instability, farmers in the north again have access to some of the most fertile land in the country — traditionally used to grow cotton.  Most crops, however, are grown on small plots with few or no inputs.
| Cash Crop | 2012 | 2013 | 2014 | 2015 |
| --- | --- | --- | --- | --- |
| Coffee exports (metric tons) | 186,000 | 232,000 | 212,000 | 232,000 |
| Tea exports (metric tons) | 58,000 | 60,000 | 61,000 | 59,000 |
| Cotton exports (metric tons) | 43,000 | 19,000 | 17,000 | 20,000 |
| Tobacco exports (metric tons) | 21,000 | 34,000 | 25,000 | 33,000 |
Leading Sub-Sectors
Commodities: Most Ugandan farmers continue to produce raw commodities such as coffee, tea, cotton, maize, beans, bananas, coco, livestock, and fish.  While staples such as bananas, tea, maize, and beans see strong domestic demand, cash crops such as coffee and spices generate strong revenue in export markets.
Agroprocessing: While Uganda traditionally exports raw commodities, the GOU is advocating for foreign investment in agricultural processing in order to increase export earnings.  One of Uganda's leading exports under the African Growth and Opportunity Act is casein protein, a processed dairy product.
Agriculture Equipment and Inputs:  As farming operations grow, Ugandans are increasingly turning to mechanization and agriculture inputs such as fertilizers, additives, and pesticides to improve productivity.
Opportunities
Casein: Casein is a phosphoprotein derived from milk that is used as an input into a variety of products, including ready-to-drink nutritional beverages, sports nutrition powders, protein bars, yogurts, processed cheeses, chocolates and candy, baking goods, coffee creamers, spreads, ice creams, frozen desserts, soups and gravies.  The U.S. market for casein is generally stable and is supplied almost entirely by imports.  The market size appears to be about 60,000 tons of casein per year, and the average Customs Value is between $7 and $8 per kilogram.
Coffee: By developing relationships with US importers – and strengthening those that currently exist – Uganda can cultivate greater awareness of its high-quality, specialty-grade coffee. Uganda's impressive representation at regional cupping competitions, combined with its regular hosting of Buyers Trips, have already generated high demand for Ugandan coffee. By increasing the supply of specialty-grade coffees through improvements in producer training, production techniques, and processing infrastructure, Uganda can bolster its reputation and representation within the US specialty coffee market.  While Uganda has long been known for its high-quality Robusta – a coffee species usually only associated with lower-grade coffees – it is now gaining notoriety for its Arabica coffee, the most common species of specialty-grade coffees. And with such low volumes of Arabica production globally – only around 20 percent of annual production – the potential to expand Uganda's presence in the specialty coffee market is promising. While there is a current movement to bring specialty-grade robustas into the mainstream, this movement is nascent and small. When activity increases, Uganda will be well-positioned to compete amongst the finest robustas in the world.
Vanilla:  Uganda's favorable climate supports vanilla production, the second most valuable spice in the world.  With 70 years of cultivation, Uganda has a reputation for having a good quality product, but yields remain low.
Fish:  Uganda can possibly improve its U.S. market penetration by cultivating aquaculture production of other species such as carp, catfish, and tilapia where the country already has some existing production capabilities.  Uganda has a strong competitive position with Nile Perch, but this species represents a very small market ($2.2 million in 2016) in the U.S.  Moreover, the sustainability of an export strategy based on Nile perch is very limited given the vastly diminishing fisheries in Lake Victoria.  Uganda should develop a fish export strategy that covers a range of species including wild capture Nile Perch.  There is much greater demand for tilapia and catfish in the U.S.  Competition is stiff from China, Taiwan, Honduras, Ecuador, and other countries but Uganda can develop a broad fish strategy that focuses on quality, safety, and sustainability.
Dried Fruit:  Demand has surged in the United States for dried pineapple, both conventional and organic, mostly due to the continuously growing trend in the consumption of healthier food choices.   The demand for both natural and organic dried pineapple has outstripped supply, causing retail prices to shoot up due to a lack of supply in the market place.  Prices average between $20 and $30 per pound as compared to dried pineapple with additives (sulfur, sugar), which sells for as low as $4 per pound. There are a number of dried organic pineapple brands being sold in the U.S. market, but very few source their product from Africa and less so from Uganda.
Shea Butter: Shea butter products are a part of a rapidly increasing market and are especially popular among African-American communities in the U.S.  Originally primarily an economical source of fat, it has become a popular input into chocolate, cosmetics, and natural products. While historically about 90 percent of shea butter was used in chocolates, cosmetics represents a rapidly growing market segment.  Shea butter is imported to the U.S. in various forms, including refined, unrefined, and as finished goods.
Cut Flowers: The United States is a large cut flower import market and consumer market.  It is the one of the largest cut flower importing countries in the world.  In recent years, African countries have developed cut flower exports, especially Kenya and Ethiopia, which command a lion's share of the EU market with exports of roses to the Netherlands, valued at over $800 million—roughly 10 percent of global cut flower exports.  Knowledge of market trends and pricing is critical.  In 2015, for example, average wholesale prices for sweetheart roses in Holland, the main cut flower crop produced in Uganda and sold through an agent in Holland, was reported to average between $0.24 and $0.25 per stem.  In contrast, standing orders for sweetheart roses out of Miami were approximately $0.39 and $0.40 per stem. In the northeast region of the U.S., at the wholesale market in Boston, prices in 2014-2015 ranged from $0.70 and $1.25 per stem, mainly for imports from Canada and the Netherlands.
Web Resources
Uganda Investment Authority Upcoming Agriculture Projects 
Uganda Ministry of Agriculture 
East Africa Trade & Investment Hub – Agriculture
National Agricultural Advisory Services (NAADS) 
American Chamber of Commerce of Uganda