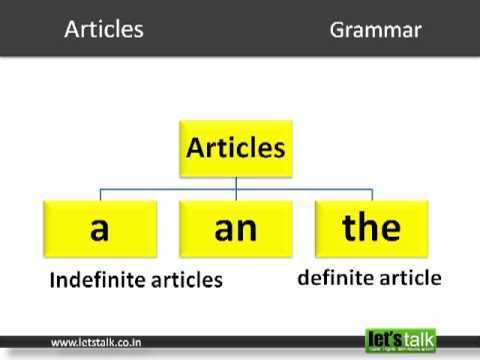 There are three articles with singular countable nouns; these are:-
a) a b) an    c) the
Article a
i)This article is used with common nouns which begin with a consonant for example :-
a monkey                     a car
a plate                         a lion
a tree                          a dog
a bench                       a table
ii) It is also used with common nouns with adjectives for example :-
a torn shirt
a black skirt
a tall man
a lazy woman
Article an
This article is used with words beginning with vowels a,e,i,o,u
For example
an animal                         an apple
an egg                             an eagle
an angel                           an onion
an ox                                an owl
an orange                          an elephant
It is also used before common nouns with adjectives which begin with vowels
For example
an old man
an ugly woman
an early bird
an assistant prefect
an open door
an obedient servant
USES OF ARTICLES IN ENGLISH VIDEO,

N.B.
'An ' can also be used with words which begin with letters that are pronounced like vowels for example:-
an honest child
an hour
an heir
an heiress
an x-mas tree
an x-ray
Article THE
i) 'The ' is used for a particular person , thing or place.
For Example :-
a) The hat he wore was very dirty (particular)
b) The man you talked to was kind. (particular)
ii) It is also used before names of seas, oceans etc.
for example.
a) The Indian Ocean
b) The Redsea
c) The Pacific Ocean etc
It is also used before superlative adjectives
for example
the tallest boy
the wisest king
the thinnest woman.
LEARN MORE ABOUT ARTICLES A, AN, THE IN THE VIDEO BELOW
ASSIGNMENT : Articles assignment

MARKS : 10

DURATION : 1 week, 3 days