British Columbia is one of the provinces in Canada found in the Western ports of the country. Its capital is Victoria. It is a less developed region in the North America and has a law population density of about 3people per 6q.km. The region is made up of a variety of geographical features with a very difficult relief. The Rocky Mountains occupy much of the province.
THE CLIMATE OF BRITISH COLUMBIA
The province experiences a cool Oceanic type of climate characterized by the following.
There are mild wet winters
Cool foggy summers
The overage temperatures above are above the freezing point
Winter precipitation especially in the Mountainous region is in form of snow.
A Winter temperature are below freezing point
The temperature range is small.
What is natural resource?
This is anything that was created by God but can be used by man to satisfy his needs. British Columbia is endarled /gifted with a number of natural resources and these include forest resource ie timber, mineral resource e.g petroleum, natural gas bauxite etc.
Water resource ie fisheries, hydro electricity power potential
On the other hand, British Columbia has a limited agricultural natural resource and this is because the soils are generally poor, less than 2% of British Columbia is cultivated land.
LAND USE IN BRITISH COLUMBIA
Cultivated land – 1%
Other land that can be used for cultivation – 4%
Forested land – 39%
Rocky mountains & glaciers – 56%
Find:-
Cultivated land
Other land
Forested land
Rock Mountain / glaciers
FORESTRY IN BRITISH COLUMBIA
It is an important human activity in British Columbia; forestry has been a major source of timber and has lead to forestry Based industries.
The major center of timber trade include:- Vancouver and Prince Rupert where forestry based industries have been developed. Forestry in BC involves the maintenance of forests as well as lumbering. The major tree species include:-
Douglas fir
Western herm lock
Red cedar
Western white pine
Yellow Cyprus
Balsum fir

FACTORS FAVORING FORESTRY IN BRITISH COLUMBIA
The presence of an extensive thick
Rugged terrain has been left for forestry because it is unsuitable for other activities.
The cool damp maritime climate at the coast as well as the continental mountain climate has vavoured forestry, this because cultivation and settlement is difficult under such climatic conditions.
The poor or thin fertile soils not suitable for agriculture.
Available expense of land due to low population.
Favourable government policy ie good forestry management e.g pach cutting of trees encouraged.
Available skilled labour e.g foresters, lumber men lumberjack.
Improved transport into the interior for example extension of railways such as the Canadian national /Railways, British Columbia railways.
Available market for forestry products.
Presence if ice that helps in the transportation logs during winter.
Accessibility to the west coast coniferous forests. Ie due to easy water transport there by helping the exploitation of forests.
Presence of rivers has enabled the development of wod pulp industries and saw mills. This is because logs are early transported by rivers to these centers.
Existence of advanced technology e.g lumbering and forest activity.
CHARACTERISTICS OF CONIFEROUS TREES
The trees grow in pure stand.
They provide softwood timber.
The trees tend to be corn shaped.
They have small and tinny needle shaped leaves.
They don't shade off their leaves.
They are ever green.
They provide light wood trees
They mature very timber.
The trees have short branches which are curved upwards towards the top.
The trees have straight trunks.
Leaves tend to be waxy.
Forest have limited under growth.
The trees live to a great age.
LUMBERING IN BRITISH COLOMBIA
Lumbering involves cutting of trees for timber. This activity is carried out throughout the year in British Columbia. However, the busiest time is in winter, (winter logging). The trees/logs are driven to the saw mills by using the rivers.
The processes involved in Lumbering Rivers.
The trees are cut by lumbermen. Who work in pairs using the power driven chain saws or the pit saws.
The trees are cut into sizable longs of about 12m in length for easy logging and transportation.
The choker men drag the logs to the central places where they are loaded onto truck or rivers.
The logs are then transported to the saw mills.
At the processed into lumber, ply wood and other products.
PRODUCTS OF TIMBER INDUSTRY
Lumber or timber
Ply wood
Wood pulp paper
Clip boards
Matches
Soft boards, etc
A MAP OF BRITISH COLUMBIA SHOWING DIFFERENT FEATURES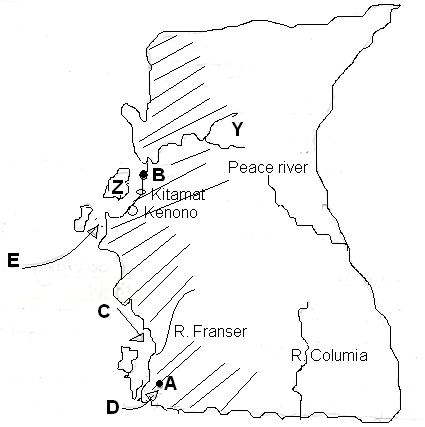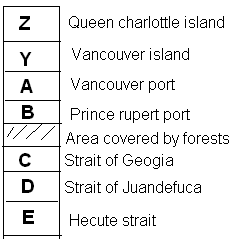 PROBLEMS OF THE LUMBERING INDUSTRY
The ragged terrain in the Rocky Mountains and the coastal ranges limits the extension of infrastructure.
Lumbering has been confined to certain areas that are accessible and this has led to the over exploitation of forest on the Coast Ranges and offshore islands.
Wide spread fire outbreaks especially in summer, has led to the destruction of large areas of forested land.
Competition of market for forestry products with other forestry producing countries.
The remoteness of the European countries which tend to be an important market.
Pest attacking trees.
Diseases that affect the trees leading to their destruction.
Destruction of trees by avalanches.
Transport problems leading to inaccessibility in certain areas.
Winters tend to be severe and may hinder lumbering activities.
There are sometimes shortages of labour e.g felling trees, bark trees, loading and off loading, transportation, etc.
Dangers that are caused by wild animals that may harm the lumber men e.g bears.
There are some tree species which take long to mature e.g 80 years
Accidents occur during felling of trees leading to injury and deaths of lumber men.
POSSIBLE SOLUTIONS TO THE PROBLEMS OF LUMBERING
Fire guards have been employed to watch over the forests from high towers, in addition, constant patrols have been conducted to check any possible outbreaks.
The development of well trained mobile and well equipped fire fighters.
Use of air craft to spray water and carbondioxide over burning forested areas.
Restriction of holy marker camping and laying out guide lines how people follow guidelines.
The introduction of forest farming.
Carrying out controlled cutting of trees to avoid systematic deforestation i.e proper forestry management.
Afforestation i.e planting of trees even in rears they haven't existed.
Re-afforestation. Planting trees where they have been cut.
Improvement at the forestry products so as to secure adequate portion of market.
Use of rivers to transport logs to the saw mills or lumber centres.
Spraying the trees with pest diseases and other drugs to fight pest and diseases.
The use advanced tree cutting techniques in order to minimize accidents.
The use of parts time work include; migrant worker in order to overcome the problem of labour shortages.
CONTRIBUTIONS OF FORESTRY TO THE DEVELOPMENT OF BRITISH COLOMBIA
Foreign exchange is earned from the export of the forestry products.
Source employment.
Forestry has led to the provision of law material industrial development.
It has led to the development of infrastructure e.g roads, HEP, etc.
The forests have acted as habitants for wildlife i.e they have helped in wildlife conservation.
Forestry has been a source of government revenue through taxation.
It has been a source of herbal medicines.
It has promoted research i.e scientific/ecological research.
The forests have been an important tourist attraction; people may visit forests for ecotourism or recreation.
Forests have led to the modification of climate i.e contribution to rainfall formation for agriculture.
Forestry has enabled diversification i.e forests product soils from erosion and adds manure to the soils.
It has contributed to soil conservation i.e forests protect soils from erosion and add manure to the soils.
British Columbia is the leading province in Canada in the production of forestry products. The other provinces include;
Quebec
Ontario
Manitoba
EXPLOITATION OF WATER RESOURCES IN BRITISH COLOMBIA
The water resources of British Colombia include:
Fisheries
Hydro Electricity Power Potential
FISHING IN BRITISH COLUMBIA
Fishing is the major occupation in the province of British Columbia.
Fishing has developed here on a large scale or commercial scale.
British Columbia is the leading province in the production of fishing Canada.
It contributes about 30% of the fish are the salmons, lobsters.

The main fishing grounds
These include the following;
Franser
Skeena
Strait of Georgia
Strait of Juan de Fuca
Hectate Strait
North pacific Ocean
Groups or Categories of Fish Caught
Pelagic
These live and breed near the surface of the sea down to about 60m deep. They usually move in colonies called shook e.g Herrings, Tuna, Mackerel
Dermersal
These live or inhabit deep down in the sea to a depth of 2oom e.g Cod, Halibert, Had dock.
Anadromous
They live in ocean water but migrate and breed in fish. Water breeding period are usually in summer and autum e.g salmons
Crustaceans
They are also known as shell fish. They in real sense aren't true fish but sea animals with external skeletons e.g lobster, crabs, drawns, shrimps, shrimps, oysters
Specific fish caught are;
Salmons
Herrings
Tuna
Haddock
Plaire
Eod
Halibut
Flounders
Lobsters
Crabs
Shrimps
Drawn
METHODS OF FISHING
Trawling
Also known as deep sea, this method consists the cone shaped net that is dragged along floor it's also a dermesal fishing method that involves the use of a trawl net for catching fish.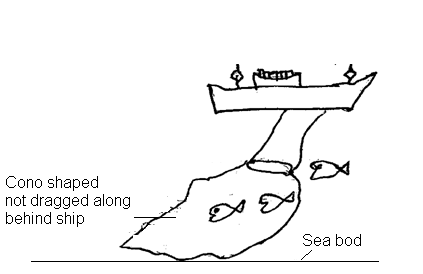 Lining
One of the oldest methods. The line towed along by small flat bottomed rowing boats and sometimes by large motorized vessels. Here the fish are trapped by hooks attached to lines. Well known for caching fish. Floats are also used to catch the fish. The fishermen are in a part and throw the string into the lake as illustrated bellow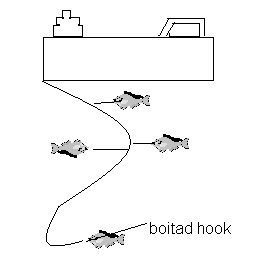 Lobster traps
Involves the use of lobster traps
Diving
It is a fishing where divers are used to catch crustaceous fish.
Drifting
It is a pelagic fishing method that involves the use of drift nets.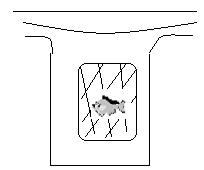 Purse seining
This involves the use of purse seine nets for encircling or enclosing fish and move so salmons that is then trapped in the net and then scraped out. Well known for Anadramous and Pelagic.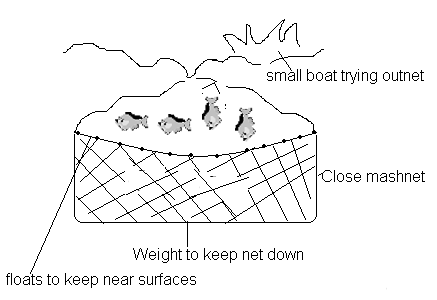 FACTORS THAT HAVE FAVOURED FISHING IN BRITISH COLUMBIA
Existence of shallow waters that have favored the growth of planktons on which fish feed.
The mingling of the warm and cold North Atlantic currents creating favourable conditions for the growth of planktons.
Existence of an indented coast line i.e well sheltered fronts or inlets providing good fish grounds.
Mild conditions/mild winters and therefore the lakes and rivers do not freeze leading to ice free conditions all year round.
Unfavorable relief meaning that agriculture can't be carried out but fishing has been carried out.
Presence of a variety of good quality fish that is suitable for the market.
Available market for the fish both in Canada and abroad.
Availability of fishing skills, the fishermen are skilled and experienced in fishing.
Availability of capital and fishing equipment i.e gear.
Availability of a number of fish processing plants along the coast to process and pressure the fish.
The cold conditions enable the fish caught to stay for a relatively larger time before going bad.
Advanced technology and research in fish sprawling has promoted fishing in the region.
USES OF FISH IN BRITISH COLUMBIA
It is a source of food protein i.e vitamins A and D.
Source of raw material for fertilizers making.
Fish bones are used for making glue.
Used as a raw material for making poultry/animal feeds e.g fish mill.
Fish oils used as a ingredient in the manufacture of some cosmetics.
Used to obtain cod liver oil medical purposes.
Fish skins can be turned into leather.
CONTRIBUTIONS OF THE FISH INDUSTRIES TO THE CANADIAN ECONOMY
There has been developed infrastructure such as roads that lead to the industries.
Fish industries have provided employment for the people of Canada.
The government of Canada gets revenue from the fish industries when they pay taxes.
Cod liver oil can be used for medical purposes.
Landing sites can act as tourist attractions when people come to study.
Fish bones can be used to make glue.
Industrial development has improved because of the fish industries that have been put up.
Fishing has led to the diversification of the Canadian economy.
Fish exported can earn the government foreign income.
The fishermen get income from the fish they catch when they sell it.
Fish can act as a raw material in the feed and fertilizer industries.
PROBLEMS OF FISHING IN BRITISH COLUMBIA
Leads to extinction of certain species such as the salmon due to the indiscrimination or over fishing. They are often when they congregate or migrate at breeding time.
Pollution of the coast water by the industrial waste which contain poisonous chemicals which kill fish or make their flesh unfit for human consumption. Pollution also forces fish to migrate to areas where breeding may be difficult.
Disputes or crushes with foreign fishing vessels that may fish in the Canadian territorial water e.g Japan.
Market problems due to competition with other fish exporting countries.
Dams constructed across coastal rivers prevent salmon from reaching their bleeding grounds hence reduction in their number.
Lack of labour.
HYDRO ELECTRICITY POWER IN BRITISH COLUMBIA
Hydro electricity power in British Columbia is generated from the many HEP dams. In addition, there are many potential sites where dams can be constructed; however most of the suitable sites for dams are located very far from manufacturing centres.
The HEP is obtained from running water or rivers. Most of this regions are fed with water caused by the heavy precipitation in the highland areas e.g Vancouver, R. Fraser (most developed sites of British Columbia).
CONDITIONS GIVING BRITISH COLUMBIA A GREAT HELP POTENTIAL
Reliable and constant supply of water in the region.
Large herd of waters provided by waterfalls.
Waterfalls with enormous force i.e down steep mountain slopes.
Presence of reasonably deep and narrow tarries to enable easy construction of dam.
However, to develop the HEP Potential there has been need for the following
Adequate finance/capital
Reliable market for the power
High level skilled man power
Some of the HEP potential in British Columbia has been exploited and there is an abundance of power in the region which greatly contributed to the development of the area.
IMPORTANCE OF H.E.P PRODUCTION IN BRITISH COLUMBIA
As contributed to industrial development e.g Aluminum smelt fish processing wood pulp and paper industries and petroleum refining.
Power has been provided for domestic use e.g cooking, lighting and operating electricity appliances.
It has provided employment for the people of power stations and industries.
Power has been used in agricultural establishment e.g dairy farms, poultry farms etc.
British Columbia exports power to the USA earning foreign exchange.
It has promoted mining in the region.
Problems of power production in British Columbia
Limited market since there are a few industrial establishments and people in British Columbia.
Most suitable sites are found in the rugged mountainous areas which …. Easily accessible.
INDUSTRY IN BRITISH COLUMBIA
There are a number of industries that have developed in BC and these include;
Aluminum smelting plant at Kitimat
This is one of the world's leading aluminum smelting plant.
Wood pulp and paper mills.
Fish processing plants or fish canaries
Oil petroleum refining industries.
FACTORS THAT HAVE FAFOURED OR CONTRIBUTED TO GROWTH OF INDUSTRIES IN BC.
Available power e.g Kamanodam
Availability of raw materials e.g timber, pulpwood, fish etc.
Availability of water for industrial use.
Availability of capital / finance
Availability of both domestic and external markets for the industrial products.
Availability of skilled labour or high manpower
The efficient means of transport ie good roads, railways and water transport system.
MINING IN BRITISH COLUMBIA
The major minerals mined in British Columbia involve include:-
Coal, copper, sliver, gold, molybdenum, oil, natural gas, Oil and natural gas from Peace River region.
NB: the Bauxite which is used in the kitmat refinery is imported.
The power used in this Aluminum plants from Kemanedam.
TOURISM IN BRITISH COLUMBIA
Tourism is an important economic activity in British Columbia it earns the province about a billion dollars annually;
Spectacular lands seenary such as Alphei land scope.
Tourists engage in scene of viewing site seeing.
Wildlife: these are five natural parks where a variety of fauna and flora are conserved.
Tourist engages in a game in a game viewing and co-tourism.
Winter sports show games, Tourists engage in one of winter sporting activities such as the challenging skiruns ice skating, sledding etc.
Coastal features: the spectacular coast geographical features of fjord river coasts.
Vegetation: vegetation types such as the coniferous forests also attract activities like research, forests walks, camping, panicking etc.
AGRICULTURE IN BRITISH COLUMBIA
Cultivation is limited in British Columbia. This is because of the following:-
The rugged relief mountainous, nature of the land or the very steep stapes
The very cold and showy conditions that may not favour crop growth.
The infertile rocky or thin nature of the soils.
In British Columbia there is both cultivation and pastoralism. Poultry farming is also important.
Cultivation
This mainly practiced in the southern parts of the province. The major crops grown include vegetable and fruits.
Pastoralism
Beef cattle are in the interior plate aux while dairy farming is practiced in southern parts of the province.
Poultry farming is also common in the southern parts of British Columbia.
THIS VIDEO EXPLAINS HOW BRITISH COLUMBIA GAINED ITS BORDERS