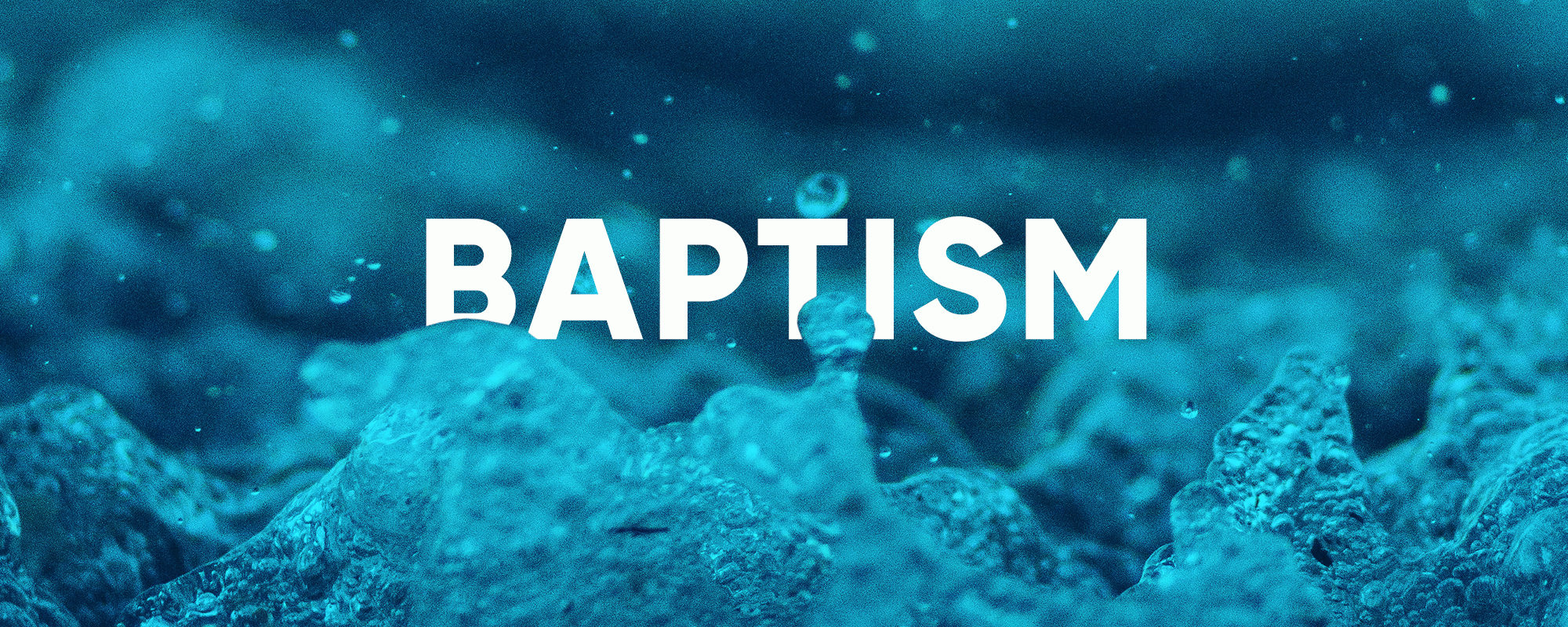 What is Baptism?
Baptism is a symbol that manifests/ shows one's acceptance to believe, follow,  love, trust, and have put all hope in Christ.
The word "baptise" comes from the Greek word "baptise" which means "to immerse or dip under water".
"As soon as Jesus was baptised, he went up out of the water." Matthew 3:16.
Every baptism in the Bible was by immersion under water. The book of Acts shows us that this was the norm for every believer.
"…then both Philip and the eunuch went down into the water and Philip baptized him. When they came up out of the water…." Acts 8:38,39.
Baptism does not make you a believer; it shows that you already are one! Baptism does not 'save' you; only your faith in Christ does that.
"For it is by grace you have been saved, through faith—and this not from yourselves, it is the gift of God – not by works, so that no one can boast." Ephesians 2:8,9
The Baptism of Jesus
Matthew 3:13-17
13 Then Jesus came from Galilee to the Jordan to be baptized by John.14 But John tried to deter him, saying, "I need to be baptized by you, and do you come to me?"
15 Jesus replied, "Let it be so now; it is proper for us to do this to fulfill all righteousness." Then John consented.
16 As soon as Jesus was baptized, he went up out of the water. At that moment heaven was opened, and he saw the Spirit of God descending like a dove and alighting on him. 17 And a voice from heaven said, "This is my Son, whom I love; with him I am well pleased."
Jesus baptism as a sign of his acceptance of his goal in life.
In the days of Jesus, a Gentile would need to be baptized publicly to identify himself as a convert to Judaism. However, it is important to note that Jesus was not converting. The baptism of Jesus served as an identification of Jesus as God's Son and to announce the beginning of His earthly ministry.
Jesus did not need the Holy Spirit. However, He wanted to be an example to us, so He emptied Himself and relied upon the power of the Holy Spirit. Philippians 2:5-7 says, "Your attitude should be the same as that of Christ Jesus: Who, being in very nature God, did not consider equality with God something to be grasped, but made himself nothing, taking the very nature of a servant, being made in human likeness." The baptism of Jesus and His reliance upon the Holy Spirit serves as an example for us.
"Let it be so now, for thus it is fitting for us to fulfill all righteousness" (Matthew 3:15). It is fitting. That is why he is doing it. It is fitting. Well, what is fitting? Fulfilling all righteousness is fitting.
The fact that participating in a baptism of repentance even though he had no sins to repent of is part of that shows that the righteousness he wanted to fulfill was the righteousness required not of himself, but of every sinful man.
Jesus baptism as a sign of his acceptance of his goal in life.
(Matthew13:17 Mark 1:9 – 11 Luke 3: 21 – 22)
Jesus went to be baptized by John not because he needed it, but because we do. This baptism of repentance was not incidental. It is a major moment. It is part of the righteousness of God that Jesus has come to accomplish. He went to John to take on the baptism of repentance, not for himself, but for us. For humanity. Jesus, in the waters of the Jordan, descended and took on the sin of the world. Benedict XVI puts it this way:
Jesus loaded the burden of all mankind's guilt upon his shoulders; he bore it down to the depths of the Jordan. He inaugurated his public activity by stepping into the place of sinners. His inaugural gesture is an anticipation of the Cross. (Jesus of Nazareth, Doubleday 2007, 18)

https://youtu.be/9_dr9njVzKM
And from that point forward Jesus begins the work of the Cross.
Too often when we contemplate the Cross, we see only Christ's passion. Yes, the passion is important, but Christ did not wait until he stood before Pilate to begin his work of salvation. Jesus made it clear at the Jordan that not only is his death for us, but his life as well.
It must be noted that all four Gospels agree that immediately upon his baptism, the Holy Spirit descended upon Jesus … and something changed.  Before the Jordan, Jesus was almost indistinguishable from the other carpenters of his time. People who knew him said things like "isn't this the carpenter's son? Isn't his mother's name, Mary?" (Mark 3:21) Jesus, through it all, claimed, "I have come down from heaven not to do my will but to do the will of him who sent me."(John 6:38)  It seems that, at the Jordan, the Holy Spirit began to lead Christ in a new way. Christ, having given up the divine prerogative, made himself reliant on the Spirit, and went forth to do the Father's will.
Through this baptism of repentance Jesus inaugurates a new life of grace for humanity, and through his sacrifice on the Cross, he invites us into this new life. Just as Jesus' public life and mission began in the waters of the Jordan, our lives begin through repentance and baptism as well. We should never forget that Jesus lived his life, not as some unattainable goal, but as a template of how we are called to live. Just as the Father, at Jesus' baptism, affirms that Jesus is his "beloved Son, in whom he is well pleased" we too have been made sons and daughters of the Lord through our baptism. Just as the Spirit descended upon Jesus at his baptism, so too does the Spirit come to us at ours. Just as Christ lived his life in union with the Father, through the Spirit, we too are called to live in union with Christ, through the Holy Spirit. Jesus began the work of the Cross at the Jordan. He walked our human life, carried our sin, so that we can have a share in his life, and live—through him—lives that have been set free from the domination of sin.
Christian baptism as a sign of acceptance of a goal in life.
An Act of Obedience:
Water baptism is an act of faith and obedience to the commands of Christ.
"Therefore go and make disciples of all nations, baptising them in the name of the Father and of the Son and of the Holy Spirit, and teaching them to obey everything I have commanded you. And surely I am with you always, to the very end of the age." Matthew 28:19-20
A Public Declaration:
Baptism declares that you are a follower of Jesus Christ. It is a public confession of your faith in, and commitment to, Jesus Christ. It is the next step after salvation through repentance and faith and is an important foundation for the Christian life.
Then he said, "Go into the world. Go everywhere and announce the Message of God's good news to one and all. Whoever believes and is baptized is saved; whoever refuses to believe is damned." Mark 16:16 MSG
What is the meaning and significance of baptism?
A Move From Death to Life:
Baptism is a symbol of Christ's burial and resurrection. Our entrance into the water during baptism identifies us with Christ's death on the cross, His burial in the tomb, and His resurrection from the dead.
"Going under the water was a burial of your old life; coming up out of it was a resurrection, God raising you from the dead as he did Christ. When you were stuck in your old sin-dead life, you were incapable of responding to God. God brought you alive—right along with Christ! Think of it! All sins forgiven, the slate wiped clean, that old arrest warrant canceled and nailed to Christ's cross." Colossians 2:12-14 MSG
A Brand New Life:
It is a symbol of your new life as a Christian. We bury the 'old life' and we rise to walk in a 'new life'. Baptism is like a wedding ring, it is the outward symbol of the commitment you made in your heart, a commitment that has to be followed through and lived out on a daily basis.
"Therefore, if anyone is in Christ, he is a new creation; the old has gone, the new has come!" 2 Corinthians 5:17
"We were therefore buried with him through baptism into death in order that, just as Christ was raised from the dead through the glory of the Father, we too may live a new life." Romans 6:4
A Blessed Life:
In baptism, the believer has the triune name of the triune God placed upon them, 'Father', 'Son' & 'Holy Spirit'. The name of the Lord Jesus Christ is the name of the Godhead (one God in three persons). The Gospels tell us to baptise believers "… into the name of the Father, the Son and the Holy Spirit", Matthew 28:19.
Baptism confirms our position 'in Christ' and affirms the blessings of the Father on us as his children.
A New family:
Baptism also connects us to the 'body of Christ', his people in the earth. In baptism there is a real sense of being joined with other believers, not just participating in an individual act of our own spiritual journey.
"…For we were all baptised by one Spirit into one body…" 1 Corinthians 12:12-13
1 Corinthians 6:9–11 (MSG) Don't you realize that this is not the way to live? Unjust people who don't care about God will not be joining in his kingdom. Those who use and abuse each other, use and abuse sex, use and abuse the earth and everything in it, don't qualify as citizens in God's kingdom. A number of you know from experience what I'm talking about, for not so long ago you were on that list. Since then, you've been cleaned up and given a fresh start by Jesus, our Master, our Messiah, and by our God present in us, the Spirit.
Paul says We get scrubbed, cleaned up in our baptism. The Holy Spirit makes us useful to God and his Kingdom. Have you ever stopped to look closely at your Then/Now story, life without God/Life with God? Take a minute to reflect on the transformation that has come, the usefulness God has brought into your life simply by virtue of the gift of a baptismal scrubbing. Tell Him Thank you!
Galatians 3:26–27 (NLT) For you are all children of God through faith in Christ Jesus. And all who have been united with Christ in baptism have put on Christ, like putting on new clothes.