Development of a semi-arid area
California is one of the states found in United States of America it is stated in the western part of USA. It has an area of 158,000 miles (158,000,000 km). it is boundered by Oregon state in the North, Nevada state in the East and Arizona state in the south East, Mexico state is in the South and pacific Ocean in the West.
California lies 330N and 430N and 1240W of the Greenwich.
THE RELIEF OF CALIFORNIA
The state has a variety of relief. The highest peak of the rocky mountains is called Whitney. (1400m) which is found in sequeala national park. The lowest area is also found in calfornia which is the salton sea on the South and it is below the sea level. there is a very narrow coastal plain with an average height of 150m, it increases in word to the coastal ranges and sierra Neyoda.
California has many rivers mainly R. Sacramento and San Joaquin, River Sacramento is found in the North and flower.
Westwards and R. San Joaquin is in the South flocking northwards.
These two rivers have their confluence in central California and they flow west wards into the Pacific Ocean. R. Colorado is also another river in California. California has two main state ie San Francisco and Los Angles and the others include San Diego, Hollywood etc.
A MAP OF CALIFORNIA SHOWING RELIEF DRAINAGE AND MAJOR TOWNS.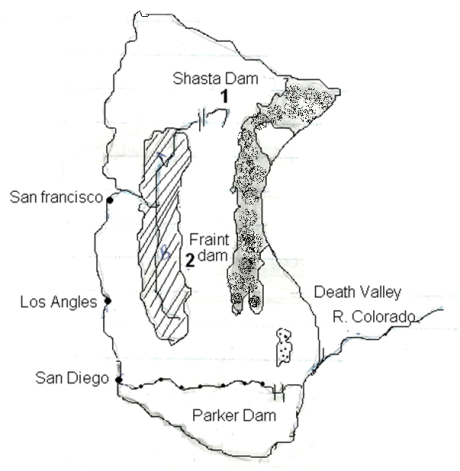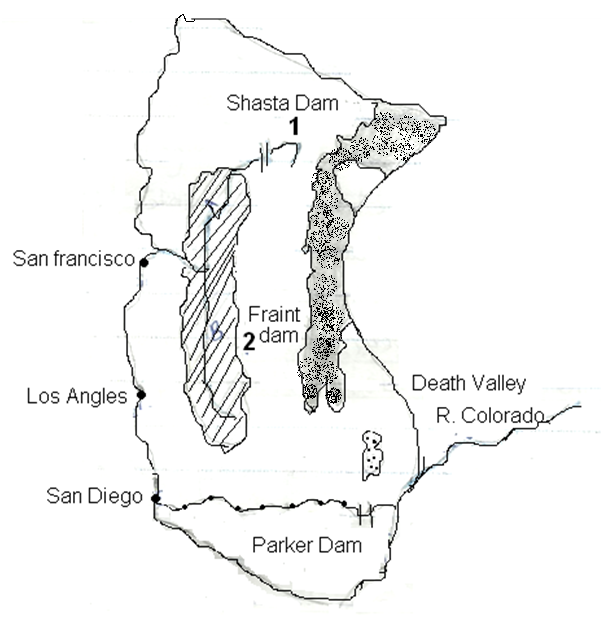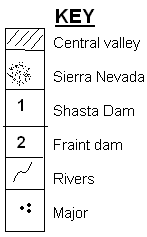 Climate of California;
California experiences asemerial climate. It receives little rainfall and mainly relief rainfall. The area experiences arid conditions because of the trade winds which blow over the area throughout the year.
The cold California ocean currents also affect the climate thereby causing arid conditions. The regions of California experience dry conditions because there are in the rain shadow for example the central valley ie in the rain shadow of the coastal ranges.
California has avariety of climatic region but the most important are; The cool temperate in the North.
The Mediterrenean climate in the centres.
The Hot desert in the south.
The temperature range is between 100c in winter and 210
C in summer. Summer is dry because of the
The onshore winds are mainly experience in winter thus bringing rainfall in the region. However, the wind ward side receives more rainfall than the leeward side. Annual rainfall is between 600mm_750mm.
California is drained by Rivers mainly and which are the main sources of water.
A MAP OF CALIFORNIA SHOWING THE PRECIPITATION.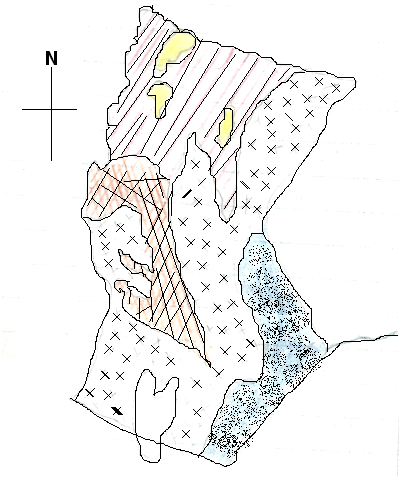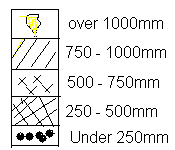 Soils in California.
The valises in California have very fertile soils which are mainly deposited by the Rivers and the rainwater running off the surrounding areas. Most areas have alluvial fans (alluvial soils) which have been made productive by irrigation using imported water.
Draw a climatic graph.
| | | | | | | | | | | | | | |
| --- | --- | --- | --- | --- | --- | --- | --- | --- | --- | --- | --- | --- | --- |
| | J | F | M | A | M | J | J | A | S | O | N | D | |
| Temp◦C | 12 | 13 | 14 | 15 | 16 | 18 | 19 | 20 | 19 | 17 | 15 | 13 | |
| Proc.mm | 46 | 49 | 38 | 15 | 7 | 3 | 3 | 3 | 3 | 10 | 23 | 46 | |
Son Diego Annual precipitation 246
FARMING IN CALIFORNIA.
Although California experiences arid conditions, it has developed its agriculture sector. California was among the last state of USA to be settled but when gold was discovered in Sierra Nevoda, and the river beds of California, the population increased. Increase in population initiated people to agriculture and farmers grow food to sell to miners. Farming in California mainly concentrated in the control valley where commercial farming is carried out. It is the most productive area of California and USA in general.

FACTORS FAVOURING FARMING IN CALIFORNIA
Favourable climate. California has a sunny climate especially in summer. This allows ripening and growing of the fruits.
Availability of fertile soil and this is due to the deposition of alluvium and silt from coastal ranges.
Use of irrigation practices has allowed farmers to control the amount of water required by various fruit trees.
The topography or relief is flat. This facilitates easy construction of irrigation canals and use of machinery.
The farmers have acquired managerial skills through experience and education.
Availability of capital. This has enabled high investment in Agriculture.
High development of technology was machines are employed to assist in the farming system.
Ready market for the various fruits produced by farmers in California. Market areas include San Francisco, Los Angels and San Diego.
Presence of rivers which provide water for irrigation.
Quick transport which help to transport the fruits to the market.
TYPES OF FARMING
Truck Farming: This is were fruits are mainly grown e.g grapes, apples, orange, etc.
Ranching: Mainly diary cattle are kept to get product like milk, cheese.
Factory Farming: This is where flower bulbs are grown.
Poultry Farming: Chicken is mainly kept for eggs and meat.
San Joaquin is the most extensively productive zone. Most important is fruit farming. The eastern area is easier to irrigate that is its intensity of irrigation is high. Each ranch is self sufficient and it can treat its fruits to the last stage. Ranches have different departments e.g accounts dept, sale dept and all departments have permanent works.
PHYSICAL FACTORS FAVOURING FRUIT AGRICULTURE
Abundance of sunshine to ripen the fruits and protecting the plants from diseases also gives the plant good taste.
Presence of varied conditions e.g Mediterranean and Desert type of climate.
Presence of rich alluvial soils which absorb and retain moisture quite easily.
Presence of wide, valley which favour irrigation.
Presence of rivers that provide water for irrigation
HUMAN OR NON PHYSICAL FACTORS
Presence of skilled and un skilled labour to work on the farms.
Availability of capital to purchase the equipment.
Availability of quick transport.
Availability of preservation facilities.
Proper management and modernization of ranches.
Presence of a ready market both domestically and internationally.
There is enough modern research
TREATMENT OF FRUITS
Picking is done by pickers who climb ladders and put fruit bags. The bags are emptied into boxes and by Lorries to the grading shades. Here they are inspected (to preserve them as bad fruits produce sour juice) weighted, graded and kept in refrigeration cans. This is done to preserve them as bad fruits produce sour juice.
Processing is done on ranches and several treatments are given to fruits before they are exported. Fruits are exported in three forms.
The whole fruits
Cane sliced fruits
In form of wines and drinks
All fruits are collected at Fresno where it is carried in refrigeration trucks belonging to different ranches. From Fresno it is sent east wards to the rest of USA while some is taken through San Francisco and San Diego to the rest of the world market. The low quality fruits are canned at Fresno and sold locally.
Other crops grown include cotton. It is the chief cash crop grown mainly in the southern part of the central valleys, grapes, rice cherries, almonds, barley, oranges, wheat, sorghum, lettuce, bean and alfalfa are grown.
ACTIVITIES THAT TOOK PLACE IN FRESNO IN 1930
The area was full of small farms about 25-80 hectares. Peaches were mostly produced. It was a struggle to get capital for power, irrigation, fertilizers and machinery. Farmers became more successful and the size of farms grew larger. In the peak season, they used to ship 12 dozens calows of peaches, palms and grapes daily. They employed 2,500 men and women on orchards, vine yards and parking shades.
FARMING IN THE IMPERIAL GARDENS
This is the depressed area in the imperial county of California. It is known as the Colorado Desert. Most of the land is below sea level averaging to 60 metres. The soils are silt mixed with sand deposits from river Colorado.
The climatic conditions are extreme that is ranging from 4°C to 52°C making the annual temperature range 21°C. Evaporation rate is high with some rain evaporating before reaching the ground. The area was rehabilitated by California Development Company.
Rehabilitation work started in 1890 and the aim was to bring water to the Imperial Valley. This created a problem of flooding which resulted in the Satton Sea. To control the problem of flooding, leaves were constructed along the river. However dam was later constructed by the Boulder Canyon Company to control further floods. The Imperial Valley turned out to become the largest irrigated district in North America.
A variety of market garden crops are produced which include lettuce, carrots, cabbages, gropes, etc.
Alfalfa is among the plants which tolerate heat, cold and drought. It improves soil and grown mainly for hay. Alfalfa is cut several times and feed on by livestock. Cotton is another crop grown by irrigation.
This is done in the warm and flat San Joaquin valley. However, California cotton is more intensive than cotton belt. Also steady sunshine helps the crop to grow and dry climate keeps ball weevil away.
PROBLEMS FACED IN THE IMPERIAL VALLEY
Labour- They developed on the migrated labour from Mexico every year for four months; it was very hard for them to get the skilled and non skilled labour to work on the farms.
Large farms-They had extensively large farms that were hard to manage because they were owned by farmers. As farms grew larger they were managed by companies.
Pests and diseases that attacked fruits.
Irrigation was expensive.
Soil erosion.
SOLUTIONS
House wives were employed to provide labour at farms.
Spraying was carried in winter to kill the pests.
Cover crops were grown to prevent soil erosion.
Pruning was carried to prevent overcrowding.
OTHER ACTIVITIES
This is mainly for making crates for fruits.
A variety of market garden crops are produced which include tomatoes, cabbages, carrots, grapes, melon, etc. Bowleg city has developed because of this type of farming.
Sources of irrigation water in California
Water pumped from underground wells.
Water is got from rivers in the North, R. Sacramento and San Joaquin in the South.
Water is stored in reserves and channeled by canals to were its needed.
THE WATER TRANSFER SCHEME ON CALIFORNIA
California has a well developed transfer scheme for water. It has series of canals and Aqueducts which transfer water to different areas where it is needed especially in the central valley. Canals are channels dug in the soil to transfer water. An aqueduct of channel is constructed on top of the land, made with bricks to transfer water across valleys.

The different canals include
Delta Mendota (South)
All American canal (south)
Friant kern (central)
Eastside canal (east)
Coachella (south)
Aqueduct-Colorado -Los Angels -San Diego -California
THE GROWTH OF PEACHES
In March cover crops grains are diced into the ground. Peaches are planted in November and nitrogen fixing legumes are planted to add Nitrogen to the soil. February – March fertilizers are applied during rains to enable them reach down.
Spraying is also done to control diseases for example curly eat and the peach twig bower. Ridging is done to enable easy irrigation and cultivation. Peach picking begins in July during picking, picked climb the leaders and put poches into bags. Bags are emptied into boxes and taken to the grating shed where they are inspected, weighed, graded and put in the refrigeration trucks they are then sold fresh to avoid spoilage.
Disadvantages of irrigation
It is expensive because it requires a constant supply of water and machinery.
Needs skilled and non skilled labour which is hard to get
It hinders easy movement of machinery e.g tractors.
It sometimes leads to the teaching of minerals when water works into the soil.
Loss of water in the reservoirs through evaporation leads to salinity.
The water drainage back in the in the field adds salt in the reservoirs.
Due to high construction costs there have been high water changes to famers and therefore the cost of the production is high.
Water extracted from the Sacramento delta has used this ground to subside by several meters such that some parts are below sea.
IMPORTANCE OF AGRICULTURE IN CALIFORNIA
The government gets revenue from the products after selling.
Agriculture as an activity has provided employment to the people
It is a source of raw materials to Agro-based industries.
It has increased food supply to the people of California
It has led to improvement in the standards of living of people since they are being employed in different farms.
Farms act as tourist attractions
Products from the farms includes Apples, oranges, peaches, Alfalfa, avocado, cotton, carrots, tomatoes, cabbages etc and cattle products.
INDUSTRY IN CALIFORNIA
Many industries in California are dependent on agriculture both directly and indirectly. These include:-
Fruit processing
Farm machinery assembly
Can making
Bottle manufacture
Chest and rock making.
Oil refinery; San Joaquin valley is rich petroleum and is California main oil production area.
Aircraft industry; since 1930's Southern California has been the world's leading aircraft manufacturing centre. These are Jumbo jets and helicopter industries concentrated in San Diego and Los Angles.
FACTORS LEADING TO THE GROWTH OF AIR CRAFT INDUSTRY.
California worms and calm demotic conditions. This enables test flights to be conducted and hampered by storms or snow falls. There are no winters to interrupt work to make expensive heating in the factories.
California has many higher institutions of leaning which provided the advanced technical knowhow which is required in the industries.
Availability of capital to run the industry.
FACTOR THAT HAVE FAVOURED INDUSTRIAL GROWTH IN CALIFORNIA
The demand for the manufactured goods on the Western coast of the pacific ocean after the First World War.
The workers and their families created on expanded market and this created a great need for manufactured goods hence growth of industries.
The cheap and abundant labour supply mainly provided by immigrants.
Availability of capital by the U.S.A government
Technological advancements by the U.S.A especially after the industrial revolution.
Presence of raw materials to be used in the industries
A MAP SHOWING THE RELIEF OF CALIFORNIA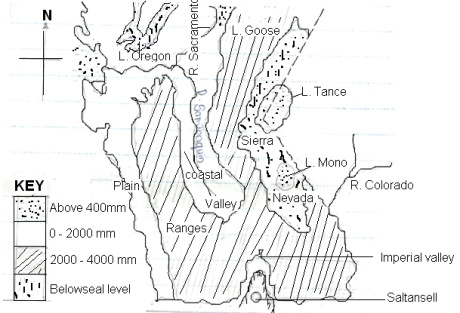 INDUSTRIAL DEVELOPMENT IN LOS ANGELS
The city has grown rapidly and this mainly attributed to the following.
It is located in the bil fields which have importance; oil refinery is a big industry in Los Angles.
Availability of power and water.
It has a sunny climate which favours tourism, film industry space industry fruit packing industries and textile industries.
California is the second most important financial center in the USA after Network. It is one of the most industrialized areas in the world.
THE FILM AND TELEVISION INDUSTRY
Hollywood is a suburb of Los angles and it has been the film capital of the world for the past 50years. Most chief cinema and television film companies have their studies in Hollywood. The film industry was established in 1911.
FACTORS THAT FAVOURED THE DEVELOPMENT OF FILM INDUSTRY
The dry sunny weather which favors filming and acting.
The surrounding landscape which provides a good scenery for filming and acting.
Improved technology.
The forested western slopes of the coastal ranges and sierra Nevada provide a good scenery
Presence of capital.
Today the Hollywood film industry employs 31000 people and how over 800 on tapes.
PROBLEMS FACING THE INDUSTRY
Air pollution
River water problem
Expansion is limited especially in highland areas.
BOULDER (HOOVER) DAM
This is one of the great dams of the world which was completed in 1936 and it rises to a height of 220m above a canyon floor. It was romed after the later president Herbo.
However it was built across R. Colorado and has formed a reservoir lake named L. mead which cover an area of more than 520km2
Reasons why it was built
To generate H.E.P
To stabilize river flow and control floods in the tower Colorado.
To provide the strange and delivery for water for irrigation and other commercial purposes.
To provide a maximum usage of water in California and Arizona.
To interest it that had been carried by the river.
To offer boating industries
THIS VIDEO IS OF THE QUICK FACTS ABOUT CALIFORNIA
ASSIGNMENT : CALIFORNIA assignment

MARKS : 10

DURATION : 1 week, 3 days