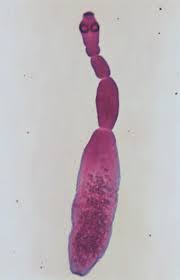 Members are of the Class Cestoda, Sub-Orders Eucestoda and Cestodaria. Examples include
Taenia (T. solium, T. saginata), Diphyllobothrium latum, Dipylidium canimum, Hymenolepis nana, and Echinococcus granulosus
Biology (Characteristic Features)
These are flat, elongated and segmented worms. These segments progressively increase in size and complexity away from the cephalic regions (Strobilization). Immature proglottids are closer to the head, mature ones intermediate, while gravid ones are farthest from the head. Head region is provided with adhesive suckers and hooks for 3attachment to host for phoretic and nutritional purposes.
Life Cycle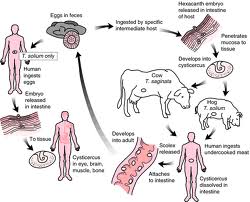 Members are all hermaphrodites, and life cycle involves self-fertilization, with the production of encysted eggs stored in the musculature of intermediate hosts.
Involves the disruption of skeletal musculature in respective intermediate and definitive hosts, with pronounced adverse in the latter.
 Epidemiology and management
The infection is common in areas with high dependence on animal protein (beef, pork, fish), as well as intermittent contact with domestic and wild canids, especially in unhygienic conditions Management involves good sanitary conditions of living and cooking, as well as minimal contacts with unhealthy canids.
ASSIGNMENT : Cestodes Assignment

MARKS : 10

DURATION : 1 week, 3 days