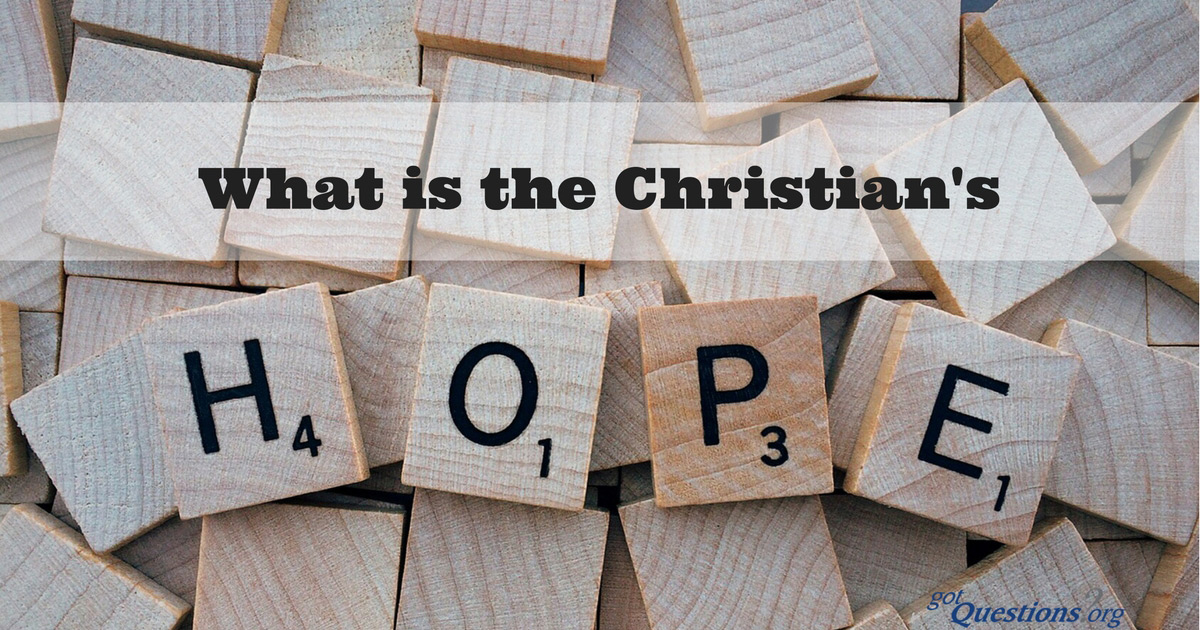 Christian Hope
Definition: to hope is to anticipate something good to come in the future. One does not hope for what one already has, though one can hope it continues or ends.
Steps people take to achieve their hopes
Human beings are the same. If you experience devastating defeats, a persistent situation that you couldn't change, or experienced a terrifying situation that you could not control your exposure to, then you may have lost hope for your ability to change your life or to change painful situations. Sometimes an ongoing mood disorder can lead to feelings of hopelessness.
When you don't have hope, you have no energy or motivation for therapy or for any effort to change your situation. What's the use in reaching out to meet people?  You are sure you will be rejected.  Why bother exercising or cleaning your home or volunteering–it won't really make a difference. You know you will always be lonely, depressed, anxious, unemployed, or stuck in the same situation that is making you miserable. You don't want to risk the pain of further disappointment by even trying.
There are many ways to find hope. You may have your own way. I'd love to hear what has worked for you or someone you love.
1.  Find a clear path.  Being able to see how the steps you are taking will lead to desired change is critical to having hope. If you don't logically see how what you are doing can have a positive result, then carrying out the plan will likely be difficult. Write down each step that you need to take to get where you want to be.  If someone else is working with you, then push him or her to explain how the steps lead to the results you want.
2.  Look for role models who have found solutions.  There are many, many people who have overcome tremendous adversity.  Reading their stories and surrounding yourself with supportive messages and people can help you build hope.
3.  Do what you know you can do.  When you are in despair, taking one step that is out of your routine can help break the sense of powerlessness you have. Make your bed. Cook dinner. Talk to a friend. Take a step you know you can do and that action can make a difference over time. Keep doing it and then try to add more actions. Overcoming the inertia of helplessness can help you build hope.
4.  Perform an act of kindness.  Doing acts of kindness can have a dramatic effect on your mood and outlook. Kindness triggers the release of serotonin, so it has an anti-depressant effect. It also calms stress and helps reduce pain.
Small acts of kindness that you do repeatedly can help you feel more connected and have a greater sense of contribution. Notice that doing acts of kindness repeatedly is important. Do acts of kindness daily. Even watching others perform acts of kindness can have a positive effect.
Notice your judgments, the thoughts that pass through your head stating that nothing will work for you or that acts of kindness is a useless idea. Let those thoughts pass through and not control your behavior. Your lack of hope may lead you to think that these ideas won't help you.
Part of kindness is to stop judging yourself and be kind to yourself as well. How would you treat someone else who was in your situation? Practice thinking of yourself with compassion.
5.  Turn to your faith.  Your faith can be a strong ally in holding onto to hope. Sometimes your faith offers the support of not being alone and trusting that a higher power is with you.  If you are questioning your beliefs, then talk with someone in your faith that you respect. Others have encountered difficult times and they will understand. Voicing your questions is a step toward resolving your confusion and is also a step toward hope.
6. Practice mindfulness while doing acts of kindness and in your everyday life.  Your thoughts may naturally wander to the past and focus on events that didn't work out or other situations that were painful. That will often add to your depression and hopelessness. When you are depressed you have difficulty seeing any positive events or remembering that you were ever happy.
Jesus' hope
(refer to; Luke. 12:16 – 21 Matthew. 4: 1 – 11, Luke. 4:1 – 13 Luke. 12: 22 – 34)
Luke. 12:16 – 21
16 And he told them this parable: "The ground of a certain rich man yielded an abundant harvest. 17 He thought to himself, 'What shall I do? I have no place to store my crops.'
18 "Then he said, 'This is what I'll do. I will tear down my barns and build bigger ones, and there I will store my surplus grain. 19 And I'll say to myself, "You have plenty of grain laid up for many years. Take life easy; eat, drink and be merry."'
20 "But God said to him, 'You fool! This very night your life will be demanded from you. Then who will get what you have prepared for yourself?'
21 "This is how it will be with whoever stores up things for themselves but is not rich toward God."
The Lesson that we can learn from the parable of The Rich Fool
– In the parable of The Rich Fool, Jesus used the technique of relating the situation to a story, similar to the purpose of a metaphor.
– This parable teaches the people that we are not to devote our lives to the gathering and accumulation of wealth.
– Instead our desires should be focused towards our spiritual wealth.
The technique that Jesus uses in the parable of The Rich Fool
-The parable of the rich fool gives us the realization that there is more to life than just seeking riches.
-The rich man in the parable was blessed by God as his harvest continuously flourished. But he used his riches for the wrong reasons which led to his downfall
-The key message of the parable is actually provided in the context of the parable, in Luke 12:15. Here Jesus says, "Watch out! Be on your guard against all kinds of greed; life does not consist in an abundance of possessions."
The basis of Christian hope
It is essential to understand what death and resurrection are. Death is the opposite of life–a falling away from life. Resurrection is restoring the life which had ceased to exist, a setting up again, a giving back. Death is the end of being; resurrection is the restoration of being. When we understand this, Christ's resurrection can be understood as a momentous display of God's mighty power. God's resurrecting power is greater than sin or death–and death is sin's inescapable result in every human being.
The more one yearns for God, the more the Bible's teaching about resurrection satisfies our longings. The more we know of life's disappointments, injustices, and failures, the more our sense of love, justice, and equity encourages us to accept the resurrection as a fact. The future resurrection of all vindicates God's character. Because of the resurrection, we see God as loving and just. We can understand how "…all have sinned, and come short of the glory of God" and thus that "Christ died for the ungodly."–Rom. 3:23, 5:6
Jesus Christ did rise from the dead! The Apostle Paul testified to that great event in 1 Cor. 15:3-8: "For I delivered unto you first of all that which I also received, how that Christ died for our sins according to the scriptures; and that he was buried, and that he rose again the third day according to the scriptures; and that he was seen of Cephas, then of the twelve: after that, he was seen of above five hundred brethren at once; of whom the greater part remain unto this present, but some are fallen asleep. After that, he was seen of James; then of all the apostles. And last of all, he was seen of me also, as of one born out of due time."
We are confident about salvation through Jesus Christ because of the testimony of others. They, from personal knowledge, wrote about Jesus' rising from the dead. If their witness is false, then Christian faith and our hope of a future life is without foundation. But our redeemer, Jesus, died for our sins. A savior who has not arisen from death can offer no hope of salvation! We rejoice that "Christ has arisen." The New Testament writers appealed to the reality of Christ's resurrection as the basis of faith and hope. Paul taught that Jesus' resurrection was a foundation teaching of our faith:
"And if Christ be not raised, your faith is vain; ye are yet in your sins. Then they also which are fallen asleep in Christ are perished. If in this life only we have hope in Christ, we are of all men most miserable. But now is Christ risen from the dead, and become the first fruits of them that slept."–1 Cor. 15:17-20
Disappointment, failure and suffering as realities of life
Discomfort is reality. Pain is reality. Conflict is reality. Spiritual warfare is reality.
A healthy faith accepts who we are and where we are rather than trying to conjure some artificial image for people who are not comfortable accepting us as we are. If we're based in reality, then the reality is that we've all failed, we're all sinners, and we're all stumbling along the way. We thrash about in slimy pits now and then; we feel fear as we walk narrow trails in dark valleys.
In other words, we are 100 percent, certifiably fallible-that is, human. David reminded his readers that God never forgets that fact (even though we may). He wrote: "As a father has compassion on his children, so the LORD has compassion on those who fear him; for he knows how we are formed, he remembers that we are dust" (Psalm 103:13-14).
If we say that we have no sin, we are only fooling ourselves, and refusing to accept the truth. But if we confess our sins to him, he can be depended on to forgive us and to cleanse us from every wrong…. If we claim we have not sinned, we are lying and call God a liar, for he says we have sinned (1 John 1:8-10, TLB).
John was relating on living in reality. If we choose the path of deception and deny the obvious truth, in so doing we call God a liar! If, on the other hand, we walk in reality, that is, "if we walk in the light, as he is in the light, we have fellowship with one another, and the blood of Jesus, his Son, purifies us from all sin" (verse 7). That's where I want to be. Walking in the light. Admitting who I am. Enjoying the companionship of Christian friends and the Lord Jesus himself, experiencing daily cleansing from sin.
The Way It Really Is
Growing Christians strive to see the world and their lives, as they really are, not through some stained-glass filter, not through the grid of some externally imposed myth or make-believe worldview. They do not feel compelled to "explain away" hardships or events that mystify them, but are willing to live with some ambiguity, trusting God to rule the world in righteousness-even if that means difficulty for them. As with Job, we must sometimes come to that place of humility before God where we say, "Behold, I am insignificant; what can I reply to You? I lay my hand on my mouth" (Job 40:4).
Healthy faith refuses to sweep suffering, daily struggles with the sinful nature, and inevitable relationship difficulties under a rug, pretending they don't exist. Instead, it brings those issues into the light of Scripture, the scrutiny of the Holy Spirit, and under the mutual counsel and care of trusted brothers and sisters in Christ. Unhealthy faith, on the other hand, denies reality. For those who subscribe to such false belief systems, faith is not based on a belief in the supernatural power of God, but on a desire to see magical solutions that stop pain. They hope in a servant God determined to make life easy.
Healthy faith acknowledges the supernatural power of God and does not need miraculous intervention to prove that God is real. The healthy believer does not look for God to magically change the circumstances, but looks to him in the midst of trials.
Because faith grows strong, there is no need to deny reality. Believing God is faithful to help them through their trails and tribulations, healthy believers have no need to run from reality. They see the problems before them, do what they can to resolve them, and trust God to do the rest.
The above piece is an adaptation from More Jesus, Less Religion, by Steve Arterburn and Jack Felton. Colorado Springs, Waterbrook Press, 2000.
Jesus' experience of disappointment and failure and how he overcame them
(Matthew 23: 27, Mark. 4: 11 – 12, Mark 8:17 – 21, Mark. 8:33, Luke 22: 50‐52, John. 6:14 – 15,Mark. 10:35 – 45)
Matthew 23: 27
27 "Woe to you, teachers of the law and Pharisees, you hypocrites! You are like whitewashed tombs, which look beautiful on the outside but on the inside are full of the bones of the dead and everything unclean.
Mark. 8:33
But when he had turned about
Upon Peter, and showed quick resentment at what he said:
and looked on his disciples;
he cast his eye toward, them at the same time, and expressed to them the same displeasure in his countenance, they being of the same mind:
he rebuked Peter, saying, get thee behind me, Satan: for thou
savourest not the things that be of God;
things which were according to the will of God, as the sufferings of Christ were: they were according to the determinate counsel of his will; what he had determined in his purposes and council should be; and what he had declared in the Scriptures of truth, the revelation of his will, would be; and in which, according to them, he should have a great concern himself, ( Isaiah 53:6Isaiah 53:10 ) , and whereby all his divine perfections would be glorified, and therefore may well be said to be the things of God; and which ought to be savoured, minded, and attended to, as things of the greatest moment and importance: and which, though the apostle had often read of in the books of the Old Testament; yet either had not a clear understanding of them, as being the will of God; or however, they were greatly out of his view at this time, his mind being possessed with notions of a temporal kingdom, and of worldly honour and grandeur: wherefore it follows,
but the things that be of men;
as were the notions of Christ's being a temporal prince, that would set up a worldly kingdom, and deliver the Jews from the Roman yoke, and make his subjects happy, with an affluence of all worldly things; and particularly his favourites, as the disciples were: these were schemes of men's devising, and were suited to the corrupt nature, and carnal inclinations of men; and these things at present too much possessed Peter's mind: wherefore the Lord rebuked him in a very severe, though just manner; being touched in his most tender part, and dissuaded from that which his heart was set upon, and he came into the world for; whose keen resentment is seen by using a phrase he never did but to the devil himself.
The rite of the Eucharist as an expression of the full meaning of Jesus' life
The Eucharist celebrates Jesus Christ as he existed, before time, in time, and outside of time. The Eucharist is never a divine escape from this world, but rather the Eucharist reforms creation in the image and likeness of God as it was originally made: in and for love. In the Eucharist, God's pure and perfect Word bends down to speak our language of symbols and rituals, so that one day we might speak God's Word.The Eucharist humbles itself to be dependent upon the work of human hands.The self-emptying of Christ's body and blood into the sacrament recapitulates the perfect sacrifice of Christ that began with the vulnerability of the incarnation—for to become human is to already be making one's way towards death. The Eucharist perpetuates the gift of love in Christ and confesses His death, resurrection, and ascension. The Eucharist is not only the person of Jesus Christ, but the Eucharist reveals the actions of Jesus that tell us who Jesus is: "God saves."
In the liturgy, the believer's acclamation of Christ's death is not merely nostalgic but participatory, conjoining us to Christ's memory. The Eucharist mercifully reclaims our unworthy hands to serve him. The Eucharist consummates our forgiveness, restores our humanity, and reincorporates us into communion. By sharing in the cup of Christ's blood, which was shed for our redemption, we partake in the one obedient sacrifice so that we no longer live for ourselves but are conformed to Christ's Paschal narrative. The Eucharist calls for a death to self so that we might put on Christ by entering into a covenantal relationship with God from which new life springs forth in us. The wellspring of this sacramental encounter impregnates us with Christ. The Eucharist practices this relationship in our dialogue with God as His beloved children and as the Church.The Eucharist extends our relationship with God beyond the threshold of death. Because of Christ's Paschal sacrifice, there is no depth of suffering or abandonment where Christ has not gone before us and does not journey with us. Suffering transfigured into gift is the very crucible wherein unity is formed.The Eucharistic sacrifice unites us in the Holy Spirit as we repel our inclinations of autonomy and surrender our self-interest for the good of the Body.
The Eucharist reveals our ecclesial vocation as the pilgrim Church, joining our voices in one sacrifice of praise with Mary, the Apostles, all the angels and Saints. Though the definitive Word has spoken, our salvation, redemption, and sanctification are not yet finally realized. The Eucharist draws us into and yet anticipates the kingdom to come. The Eucharist remediates our thwarted perception of Christ's unapproachable light through the repeated enactment of Christ's Paschal mystery. The Eucharist sends us forth from the table of fellowship to work towards the bond of charity that is the very reality of the Eucharist. Just as Christ took, blessed, broke, and gave his body to the world, so too does Christ gather us as disciples, grace us with his friendship, break us from self-interest, and give us over to the poor, the prisoners, and the sorrowful as agents and revealers of God's love.
The Eucharist recapitulates the fullness of God's action in history. The Eucharist remembers Christ's loving sacrifice and re-members us as the Mystical Body of Christ, healing and glorifying all of creation. The Eucharist both reveals and transfigures us into the gift of love that Christ is. The Eucharist loves us into being. It loves us to the end.