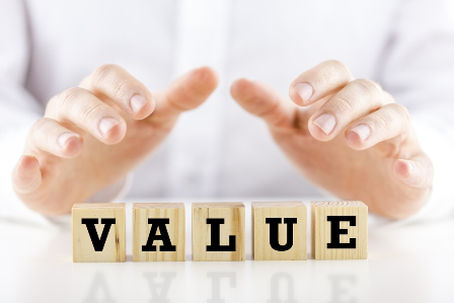 Identification of Christian values
Christian values derived from the teachings of Jesus Christ and taught by Christians throughout the history of the religion. The term has various applications and meanings, and specific definitions can vary widely between denominations, geographical locations, and different schools of thought.
There are a number of values upheld in the christian denomination and these include but not limited to;
Worship Only God One day, a religious leader asked Jesus which of the commandments was most important:

"The most important one,"

 answered Jesus, 

"is this: 'Hear, O Israel, the Lord our God, the Lord is one. Love the Lord your God with all your heart and with all your soul and with all your mind and with all your strength.'

 (NIV, Mark 12:28-30)
Humility or being humble is a quality of being courteously respectful of others. It is the opposite of aggressiveness, arrogance, boastfulness, and vanity. Acting with humility does not in any way deny our own self worth. Rather, it affirms the inherent worth of all persons. Humility is exactly what is needed to live in peace and harmony with all persons. It dissipates anger and heals old wounds. It allows us to see the dignity and worth of all God's people. Humility distinguishes the wise leader from the arrogant power-seeker (Proverbs 17:7, Matthew 20:20-28).
Love of God and Neighbors: "You shall love the Lord your God with all of your heart, and with all your soul, and with all your might." ( Deut.6:5), -Matthew 22:37  "love your neighbor as yourself". The commandment of Love is the basis of all other Laws and all the prophets. -Matthew 22:36-40
Honesty and trust in marriage: "Whom God has joined together let no man put asunder", derived from -Matthew 19:6
Honesty and integrity are held as very important values throughout the Bible, and any deception to gain an advantage or harm another is prohibited by the Ten Commandments (Exodus 20:16) and other Bible passages. Deception may be by false statements, half-truths, innuendo, or failing to tell the whole truth. It is all too common in advertising, business dealings, politics and everyday life. We must strongly resist the temptation to engage in any form of theft, cheating, deception, innuendo, slander or gossip.
Renunciation of worldly goods: "Gather not your riches up upon this earth, for there your heart will be also", (Matthew 6:21)
Renunciation of vengeance: "If a man strikes you on one cheek, turn the other cheek", (Luke 6:29)
Forgiveness of sins: "Forgive us our trespasses, as we forgive those who trespass against us", (Matthew 6:12)
Unconditional love: "Love your enemies and pray for those who persecute you." (Luke 6:27-28)
How to choose what is good and right
While choosing the right or wrong or good or bad, Christians believe that there is always that inner soul that directs you if only you listen to it. Listen to your inner voice of the heart. When your inner conscience says this is good means, 'that is good' and when it says "No! this is bad or wrong, means it is wrong that.
However, for this theory to be more effective,  the feeling must come from true unbiased inner conscience and not from the brain which is manipulative and opportunist whereas, you inner conscience is the true voice of the God.If you could here that,you would never choose anything bad or wrong. Deep spiritual prowess and meditation help refining you conscience.
Every human heart has the capacity to do good or evil and to build or to destroy, but the strength to make the right choice comes from Christ.
God has given every human being freedom of choice. This does not mean that we have the right to do whatever we please. We can live in true freedom if we cooperate with the Holy Spirit, who gives us the virtue of prudence. This virtue helps us to recognize what is good in every situation and to make correct choices. The Holy Spirit gives us the gifts of wisdom and understanding to help us make the right choices in life in relationship to God and others. The gift of counsel helps us to reflect on making correct choices in life.
The Ten Commandments help us to make moral choices that are pleasing to God. We have the grace of the sacraments, the teachings of the Church, and the good example of saints and fellow Christians to help us make good choices.
Steps for making the right decision
1. Ask the Holy Spirit for help.
2. Think about God's law and the teachings of the Church.
3. Think about what will happen as a result of your choice. Ask yourself, will the consequences be pleasing to God? Will my choice hurt someone else?
4. Seek advice from someone you respect and remember that Jesus is with you.
5. Ask yourself how your choice will affect your relationships with God and others.
How a Christian can form his/her conscience
A big part of growing as a Christian is embracing the goodness that God has planned for us. In order to embrace this goodness, we need to make sure that our conscience is tuned in to God and his truth. There are three stages of prudence
1. Examining your own life, growing in wisdom of what is right and wrong, forming your conscience (this is all one stage but we'll treat it in two parts).
2. Making a practical judgment of what is the best possible good through an exercise of conscience.
3. Exercising your judgment to attain the good through planned, positive action.
The first step in forming our conscience is to have a proper understanding of what the conscience is. Cultural misunderstandings range from the "little angel on your shoulder" as if conscience were totally a matter of outside counsel to a "profoundly personal judgment of what's right and wrong" as if it were totally a matter of personal opinion. The true definition of the conscience (as usual) embraces both of these extremes. The moral conscience is a function of the intellect that applies the moral law (objective truth) to our specific situation so that we can choose the best possible good in a given situation. So forming your conscience is a matter of:
1. Learning the objective truth about what is right and wrong
2. Engaging the intellect in moral reasoning.
3. Internalizing the moral reasoning so your moral choices are just part of who you are.
Steps involved in the process of establishment of a value
Step 1: Identify the decision
You realize that you need to make a decision. Try to clearly define the nature of the decision you must make. This first step is very important.
Step 2: Gather relevant information
Collect some pertinent information before you make your decision: what information is needed, the best sources of information, and how to get it. This step involves both internal and external "work." Some information is internal: you'll seek it through a process of self-assessment. Other information is external: you'll find it online, in books, from other people, and from other sources.
Step 3: Identify the alternatives
As you collect information, you will probably identify several possible paths of action, or alternatives. You can also use your imagination and additional information to construct new alternatives. In this step, you will list all possible and desirable alternatives.
Step 4: Weigh the evidence
Draw on your information and emotions to imagine what it would be like if you carried out each of the alternatives to the end. Evaluate whether the need identified in Step 1 would be met or resolved through the use of each alternative. As you go through this difficult internal process, you'll begin to favor certain alternatives: those that seem to have a higher potential for reaching your goal. Finally, place the alternatives in a priority order, based upon your own value system.
Step 5: Choose among alternatives
Once you have weighed all the evidence, you are ready to select the alternative that seems to be best one for you. You may even choose a combination of alternatives. Your choice in Step 5 may very likely be the same or similar to the alternative you placed at the top of your list at the end of Step 4.
Step 6: Take action
You're now ready to take some positive action by beginning to implement the alternative you chose in Step 5.
Step 7: Review your decision & its consequences
In this final step, consider the results of your decision and evaluate whether or not it has resolved the need you identified in Step 1. If the decision has not met the identified need, you may want to repeat certain steps of the process to make a new decision. For example, you might want to gather more detailed or somewhat different information or explore additional alternatives.
How the Holy Spirit can guide Christians to evaluate their actions
(Matthew.19: 16 – 22; Mark. 10: 17 – 22; Mark. 10: ‐ 28 – 30; Mark. 48)
The Bible teaches that the Holy Spirit guides the believer:
However, when He, the Spirit of truth, has come, He will guide you into all truth; for He will not speak on His own authority, but whatever He hears He will speak; and He will tell you things to come (John 16:13).

Now we have received, not the spirit of the world, but the Spirit who is from God, that we might know the things that have been freely given to us by God (1 Corinthians 2:12).
Jesus promised the Holy Spirit would come and guide the believer into all truth. The work of the Holy Spirit illuminates the heart and mind of the believer to the things of Jesus Christ.
Spiritual Blindfold


The Bible reveals to us that Satan has put a spiritual blindfold over the minds of those who do not believe:
But even if our gospel is veiled, it is veiled to those who are perishing, whose minds the god of this age has blinded, who do not believe, lest the light of the gospel of the glory of Christ, who is the image of God, should shine on them (2 Corinthians 4:3,).
Once a person trusts Christ, the blindfold is removed and the Holy Spirit begins the work of illuminating the meaning of Scripture to his newly believing mind. This helps him better understand the things of God.
Jesus inviting us to a deeper relationship with him.
"If anyone loves Me, he will keep My word; and My Father will love him, and We will come to him and make Our home with him." John 14:23. Just think that Jesus and the Father want to come and make Their home with you! Is that the relationship that you have with Him?
And again He says that "He who has My commandments and keeps them, it is he who loves Me. And he who loves Me will be loved by My Father, and I will love him and manifest Myself to him." John 14:21. Have you ever thought that Jesus wants to manifest (reveal) Himself to you? That promise is given to those who love Him and keep His commandments, so it is clear that such a revelation of Jesus is to occur throughout your life as a Christian, and not only at the beginning of your Christian life.
He is your Savior, not only from the penalty of sin but also from its power in your life on a daily basis. As it is written: "…a very present help in trouble." Psalm 46:1. That is how you will experience Jesus! He is able to have compassion on the weak, because He has experienced human weakness Himself. (Hebrews 4:15)
Your relationship with Jesus exists in your heart, mind, and spirit. When He is the center of your affection, then He also sits on the throne of your heart. Thoughts that come into your mind begin to be brought before Him, with the attitude of heart: "Dear Lord Jesus, is this thought pleasing in Your sight?" With such an attitude, your heart begins to understand what the mind of Jesus is, which is the mind of the Spirit: life and peace! You learn that some thoughts bring you life and peace, while others bring only unrest and emptiness. In this way you learn to discern between good and evil in the daily situations of life, between what is and what is not well-pleasing in His sight. Jesus becomes your instructor and guide to a deeper life in the Spirit.
The relationship that you have with Jesus is also in your human spirit, where you learn to turn to Him in times of stress, struggle, and temptation, away from your own thoughts and feelings. There you meet the Spirit of Jesus, which is the spirit of prophecy. (Revelation 19:10) The prophetic spirit of Jesus speaks edification, exhortation, and comfort right to your human spirit, and you will sense that you are powerfully strengthened.