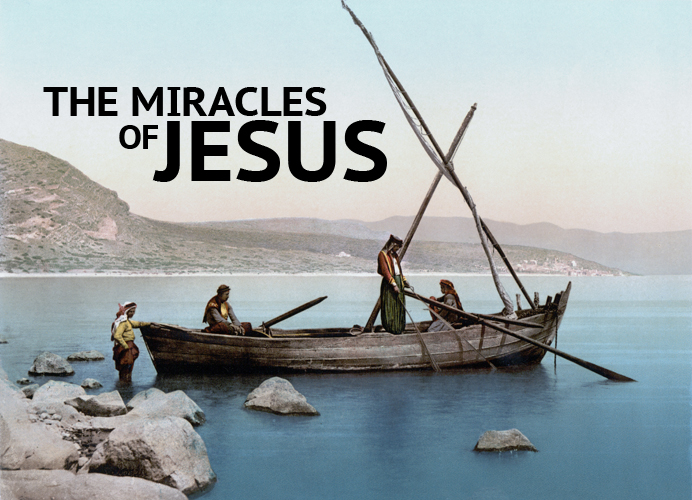 Jesus' miracles as a way of fellowship to the people who believed in him
what are miracles?
A miracle is a divine operation that transcends what is normally perceived as natural law; it cannot be explained upon any natural basis.
A miracle is defined in current dictionaries as a phenomenal or supernatural event in the physical world that surpasses all known human or natural powers, more often than not incapable of being explained by the laws of nature. God never operates contrary to His Word or to the laws of nature which He has established, but He has the prerogative to supersede them.
Miracles performed by Jesus
Jesus Christ was not the first to do miracles. There were many miracles of God in the Old Testament. The ten plagues in Egypt, the parting of the Red Sea, the manna from heaven, the water from a rock, Aaron's rod that budded, the ground that opened up and swallowed Korah and the rebels, the sun and moon standing still, the three Judeans in Nebuchadnezzar's fiery furnace, Daniel in the lion's den, and many others. But Jesus' miracles were distinctive. They were signs and mighty works which authenticated His divinity and His mission. People had heard the stories of the God of miracles, and His awesome and astonishing power, but the miracles of Jesus elicited unique responses. "…they were all amazed, and glorified God, saying, We never saw it on this fashion. And they were astonished with a great astonishment. …and they were sore amazed in themselves beyond measure, and wondered. And were beyond measure astonished, saying, He hath done all things well." (Mark 2:12, 5:42, 6:51, 7:37 KJV)
"God anointed Jesus of Nazareth with the Holy Spirit and with power, who went about doing good and healing all who were oppressed by the devil, for God was with Him." (Acts 10:38)
Following is a listing of the miracles of Jesus with corresponding Scriptures. "And truly Jesus did many other signs in the presence of His disciples, which are not written in this book; but these are written that you may believe that Jesus is the Christ, the Son of God, and that believing you may have life in His name." (John 20:30, 31)
Control of Nature
1. Calming the storm – Matthew 8:23-27; Mark 4:37-41; Luke 8:22-25
2. Feeding 5,000 – Matthew 14:14-21; Mark 6:30-44; Luke 9:10-17; John 6:1-14
3. Walking on water – Matthew 14:22-32; Mark 6:47-52; John 6:16-21
4. Feeding 4,000 – Matthew 15:32-39; Mark 8:1-9
5. Fish with coin – Matthew 17:24-27
6. Fig tree withers – Matthew 21:18-22; Mark 11:12-14, 20-25
7. Huge catch of fish – Luke 5:4-11; John 21:1-11
8. Water into wine – John 2:1-11
Healing of Individuals
1. Man with leprosy – Matthew 8:1-4; Mark 1:40-44; Luke 5:12-14
2. Roman centurion's servant – Matthew 8:5-13; Luke 7:1-10
3. Peter's mother-in-law – Matthew 8:14-15; Mark 1:30-31; Luke 4:38-39
4. Two men possessed with devils – Matthew 8:28-34; Mark 5:1-15; Luke 8:27-39
5. Man with palsy – Matthew 9:2-7; Mark 2:3-12; Luke 5:18-26
6. Woman with bleeding – Matthew 9:20-22; Mark 5:25-34; Luke 8:43-48
7. Two blind men – Matthew 9:27-31
8. Dumb, devil-possessed man – Matthew 9:32-33
9. Canaanite woman's daughter – Matthew 15:21-28; Mark 7:24-30
10. Boy with devil – Matthew 17:14-21; Mark 9:17-29; Luke 9:38-43
11. Two blind men – including Bartimaeus – Matthew 20:29-34; Mark 10:46-52; Luke 18:35-43
12. Demon-possessed man in synagogue – Mark 1:21-28; Luke 4:31-37
13. Blind man at Bethsaida – Mark 8:22-26
14. Crippled woman – Luke 13:10-17
15. Man with dropsy – Luke 14:1-4
16. Ten men with leprosy – Luke 17:11-19
17. The high priest's servant – Luke 22:50-51
18. Nobleman's son at Capernaum – John 4:46-54
9. Sick man at the pool of Bethsaida – John 5:1-15
20. Man born blind – John 9:1-41
Raising the Dead
1. Jairus' daughter – Matthew 9:18-26; Mark 5:21-43; Luke 8:40-56
2. Widow's son at Nain – Luke 7:11-17
3. Lazarus – John 11:1-44
Why did Jesus perform miracles
Jesus performed miracles to show compassion and meet human need. For example, in Mark 1, Jesus encounters a man with leprosy. Mark 1:41 reads, "Filled with compassion, Jesus reached out his hand and touched the man." What stands out to me is that often Jesus' miracles were not planned or calculated; rather, they were frequently spontaneous, the result of the intersection between God's love and human suffering.
To affirm his true identity as the Son of God. One detail that stands about the miracles of Jesus is how few he actually performed. The infrequency of Jesus' wondrous acts informs us that miracles were only a small portion of his ministry. The Bible hints that the miracles themselves were not the point. The miracles actually served as "signs" pointing to a greater reality. Acts 2:22 declares that "Jesus of Nazareth was a man accredited by God by miracles, wonders and signs." The miracles substantiated the claims of Jesus to be the Son of God.
Jesus recognized that the hope of the world did not rest on a few isolated healings in rural Galilee, but rather on the climatic miracle of his death and resurrection from the grave. The miracles, as signs pointing to the deeper truth about Jesus, should cause us to place our faith in him. When he needed to confirm his identity for a doubting John the Baptist, Jesus appealed in Luke 7:22 to his miracles: "Go back and report to John what you have seen and heard: The blind receive sight, the lame walk, those who have leprosy are cured, the deaf hear, the dead are raised, and the good news is preached."
Jesus performed miracles to provide us with a glimpse of the world that is to come. The supernatural acts of Jesus are like a flash of lightening that illuminates a dark night for a few moments, allowing us to see clearly. Just when we think this life is all there is, miracles introduce us to another world—the spiritual reality of God's presence, kingdom, love, and eternity.
Overcoming obstacles to Fellowship.
Christians should extend grace and love others enough to have honest and hard conversations and win over their trust. Extending grace means forgiving even when no apology came.
The fellowship leadership team should clarify our core values, your process for moving people from lost to leading, your process for commissioning new leaders, and your path to move people from the city into the crowd and into your core.
Clarifying your vision and creating the processes for accomplishing your vision will help clarify who should not be on the team and who is needed on the team. In this, praying for unity and committing to be unified become priorities.
According to Eric Bryant, pastor at Gateway Church in South Austin and professor with Bethel Seminary, author of Not Like Me: Learning to Love, Serve, and Influence Our Divided World, 
Consider this: can you invite a skeptic or someone who has doubts or even someone who is spiritually searching to a Sunday morning gathering?
If so, would they feel welcomed? Would they want to come back?
What if you could say every single Sunday gathering: "No matter where you are in your spiritual journey, you are welcome here!" You could not only say it, but your guests would feel that what you said was true.
"Come as you are, but don't stay that way" is what we want at Gateway.
At Mosaic we described our community as a place to belong before you believe.
This idea of allowing people to belong before they believed is the opposite of how most local churches operate. A member signs off on a doctrinal statement. Our websites lead with our beliefs. We use words others don't understand. We sing songs others don't know. We have traditions we never explain.
Sundays should be more like the Sermon on the Mount where the crowd included the disciples, the prostitutes, the tax collectors, and others not welcome in the synagogue.
In his letter to the Corinthian church, Paul reminded them not to forget about the unbeliever in their gathering.
When we have those who do not yet believe in our Sunday gatherings, we will communicate the truths of Scripture with more clarity.
If the pastor and worship leader explain why we are doing what we are doing, we lead better.
When we avoid Christianese, or insider language, or at least define our terms for those in the crowd who are not insiders, we are immediately more inclusive.
Here's a way to gauge our effectiveness on this. Does the 12 year old kid sitting in church understand what is happening? If not, then we have some work to do to communicate more clearly and succinctly.
In doing so, we are helping those who do believe know how to communicate the truths of Scripture in a way that their disconnected family or friends will understand.
We need to remove the personal and corporate barriers that keep God from moving freely in and through us.