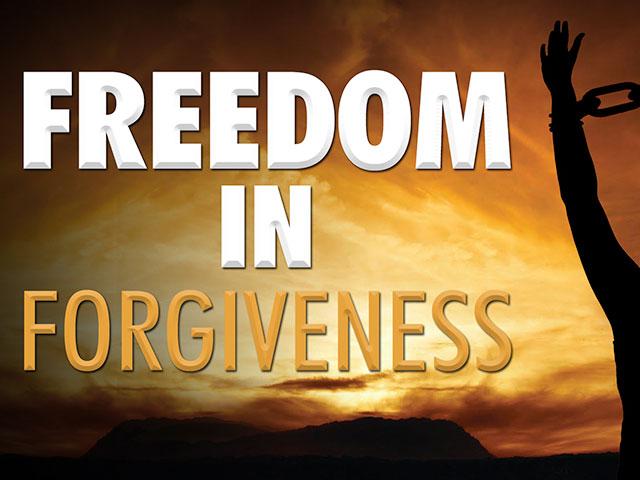 Our need for forgiveness and reconciliation
Definition of forgiveness and reconciliation
Psychologists generally define forgiveness as a conscious, deliberate decision to release feelings of resentment or vengeance toward a person or group who has harmed you, regardless of whether they actually deserve your forgiveness.
Reconciliation involves a change in the relationship between God and man or man and man. It assumes there has been a breakdown in the relationship, but now there has been a change from a state of enmity and fragmentation to one of harmony and fellowship. In Romans 5:6-11, Paul says that before reconciliation we were powerless, ungodly, sinners, and enemies; we were under God's wrath (v. 9). Because of change or reconciliation we become new creatures. "Therefore, if anyone is in Christ, he is a new creation; the old has gone, the new has come!" ( 2 Cor 5:17 ).
Importance of forgiveness and reconciliation
The story of the Prodigal Son, also known as the Parable of the Lost Son, follows immediately after the parables of the Lost Sheep and the Lost Coin. With these three parables, Jesus demonstrated what it means to be lost, how heaven celebrates with joy when the lost are found, and how the loving Father longs to save people.
Jesus was also responding to the Pharisees' complaint: "This man welcomes sinners and eats with them."
The story of the Prodigal Son begins with a man who has two sons. The younger son asks his father for his portion of the family estate as an early inheritance. Once received, the son promptly sets off on a long journey to a distant land and begins to waste his fortune on wild living.
When the money runs out, a severe famine hits the country and the son finds himself in dire circumstances. He takes a job feeding pigs. Eventually, he grows so destitute that he even longs to eat the food assigned to the pigs.
The young man finally comes to his senses, remembering his father. In humility, he recognizes his foolishness and decides to return to his father and ask for forgiveness and mercy. The father who has been watching and waiting, receives his son back with open arms of compassion. He is overjoyed by the return of his lost son.
Immediately the father turns to his servants and asks them to prepare an enormous feast in celebration of his son's return.
Meanwhile, the older son boils in anger when he comes in from working the fields to discover a party with music and dancing to celebrate his younger brother's return. The father tries to dissuade the older brother from his jealous rage explaining, "You are always with me, and everything I have is yours."
Meaning
The main character in the parable, the forgiving father, whose character remains constant throughout the story, is a picture of God. In telling the story, Jesus identifies Himself with God in His loving attitude to the lost. The younger son symbolizes the lost (the tax collectors and sinners of that day, Luke 15:1), and the elder brother represents the self-righteous (the Pharisees and teachers of the law of that day, Luke 15:2).
The major theme of this parable seems not to be so much the conversion of the sinner, as in the previous two parables of Luke 15, but rather the restoration of a believer into fellowship with the Father. In the first two parables, the owner went out to look for what was lost (Luke 15:1-10), whereas in this story the father waits and watches eagerly for his son's return. We see a progression through the three parables from the relationship of one in a hundred (Luke 15:1-7), to one in ten (Luke 15:8-10), to one in one (Luke 15:11-32), demonstrating God's love for each individual and His personal attentiveness towards all humanity. We see in this story the graciousness of the father overshadowing the sinfulness of the son, as it is the memory of the father's goodness that brings the prodigal son to repentance (Romans 2:4).
God's loving forgiveness
No matter what we've done or how rebellious we've been, God offers to forgive us for only one reason: He loves us. It doesn't seem logical, and we don't deserve it, but it's still true: in spite of all our sins, He loves us. The Bible says, "I have loved you with an everlasting love" (Jeremiah 31:3).
But the main reason we know God loves us is because of Jesus Christ. He was God in human flesh, and He came into this world for one reason: to make our forgiveness possible. He did this by becoming the final and complete sacrifice for our sins, through dying on the cross for us. As the Bible says, God "loved us and sent his Son as an atoning sacrifice for our sins" (1 John 4:10)
The Bible gives us the costly requirement for God's forgiveness: "Without the shedding of Blood, there is no forgiveness" (Hebrews 9:22). In the Old Testament, the continual sacrifices of unblemished lambs were required to satisfy God's wrath and judgment. However, Jesus Christ, the Son of God, died on a Roman cross and became the ultimate, once-and-for-all sacrifice for our sins. Jesus purchased God's forgiveness on our behalf when he became the Lamb of God and died on the cross for you and me.
"For Christ died for sins once for all, the righteous for the unrighteous, to bring you to God" (1 Peter 3:18). "In him we have redemption through his blood, the forgiveness of sins, in accordance with the riches of God's grace" (Ephesians 1:7).
A believer receives God's forgiveness when he repents of sin and places his faith in Jesus Christ for salvation — all of his sins are forgiven forever. That includes past, present and future, big or small. Jesus died to pay the penalty for all of our sins, and once they are forgiven, they are all forgiven (Colossians 1:14; Acts 10:43). However, when we stumble, we are called to confess our sins – "If we confess our sins, he is faithful and just and will forgive us our sins and purify us from all unrighteousness" (1 John 1:9).
Jesus and forgiveness
Jesus often spoke about forgiveness, forgave those who sinned against others, forgave those who sinned against him, and asked the Church to continue his healing ministry. Jesus taught, "If you forgive others their transgressions, your heavenly Father will forgive you" (Mt 6:14). Peter asked Jesus how often it is necessary to forgive, and Jesus replied, "Seventy-seven times" (Mt 18:22), a number to be taken symbolically, not literally, for the never-ending way that we ought to forgive.
Jesus liked to use parables to illustrate various aspects of forgiveness. During his conversation with Peter, Jesus told the parable of the unforgiving servant (Mt 18:23-35). Luke's gospel has a series of five forgiveness parables:  the barren fig tree (Lk 13:6-9); the bent over woman (Lk 13:10-13); the lost sheep (Lk 15:4-7); the lost coin (Lk15:8-10); and the greatest forgiveness parable of all, the prodigal son (Lk 15:11-32).
Jesus was extremely kind and merciful in the way that he forgave those who sinned against others. Jesus told the paralytic, "Child, your sins are forgiven" (Mk 2:5); when a sinful woman bathed Jesus' feet with her tears and wiped them with her hair, Jesus said, "Your sins are forgiven" (Lk 7:48); when a woman caught in adultery was brought before him, he said, "I do not condemn you" (Jn 8:11); and as Jesus hung on the cross he told the repentant criminal, "Today you will be with me in paradise" (Lk 23:43).
Even more compelling is the way that Jesus forgave those who sinned against him directly. For Jesus, forgiveness was not an automatic, it was intentional, a conscious choice. After the Roman soldiers had scourged and nailed him, Jesus prayed, "Father, forgive them" (Lk 23:34). After the resurrection Jesus had every right to be furious. Peter had denied him. The others had deserted him. When he entered the Upper Room, they deserved a severe reprimand, but instead, with divine compassion Jesus said not once but three times, "Peace be with you" (Jn 20:19,21,26).
Jesus asked his disciples to continue his forgiveness ministry. Jesus told Peter, "I will give you the keys to the kingdom of heaven. Whatever you bind on earth shall be bound in heaven; and whatever you loose on earth shall be loosed in heaven" (Mt 16:19); and after the resurrection Jesus breathed on the disciples and said, "Receive the Holy Spirit. Whose sins you forgive are forgiven them" (Jn 20:22,23).
How Christians can work for reconciliation and unity
To move people toward a reconciled relationship with God may seem a daunting task, especially in our postmodern culture that exalts moral relativism and disdains absolute truth. But as Paul told the Corinthians, we must open wide our hearts, allowing God's compelling love to flow through us to others (2 Corinthians 5:14, 6:11).
Some practical ways we can open our hearts and deliver God's loving message of reconciliation to those who don't even realize they're searching for it?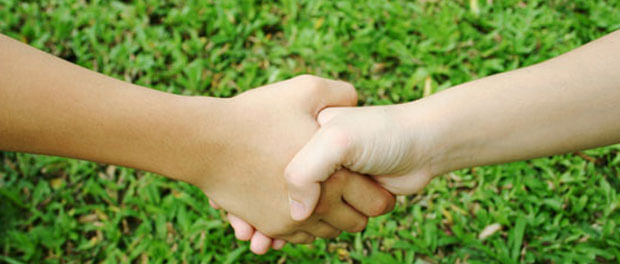 Evangelism
When God provides an opportunity, share the message of reconciliation clearly with your words to lost, estranged people who desperately need peace with him through Jesus Christ.
Generosity.
Give a generous tip to a harried restaurant server. Explain that it's a privilege to share God's resources with others.
Listening
Seek to understand opposing viewpoints when people speak against the values you hold dear. Choose to listen rather than argue.
Thanksgiving
Send a handwritten note of thanks to people who impact your life—a mail carrier, doctor, or neighbor. Tell them why you consider them one of God's blessings in your life.
Hospitality
Invite a neighbor or coworker to share a meal with you. If you're not a cook, meet at a restaurant or pick up food and bring it home. Express your appreciation and give God the glory for bringing that person into your life. Share experiences that point to your relationship with God.
Boasting in Christ
If someone compliments you on the way you handle a situation, glorify God by explaining that you sought his guidance in the matter. As we point to God's work in our lives, the evidence of his grace, forgiveness, faithfulness, and attentiveness to us can create a hunger in other people's hearts for such a relationship.
 Scripture
You may also find it helpful to list the fruit of self (Galatians 5:19-21) and the fruit of the Spirit (Galatians 5:22-23) on a 3×5 card or on your smartphone. Each day read the two lists and ask the Spirit to help you produce fruit compatible with your role as a minister of reconciliation. As conflicts, problems, and frustrations rise, look at the lists and pray for guidance.