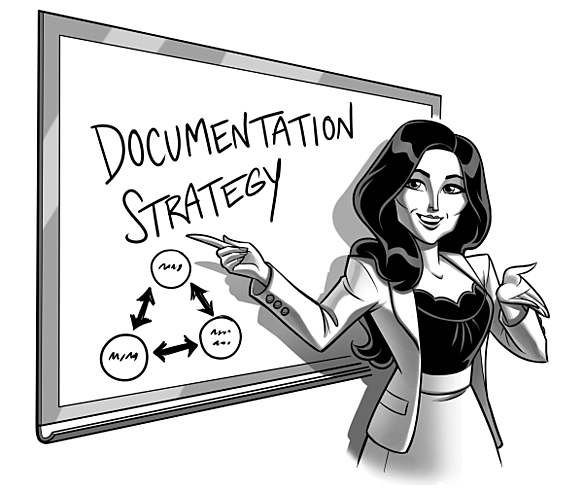 The traditional approach to documentation is to look at it in silos across an organization's departments, teams and projects. It is no wonder that many organizations are left with consultants and employees running around documenting in all different directions.
Beyond this ineffective traditional approach, an effective documentation strategy takes a comprehensive view of your organization's strategic objectives and understands how your documentation will help achieve these objectives. Aligning your documentation with your organization's core strategy will ensure that you are truly driving value, not just going through the motions.
Need to get started on building an effective documentation strategy? Then follow these steps:
1. DEFINE YOUR DOCUMENTATION OBJECTIVES
Documentation is not just for its own sake. It has a purpose – to drive more value to your organization. The first step in defining your documentation strategy is to align it with the strategic objectives of your organization or department. Your documentation strategy must
be built from the top down. Your organization's President or CEO probably has little involvement in the hands-on, daily creation and maintenance of your documentation.
He or she must, however, be aware of its importance and provide the budget to implement
effective documentation practices. The onus is on managers to ensure that the documentation created by employees and consultants meets the strategy determined by your organization's executive.
Pinpoint your basic strategy to move ahead:
If the focus of your strategic plan is on safety, then focus on developing high quality documentation for your safety management system.
If the focus of your plan is on sales, then focus on improving your documentation to support your sales and marketing teams.
If your organization is looking to make significant operational improvements, then focus your documentation around your operational processes.
If you are looking to increase your gifts from existing donors, then focus on improving your documentation around donor relations.
 2. DEFINE WHAT THE OUTPUT WILL LOOK LIKE
The best thing about a document is that it is tangible. It's not simply a vague concept
or missionstatement. You can define exactly what you want your document to look like and what it must achieve.
Now that you have linked your documentation to your corporate strategy, define exactly what it needs to look like and how it needs to work for your audience. It should be more than just aligned with your organization's strategy: it needs to be usable and engaging.
Consider these points:
What does management expect?
Who has ownership over your documentation?
What are the needs of your users?
What is the tone of the documentation?
How much room do you have for creativity?
How long should the document be?
How often should the document be updated?
Do employees have time to update it?
Who needs to have access to the document?
What is an appropriate length and level of detail?
 3. AUDIT YOUR EXISTING DOCUMENTATION
To build an effective strategy, you need to know what documentation you already have –
to avoid reinventing the wheel. Take an inventory of what is working, what isn't, and the holes in it that may be leaving your organization vulnerable.
A documentation audit is like looking through your closet before running out and buying new clothes. What items have you forgotten about that you already own? What items should you get rid of? Which items do you really need? Performing a formal review of your documentation is especially applicable to bigger organizations where documents tend to get lost or disorganized in the shuffle of people and conflicting projects.
Do an inventory check to consider:
What documentation is usable?
Who may have knowledge of existing documentation?
Were previous documents created for a different project which may be relevant to your work?
Why did previous documentation projects succeed or fail?
Which documents is your organization using and which is it not using?
Why is some existing material more useful than the rest?
 4. LOOK FOR QUICK WINS
Let's face it, not everyone in your organization may be as excited by effective documentation as you are. Therefore, look for quick wins to gain your stakeholders' buy-in. Quick wins are critical for gaining momentum to boost your documentation strategy. Although improving your documentation corporate-wide can be an immense and even intimidating process, there are many ways to make it more comprehensive quickly and efficiently.
Here are a few examples:
Simple process diagrams – Simple process diagrams,
such as swim lane diagrams, can improve the clarity and consistency for
operational teams almost immediately. Examples of departments that use these effectively include Finance and IT – processes that are often easy to document and provide many immediate benefits.
Meeting notes – Meeting notes are essential for capturing the ideas and knowledge of your team or department, but unfortunately people can get lazy when it comes to meeting notes. Get your team on track immediately by implementing effective practices for taking meeting
notes.
Organizing project folders – Your organization might have good existing documentation – but it just can't find it. See quick benefits from simply organizing, categorizing and naming your documents and documentation folders.
5. AIM FOR 80/20
You do not have the resources or the budget to ensure that your documentation meets all of
your organization's objectives. Documentation is not about perfection; it is about getting value for your money.
Don't try to capture every detail or agonize over the writing and formatting of every document, especially when you are building documentation from the ground up or making major changes. Documentation must be as lean and efficient as possible and focused only on the key objectives of your organization.
Plan your documentation strategy to:
Focus on the most pressing strategic initiatives or issues.
Plan resources according to the strategic initiatives.
Define upfront the issues or areas that are less important.
Define upfront the issues or areas that are not pressing this year.
Determine which details are important and which ones aren't.
 6. MONITOR CONTINUOUSLY
Establish practices for monitoring and reviewing your documentation continuously year after year. This includes monitoring the work of both your employees and your consultants. Demand that employees, management and consultants provide their superiors with regular updates on the status of their documentation and continually revisit its alignment with your corporate strategy.