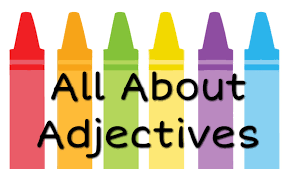 Adjectives describe the aspects of nouns. When an adjective is describing a noun, we say it is "modifying" it. Remember that you can negate adjectives if you don't know the opposite word yet, for example say, "It's not clear," if you don't know the word "confusing". You can also combine adjectives for added precision, for example say, "What you want is possible but hard," if you don't know the word "challenging". By learning to use these 50 adjectives correctly and applying a few "tricks" to make your life simpler, you'll expand your ability to communicate in English.
Adjectives describe nouns to tell you more about something.

Adjectives come in several varieties, including superlative and comparative.

Using adjectives is particularly important in descriptive writing.
Adjectives are describing words, such as blue, angry, cold, dry and hard. Technically, an adjective is described as modifying or quantifying a noun or pronoun, but an easier way to look at the definition of adjectives is that an adjective tells us more and gives us extra information about something. For example, if someone said: "It's a warm day", the adjective warm is giving us extra information about the noun day.  What are adjectives? Adjectives are words that make sentences more interesting and add spice to writing.
Jason gave me a piercing look before he shut the open
The Titanic was a great movie, but it was long and sad!
Lauren has excellent managerial skills and is a superb listener.
Adjectives can:
Describe feelings or qualities,
EXAMPLES
He is a lonely man.
They are honest.
Give nationality or origin,
EXAMPLES
I heard a French song.
This clock is German.
Our house is Victorian.
Tell more about a thing's characteristics,
EXAMPLES
That is a flashy car.
The knife is sharp.
Tell us about age,
EXAMPLES
He's a young man.
My coat is old.
Tell us about size and measurement,
EXAMPLES
John is a tall man.
This film is long.
Tell us about colour,
EXAMPLES
Paul wore a red shirt.
The sunset was crimson.
Tell us what something is made of,
EXAMPLES
The table is wooden.
She wore a cotton dress.
Tell us about shapes,
EXAMPLES
I sat at a round table.
The envelope is square.
Express a judgement or a value.
EXAMPLES
That was a fantastic film.
Grammar is complicated.
Most commonly Used Adjectives
able
bad
best
better
big
black
certain
clear
different
early
easy
economic
federal
free
full
goodgreat
hardhigh
human
important
international
large
late
little
local
long
low
major
military
national
new
old
onlyother
politicalpossible
public
real
recent
right
small
social
special
strong
sure
true
white
whole
young
Ordering of Adjectives
When a number of adjectives are used together, the order depends on the function of the adjective. The usual order is:
Quantity, Value/opinion, Size, Temperature, Age, Shape, Colour, Origin, Material
| What the adjective expresses | Examples |
| --- | --- |
| Quantity | four, ten, a few, several |
| Value/Opinion | delicious, charming, beautiful |
| Size | tall, tiny, huge |
| Temperature | hot, cold |
| Age | old, young, new, 14-year-old |
| Shape | square, round |
| Color | red, purple, green |
| Origin | Swedish, Victorian, Chinese |
| Material | glass, silver, wooden |
EXAMPLES
They have a lovely old red post-box.
The playroom has six small round plastic tables.
I bought some charming Victorian silver ornaments at the flea market.
She is selling her flashy 3-year-old Italian car.
It was a beautiful cold day.
Using Adjectives in a Sentence
Adjectives in English are invariable. They do not change their form depending on the gender or number of the noun.
EXAMPLES
This is a hot potato.
Those are some hot potatoes.
To emphasise or strengthen the meaning of an adjective, use the adverbs very or really in front of the adjective you want to strengthen.
EXAMPLES
This is a very hot potato
Those are some really hot potatoes.
Adjectives in English usually appear in front of the noun that they modify.
EXAMPLES
The beautiful girl ignored me.
The fast red car drove away.
Adjectives can also appear after being and sensing verbs like to be, to seem , to look & to taste.
EXAMPLES
Italy is beautiful.
I don't think she seems nice at all.
You look tired.
This meat tastes funny.
SOME EXCEPTIONS
Adjectives appear after the noun in some fixed expressions.
EXAMPLES
The Princess Royal is visiting Oxford today.
The President elect made a speech last night.
He received a court martial the following week.
The adjectives involved, present & concerned can appear either before or after the noun that they modify, but with a different meaning depending on the placement.
EXAMPLES
| Adjective placed after the noun | Meaning | Adjective placed before the noun | Meaning |
| --- | --- | --- | --- |
| I want to see the people involved. | I want to see the people who have something to do with this matter. | It was an involveddiscussion. | The discussion was detailed & complex. |
| Here is a list of the people present at the meeting. | Here is a list of the people who were at the meeting. | The present situation is not sustainable. | The current situation is not sustainable. |
| I need to see the man concernedby this accusation. | I need to see the man who has been accused. | A concerned father came to see me today. | A worried father came to see me today. |