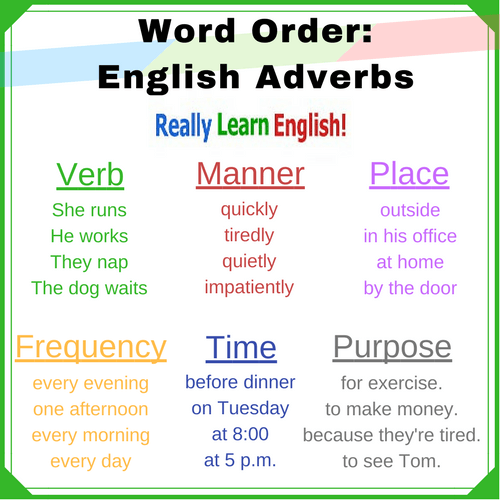 ADVERBS
Lesson 1
Lower class work
An adverb is a word that tells us more about verbs, adjectives and other adverbs.
Classes of adverbs.
Adverbs of manner e.g. beautifully, nicely.
Adverbs of time e.g. yesterday, soon, before, today.
Adverbs of duration e.g.
Adverbs of frequency e.g. often, rarely, usually, ever, seldom, normally, commonly, frequently.
Adverbs of place e.g. nowhere, every where, here, three, out side, any where, at home.
Adverbs of degree e.g. much, almost, only, rather, very, quite.
WATCH THE VIDEO BELOW TO LEARN ABOUT ADVERBS AND THEIR USAGE

Lesson 2 -3
FORMATION OF ADVERBS.
Most adverbs are formed out of adjectives by simply adding "ly"
Example
Adjective                                                      Adverb.
Clear                                                       clearly
Proud
Quick
Poor
Fair
Cheap
Sudden
Adverbs that are formed by adding "ly" although they end with "e"
Word                                                           adverb.
Nice                                                        nicely
Wise
Rude
Complete
Sincere
Polite
Care
That end with a vowel before "e"
Word                                                           adverb
True                                                            truly
Adverbs which are formed by dropping "le" and replacing it with "ly"
Word                                                           adverbs.
Humble                                                   humbly
Simple
Possible
Terrible
Sensible
Gentle
Suitable
Miserable
Probable
Adjectives that end with "y" changes "y" to "I " and add " ly"
Adjective                                            adverb
Angry                                            angrily
Lucky
Steady
Easy
Heavy
Lazy
Noisy
Clumsy
Merry
Verb                                                   adverb
Hurry                                                 hurriedly
Steal                                                  stealthily
Adjectives that end with "I" form adverbs b y simply adding "ly"
Adjective                                            Adverb
Grateful                                         gratefully
Careful
Equal
Practical
Accidental
Skilful
Royal
Annual
Mental
Hopeful
Activity
Complete the following sentences with the correct form of the given word.
The boy left the dormitory at night ……………..( stealthy)
I got the answer to that question……… ( accidental )
The work men………….protested against their working conditions (angry)
On hearing the noise the doctor, went to the theatre……….. ( immediate)
She ate her food………… ( hurry)
Use an adverb in the place of the underlined words.
The thief was beaten with out mercy.
The cup was broken with force.
He shouted at her with anger.
The president left the rally in a hurry.
She welcomed her mother by cheering.
Order of adverbs.
The order of adverbs is manner, place and time.
Examples.
Beautiful aunt my is a lady very.
My aunt is a very beautiful lady.
Was hurriedly yesterday Mary school to going.
Mary was hurriedly ( manner) going to school (place) yesterday (time)
PREPOSITION
Word                                                   preposition.
Congratulate                                   on, for, up on
Concentrate                                    on
Conscious                                      of
Lean                                               against
Escape                                          from
Good                                             at
Familiar                                         to / with
WATCH THE VIDEO BELOW TO LEARN ABOUT THE USE OF PREPOSITIONS