What is mining?
Mining is the extracting of minerals from the earth crust for commercial purposes.
Types of minerals
Fossil fuels for example petroleum and natural gas.
Natural minerals: which are further sub divided into;
Metallic minerals
Non metallic minerals
Minerals can be in solid, liquid or gaseous form.
Methods of mining
Drilling of oil: This is important for extraction of Petroleum and Natural gas.
Adit mining: this is a kind of deep mining meant to extract minerals found deep under ground. In these case tunnels are constructed to reach the minerals bearing rock. These tunnels are laid horizontally.
Shaft mining: This is another kind of deep mining where by vertical tunnels known as shafts are constructed leading to the mineral bearing rock.
Strip mining: it involves mining along the slopes where by a chunk of rock containing minerals is cut off. It can also be referred to as the cut and fill method. The method is suitable for obtaining a mineral on a slope that is near the surface.
Panning: The method is used in the extraction of gold on a small scale.
Open cast mining: it involves the extracting of minerals that lie near the surface of the earth. It is used for minerals such as lime stone, iron ore, etc.
MINERALS MINED IN THE GREAT LAKES REGION
Iron ore: this is mined in the south west and eastern shores of Lake Superior. The iron ore reserves are located in the following places
Mesabi
Gogebic
Vermillion
Guyana
Labrador
Iron ore is important in the iron and steel industries.
Coal: mainly mined in Pittsburg south of L. Erie the king of coal mined in this place is called bituminous coal. The leading coal producing state is West Virginia.
Copper: this is mined in the southern shores of L. Superior and North of L. Huron. Copper is used for manufacturing of the generators as well as electricity cables.
Uranium: this is mined in the north east of L. Huron ans is used for the generation of nuclear power as in the gun industry.
Petroleum: This is mined in east of Michigan and the southern parts of L. Ontario. It is used in the petrol chemical industries and to provide energy.
Other minerals include: gold, silver, Asbestos, Nickel, etc
MINING AROUND THE GREAT LAKES REGION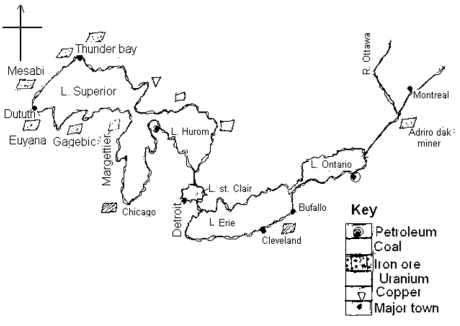 IRON AND STEEL INDUSTRY
The main raw materials required for this industry is iron ore. Most of these industries are located in the North Eastern part of USA. The iron ore is mined in the mining field through the open cast method and transported to the industrial area by water and railway.
CHARACTERISTICS OF INDUSTRY
The most important raw material is iron ore and others include coal, lime stone which are used in melting coal.
It is a manufacturing industry.
It is heavy industry i.e large amounts of raw materials are needed.
It requires a lot of labour and mainly skilled labour.
The products obtained are mainly producer goods (used to produce other goods), however, consumer goods are also produced. Raw materials are mainly transported by water and railway.
FACTORS THAT HAVE CONTRIBUTED TO GROWTH
Availability of market in the region especially in the engineering industries and also due to the fact that the population is high with high income.
Availability of raw materials e.g iron ore fields around L. Superior and Limestone around L. Huron.
Cheap and easy transport by the sea way for transporting the raw materials and other products.
Availability of cheap power i.e H.E.P from the Niagara scheme and thermal power from various plant as well as nuclear power.
Coal has also been imported in the smelting and refining of iron ore.
Availability of skilled labour has been important for the industrial process has been due to the high population and high education.
Availability of water to act as the coolant in the industries.
Advanced technology, etc
Products: Cutlery, vehicles, iron sheets, kitchen utensils, window frames, metallic or ornaments.
COAL INDUSTRY
Coal is a non metallic mineral which are mined from the southern part of the great lakes. The main coal producing states are: west Virginia, Pennsylvania, Kentucky, Otio, Indiana, Illinois.
Coal is mined by edit mining, the under ground mining on the slopes of the Appalachian hills.
The coal is transported by railway and water. The presence of coal in these areas has attracted iron and steel industry plus other industries in this region since its of great industrial importance.
IMPORTANCE
Used in production of thermal power.
Used for production of coal gas during the process of coal gasification.
Used for heating in order to smelt iron.
Used for the production of which is used to bituminize roads.
WHY COAL MINING IS EASY?
The horizontal strata of coal.
Coal seams i.e the layer of the coal breaking rocks is easily accessible along the slopes and hill sides thus favoring strip mining.
Abundance of good quality coal deposits.
The advanced technology which favored coal extraction.
Easy transport which has favored coal transportation.
PROBLEMS FACED BY COAL INDUSTRY.
Market problems: These are due from competition from other sources of power.
Exhaustion of coal deposits.
High coal of mining especially where the deposits are deep under ground because machinery wears out very fast.
Pollution as a result of dust and smoke from the process as well as too much noise.
Some deposits are of poor quality .
Some parts of U.S.A , coal deposits are scattered hence not economical to mine.
May be poisonous gases from under ground.
PROBLEMS OF MINING IN GREAT LAKES REGION.
Machinery wears out very fast, mainly because of the nature of the rock which tend to be very hard . This tends to increase cost of production.
Open cast mines at times get frozen in winter because they are covered by snow hindering mining .
Exhaustion of some minerals, requiring the exploration of some mineral deposits e.g the mesabi ranges have almost been exhausted.
Destruction of vegetation that helps in climate modification.
Pollution of atmosphere by dust and smoke during mining industry.
Due to the presence of st. Lawrence sea way and availability of minerals, the area as been heavily industrialized.
Due to this industrialization of number of problems have resulted.
There has been increased population which has led to inadequate social services.
There has been air and water pollution mainly in Lake Erie and this has led to destruction of a aquatic life.
Has also been noise pollution.
Many industries require minerals and raw materials hence over exploitation of minerals have led to exhaustion of some of them.
The many industries have led to competition for market and raw materials.
High costs have been incurred in production because there's need for market research, sales, promotion and need to be in line with modern technology tastes and preferences since they keep on changing.