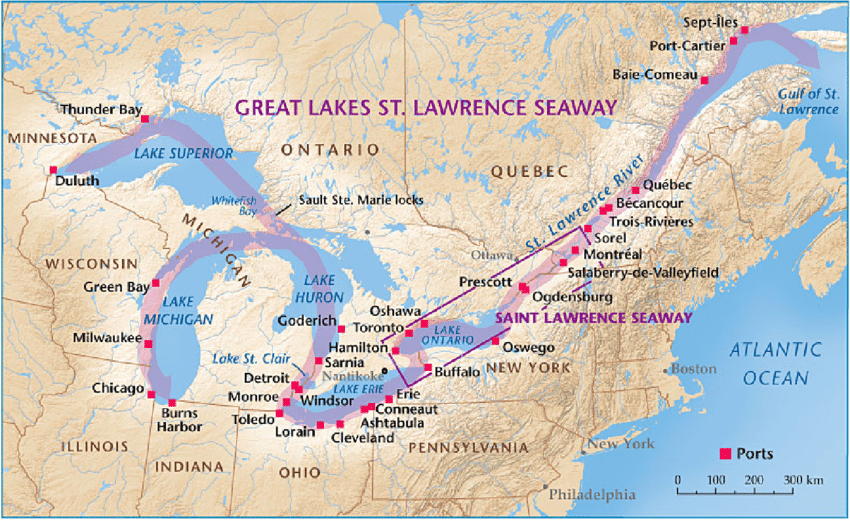 READ OR LISTEN BELOW 
 The St. Lawrence Sea Way
This is a water way partly artificially constructed from the gulf of St. Lawrence up to the western shores of Lake Superior which covers a distance of 3,800 km.
The huge engineering project was mainly to create deep navigable waters between L. Montreal and L. Ontario.
It was began in 1954 and opened in 1959. Other obstacles that had to be overcome include the Niagara falls.
The St. Lawrence Sea way was jointly constructed by the U.S.A and Canada. Both contributed finances towards the project.
The project employs 22,000 men at its peak. It cost 1.3 billion dollars. The problem of transport had existed earlier on but it took long for the project to begin. The project delayed mainly because U.S.A was unwilling to cooperate yet Canada did not have enough money to carryout the project.
REASONS FOR THE DELAY
Lack of capital on part of Canada to start the work
Opposition from U.S.A because she feared her roads and railway lines would be rendered redundant.
S.A feared because her part of New York and other Atlantic parts would lose markets just because traffic could be diverted to the sea way.
S.A never favored the project because she had small ships which could still sail without the sea way constructed.
However, some companies within U.S.A for example the United States Steel industry favored the constructed because it would get easy to iron ore, from Labrador and the western parts of L. Superior.
Later the U.S.A accepted to cooperate because;
By 1950, Canada had enough build the sea way alone she would monopolize the dues paid by the shipping company.
U.S.A also realized that if Canada was in full control of the sea way, she would also be liable to pay if she wanted to use the sea way.
Effects of rapid growth of New York on the environment
Problems faced before construction
Many rapids and falls on river St. Lawrence especially between L. Montreal and L. Ontario.
Existence of thousands of small islands created shallow and narrow areas due to the existence of the rock shoals which acted as bottle necks to shipping.
There were water falls e.g. Niagara falls which were a major obstacle.
Some places along river St. Lawrence where so narrow those big ships could not sail through e.g. Montreal and King Station.
River St. Lawrence and L. Ontario used to freeze for five months in winter.
Small ships could face problems of poor visibility because of the occurrence of fog.
Aims of the St. Lawrence sea way
To create deep and wide waters for navigation especially Montreal and L. Ontario
To build dams for the generation of hydro electric power.
To ease transport in order to enable exploitation of iron ore at Labrador and Mesabi ranges.
To control river floods.
To ease transport in order to enable ship movement of Canadian wheat from the prairies.
To provide a link between the interior of North America and the rest of the world.
N.B The Sea way was therefore a multipurpose project.
A MAP SHOWING THE DIFFERENCE THE ST. LAWRENCE SEA WAY HAS MADE TO SHIPPING
Before the construction of the Seaway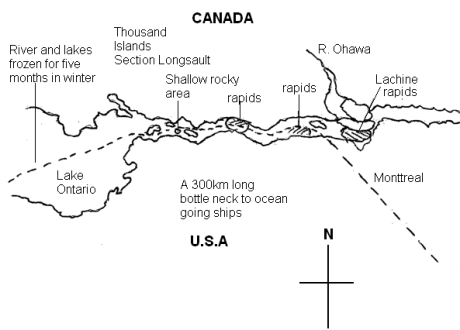 AFTER THE CONSTRUCTION OF THE SEAWAY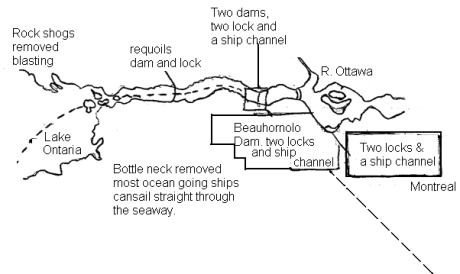 MAJOR OBSTACLES OF THE SEA WAY AND THEY WERE OVER COME. CLICK ON EACH OBSTACLES TO READ MORE ABOUT IT
HOW A SHIP PASSES UP RIVE THROUGH A ROCK.
Stage one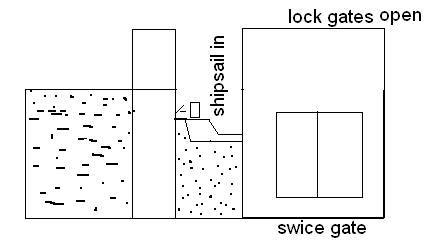 Stage Two

Stage three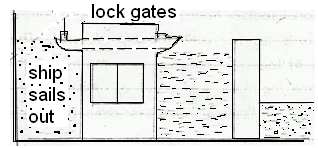 A CROSS SECTION A LONG PROFILE OF THE ST. LAWRENCE SEA WAY UP TO GREAT LAKES.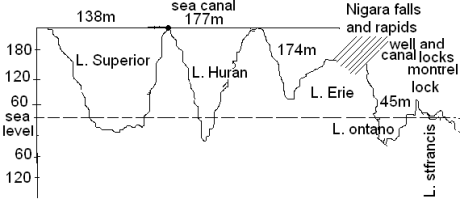 A MAP OF THE GREAT LAKES REGION SHOWING ST. LAWRENCE SEA WAY, TOWNS AND CANALS.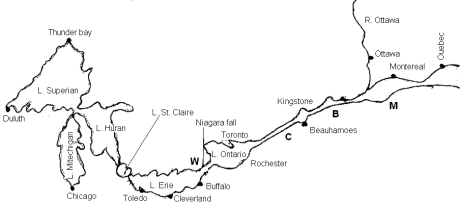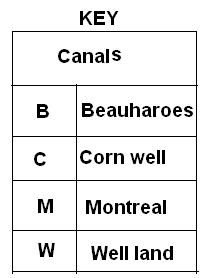 NIAGARA FALLS
The falls lie between lake Erie and lake Ontario. They are almost 100km with the Nigara falls passing through a narrow gorge with foaming rapids. The falls have led to the great generation of hydro-electricity power scheme. In the generation of hydro electricity power, water is used to turn the turbines that drive generators that produce electricity. The power is used for domestic and industrial purposes
WELL AND CANAL
This was built to overcome the Naigara falls as a hindrance to navigation. The first canal was built in the 1860's and later on improvements were made and a modern well land ship canal was opened in 1932. As part of the seaway projects some improvements were made and these include;
Dredging and deepening of the sea way to a minimum depth of 8.2m.
It was further widened to enable big ships pass through.
THE SAULT SAINTE MARIE CANAL. (500)
This passes through a stretch of rapids on river st. Marie on L. superior and L. Huron it is the third and final link in the shipping route.
BENEFITS OF THE ST. LAWRENCE SEAWAY
Improvements were made to navigation through the construction of locks this enabled the water level to rise in areas where it was shallow.
Trade between the great lakes and the outside would was boqted.
It encouraged the exploitation of minerals like iron are at the Mosabi and Labrodor range.
Hydro electricity power stations were constructed hence providing power for industrial growth.
It acts as a tourist attraction hence bringing in foreign exchange for USE and Canada.
Government revenue is got by taxing the ships that are using the sea way.
It has led to growth of towns into cities and ports for example New York.
It had led to industrial development.
It has provided employment opportunities to the people in USA and Canada.
It led to the formation of Lake St. Lawrence which is used as a fishing ground today.
It promoted and boosted agriculture in the region.
It has promoted god international relations i.e both political and economic relations between USA and Canada
PRODUCTS TRANSPORTED BY THE SEA WAY
Agricyultural products for example wheat, maize, beef, etc.
Minerals like iron ore, coal, oil, copper, etc.
Manufactured products; cars, machines, house hold utensil e.g forks, spoons, etc.
Forestry products e.g timber, furniture, ply woods.
PROBLEMS CREATED BY THE SEA WAY
It required large amount of capital thus leading to the drain on the economies of Canada and USA.
The man made lake that was created (St. Lawrence) flooded large areas which included the nearby towns and villages.
PROBLEMS OF SHIPPING ON THE SEA WAY
Freezing of water during winter still remains a problem.
There is fog especially at the St. Lawrence River which affects visibility.
There are still delays at the locks especially where there is a single rock.
Some parts of the sea way are still narrow for the big ships to go through.
The different levels through which ships have to travel is a problem in terms of speed.
DEVELOPMENT AROUND THE GREAT LAKES REGION
Several development have cropped up around the great lakes and this has been mainly because of construction and opening of the st. Lawrence seaway.
The development include:-
Development of towns into large cities and parts e.g New York, Chicago;
Development of industries
Development of agriculture
Development of mining eg minerals have been exploited as well as other resources e.g forestry.
There has been development of a better transport system.
THE TRANSPORT SYSTEM
The st. Lawrence seaway is by far the best known American inland water way and has been one of the most important inland waterway in the world.
This is because it has been designed for the shipment of bulky cargo at a high speed.
Most ports along the seaway are equipped with modern facilities e.g locks, cranes.
The ice breakers have also helped in facilitating the shipment of cargo during winter.
AGRICULTURE DEVELOPMENT
Agriculture has developed mainly because products system and inputs are easily transported by the seaway.
Agriculture is most important in the prairies where by the main crop includes wheat, corn, (maize) fodder etc.
Animals kept include; beef and dairy cattle and pigs are kept However, along the st. Lawrence seaway low lands towards the Atlantic Ocean the major crops grown include vinco, tobacco and fruits like peaches.
CITY /PORT DEVELOPMENT
The development of large cities and ports has been a reflection of an increase in the economic activity. This has been prompted by availability of cheap transport.
Help as well as raw materials.
The immediate towns include Montreal: this is the largest city in Canada and the chief port.
It is one of the leading manufacturing cities and some industries include: clothing industries.
Air craft manufacture: wood pulp and paper
Grain milling industry corn
Food processing.
Quebec
It is located at the beginning of the st. Lawrence century and is well known for textile industry, paper industry.
It is one of the main port that handles iron ore, wheat, crops as well as timber
Ottawa
It is the capital city of Canada and has a number of industries but mainly known for timber with pulp and paper industries
Toronto
It is found in the NW shores of L. Ontario and is the 2nd largest city in Canada. It manufacturers machinery, vehicle, paper and has food processing industry.
Thunder Bay
It is located on the western shores of L. superior and is the main Canadian part in the region of the great lakes.
It handles a numbers commodities mainly those that are from the prairies and iron core from labour
It has many elevators for stage facilities.
Rochester
This city is located in south of L. Ontorio. It is found in USA and it handles a number of products e.g iron and steel, oil and beef products.
Duluth
Found on the western tip of L. Superior. It's a port that handles iron ore from the mining fields around L. Superior. Also handles products such as wheat and cobalt.
Buffalo
It is found at the eastern tip of L. Erie. It is a city that manufactures chemical products.
Cleave land
Found in the southern part of L. Erie. It manufactures steel, electrical products. It is also a port that handles iron ore.
Detroit
Is found on the western part of L.Erie. It is a major city as well as a port. It has industries that manufacture vehicles, aluminum products, air crafts as well as chemicals.
Chicago
It is the largest city bin the great lakes region. It is the 3rd largest city in the USA. It has the world's largest grain and beef market. It has several industries that manufacture rail equipment, machinery, food products, etc
Other major cities are Milwaukee, Hamilton, etc
THIS VIDEO SHOWS THE ST LAWRENCE SEA WAY SYSTEM