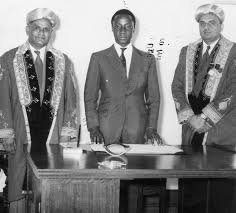 THE KABAKA CRISIS
The Kabaka crisis was the period in Buganda when the Baganda rose against the colonial government as a result of exiling Kabaka Muteesa II
Why was Kabaka Muteesa exiled in 1953
Kabaka Muteesa II wanted Buganda to remain an independent state.
He refused the idea of East African Federation.
He refused to send representatives of the Lukiiko (Legco).
Why did Buganda Lukiiko refuse to send representatives of Legco?
They wanted Buganda to remain an independent state.
They thought that joining Legco would make Lukiiko weaker.
In 1953, Sir Edward Muteesa I was exiled to Britain by Sir Andrew Cohen a British Governor.
This led to more political unrest in Buganda.
This led to what was known as Constitutional Crisis.
How did Buganda reacted towards exiling of Sir Edward Muteesa II?
There were strikes and demonstrations in parts of Buganda.
An organization called Uganda National Movement mobilized people not to buy European goods (This was referred to as "Boycott"
The Uganda National Movement was led by Augustine Kamya.
THE NAMIREMBE CONFERENCE
It was held in 1954 to organize for the Kabaka's return.
Which Agreement was signed in Buganda for Kabaka's return?
Namirembe Agreement.
Why was Namirembe Conference Agreement held/signed?
To organize for the Kabaka's return to Buganda.
The Namirembe Agreement made some changes in 1900 Buganda Agreement.
Who signed the Namirembe Agreement on behalf of?
Buganda: Michael Kintu.
British: Keith Hancook
  Why did Buganda rejoice in 1955?
To celebrate the return of Kabaka Edward Mutesa II
Name the British officer who exiled Muteesa II in 1953
Sir Andrew Cohen
FORMATION OF POLITICAL PARTY
A Political party is an organization uniting people of the same idea with the aim of ruling a country.
Reasons why political parties were formed
To unite people to fight for independence.
The following political parties were formed before independence.
UGANDA NATIONAL CONGRESS (UNC)
It was founded by the first president Kangave Musaazi and Abubaker Kakyamya Mayanja.
Musaazi became the first president of the General Party in 1954.
OBJECTIVES OF UNC
i) To fight for Uganda's independence.
ii) To unite all Ugandans.
iii) To promote democracy.
How did I.K. Musaazi contribute towards the independence of Uganda?
He formed Uganda National Congress.
He formed the first political party to fight for independence.
I.K. MUSAAZI
I.K. Musaazi joined Uganda Peoples Congress after the collapse of his party.
I.K. Musaazi was buried at Kololo Airstrip (The heroes cemetery ground)
THE DEMOCRATIC PARTY
It was founded in 1954.
It was founded by Joseph Kasolo
Kasolo led DP from 1954 – 1956.
Reasons DP was formed
To unite to fight independence.
To protect rights of Catholics.
Matayo Muwanga became member of DP from 1956 to 1958.
The next leader of DP was Ben Kiwanuka.
Contributions of Benedicto Kiwanuka
i) He was first chief of Minister of Uganda.
ii) He made DP a political party.
iii) He was the first Ugandan chief Justice
iv) He led Uganda to self rule in 1961.
v) He fought for Uganda's independence.
UNITED CONGRESS PARTY
It split in 1957.  They   formed United Congress Party.
The UCP were in supportive to the   government and traditional leaders.
THE UGANDA PEOPLES CONGRESS
It was formed on March 10th 1960 the splinter faction of Uganda National Congress joined the Uganda People's Union to form Uganda People's Congress.
UPC was led by Milton Obote
The major aim of UPC was to lead Uganda to independence.
KABAKA YEKKA
The Kabaka Yekka was founded mainly to protect the interests of Buganda.
K.Y. was founded in 1961 by S. Masembe and Augustine Kamya.
KY wanted to secure a favourable political position for Buganda's independence
This was not possible without support of regions of Uganda.
As a result KY made an alliance government with UPC
The alliance gave strength to UPC.
How K.Y help Milton Obote to become Prime Minister
K.Y formed an alliance government with UPC.
London Constitution Conference
Points that were agreed in Lanchestor.
The leader of the government was Prime Minister.
Buganda was to remain part of Uganda with Uganda with some powers.
Lukiiko was to elect Buganda representative of Legco.
The wild committee was set up in November 1958 to prepare Uganda for independence and elections in 1961.
The wild committee was to decide rules by Ugandans would choose their independent country.
What contribution was made by the wild committee?
Wild committee prepared elections for Uganda's first leaders of self government