It's one of the leading producers of rubber around the world. Large positions of is land area are under rubber growing part of the crop is grown on the plantation while the rest is grown on a small holdings.
The plantations are mostly owned by Europeans and the smaller ones by the Chinese while Malaysians own a very small percentage of the estate area.
Factors that have favoured the growing of rubber
High monthly temperatures between 25-28oc. Annual rainfalls should range between 1800, 3000mm with no month receiving less than 750mm.
Well drained soils although not very fertile.
The rubber growing areas are highly accessible with network of roads and always. These areas are also near to the sea with deep labors such as Penang and swetlenham .
There is availability of enough land since most of the rubber growing areas are almost inhabited.
Cheap and plenty of labour which is obtained from southern Asia (India).
Availability of capital from the Europeans and which estate owners
TEA GROWING IN KENYA
This is the second most important crop contributing to more than 15% of the country's export earnings.
Most of the plantations were owned by the Europeans i.e. Brooke bond Labing Company but most of the estate have now been taken over by the government.
The main tea growing areas include: Kericho, Limuru and Kiambu districts which have more than 10 factories.
Tea is also grown in Nandi hills on plantations by small scale farmers in areas like Kiisi, Nyeri and Kakamehga districts.
The tea estates and plantations are under he Kenya development authority which provide advisory services and arrange from the processing and marketing of the crop especially to the out growers.
KERICHO TEA ESTATE
This is well situated for the growing of the eastern region and is under the management of Europeans.
FACTORS FAVOURING GROWTH OF TEA
-High altitude of about 2000 meters
-High rainfall of about 1800mm per annum especially during the growing period
-Gently sloping land which ensures proper drainage and reduces root rotting
-Availability of labour both skilled and unskilled labour i.e. the ones to harvest (tea picking), clerks and mangers
-Availability of capital which has ensured high levels of mechanization whereby some of the tea is harvested by use of machines.
-Easy transport and communication which has made area accessible for easy reach
 PROBLEMS
-Pests and diseases e.g.  Root Competition from other producing areas i.e. Brazil, Sir lank.
-Soil exhaustion due to monoculture
-Price fluctuation due to over production and competition from others
-Natural hazards like hailstorms which damage the tea leaves.
 SOLUTIONS
Use of pest sides
-Applying fertilizers (fallowing)
-Diversification of the economy i.e. by carrying out cattle keeping
-Cloud seeding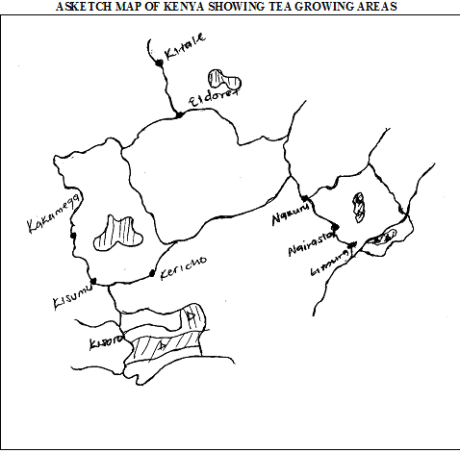 Key
KTPA
KIPA
Roads
Main small holder's tea growing areas
EXTENSIVE GRAIN MECHANICAL CULTIVATION
It's mostly practiced on the North American prairies, Argentina poupus. The steep of Eurasla and South American yields (temperate grasslands)
Characteristic features:
These are very large and this is because land easily available in America, they are owned by individuals while in socialist countries .they are owned by collective basis.
From plouching to harvesting the work is done by machines. The farmers invest heavily in labour saving devices.
For example,
-tractors,
-ploughing
-combine harvesters
-storage elevators
-used for storing the grain.
Monoculture: traditionally
Wheat is the principle crop but other crops like oats, maize, barley and rye are grown. New strains of wheat that can withstand droughts and cold are being introduced. Some farms also keep animals.
High output per month but low output per unit area. Because of extensive lands, a lot of wheat is produced resulting into surplus. As a result of this, these areas are called the granaries of the world.