METHODS OF TEACHING – LEARNING I
The Meaning of Methodology and Teaching.
Methodology
The term methodology is generally used to mean the study of methods. In terms of the present content, methodology is used to refer to the study of methods of teaching. According to the National Teachers' Institute (2007), methodology is both the study of different methods and the systematic means of presenting subject matter and learning experiences.
The Oxford Advanced Learner's Dictionary describes method "as a particular (systematic) way of doing something". By inference therefore, teaching methods are systematic ways by which knowledge is imparted.
Teaching
The most noticeable task of the teacher is "teaching". Indeed, it is named by the word "teaching". Teaching is a deliberate act of systematic planning of a set of interrelated activities usually between th e learners and the teacher with a view to producing a desirable effect on the learners.
In carrying out teaching, whether in a classroom, within a school or outside the school environment, there have been tested methods that have long been established as a means by which the job of teachers can be done. In short, while you will be introduced to some methods of teaching, from the onset, you are to note that in teaching, we emphasise understanding and usage of a variety of methods of teaching.
This is because of the following reasons:
• Individuals are different, one method may be effective for one learner but not for the other.
• Every task involves a number of sub-tasks which are carried out differently. One teaching method may not be appropriate for all sub-tasks.
• Variations of teaching methods result in variation of stimulus. This is important for sustaining attention and interest.
General Principles in Teaching
Helping the students learn is a major task of the teacher. The old concept of the teacher being the donor of knowledge and the student a mere recipient of the donation is replaced by a more realistic approach in which a teacher acts as a facilitator or helper of learning. There are several ways in which you can help students learn.
Active Learning
Give students some activity to do, e.g. ask questions, set problems or projects. Students learn by doing these activities. Give feedback; tell students how well they are doing things, what was done poorl y and how they could have done better.
• Clarity
Make your teaching clear, speak loudly, write neatly, use visual aids and make your teaching meaningful to the students and to the problems.
Ensure mastery
Assess individual students' knowledge of the subject.
• Individualize
Allow for individual differences and abilities. Vary your teaching methods.
• Motivation
Make your teaching interesting, relevant and rewarding.
 How knowledge, Skills and Attitudes Are Taught
As we said, there are many teaching methods. A group of trainers was asked to quickly list the methods they use in their teaching. They came up with the following:
– Drama – Practicals
– Brainstorming – Programmed instruction
– Field visit – Correspondence
– Symposium – Reading assignments
– Value clarification – Case studies
– Seminar – Tutorials
– Job attachment – Simulation and models
– Story telling – Role play
– Small groups – Nominal group process
– Songs – Syndicate group s
– Apprenticeship – "Snowballing"
– Workshop – Games
– Congress – Debates
– Poems – "Using triggers"
– Research – Using idioms and sayings Panel discussion
– Radio, newspapers
-Interview
– TV, films
– Lecturing – Critical incident technique
– Role-modelling
There is no shortage of teaching methods as this list shows, but people do not always agree on what are, or are not, teaching methods.
1. Examine the list above and add to it. Discuss those items which you feel are not valid teaching methods.
2. Examine whether the methods teach skills, knowledge or attitudes. Note that some methods can be used to teach more than one domain. Mark each item in the list according to whether you think it teaches skills (S), knowledge (K) or attitudes (A).
Good teaching involves much creativity and planning. A teacher who relies on one method only is not likely to help students learn much.
Teaching and Learning Methods
In this section, an attempt is made to review several teaching methods. The amount of information given is limited to a brief overview, advantages and disadvantages.
Lecture
A lecture is a lesson given orally by a teacher, with virtually no student participation. It can be distributed in printed form. This lack of student participation is the main characteristic of the lecture in its traditional form.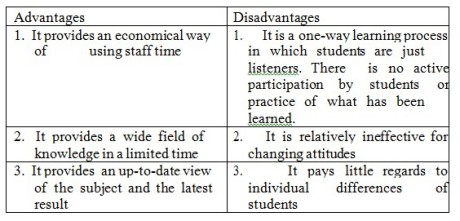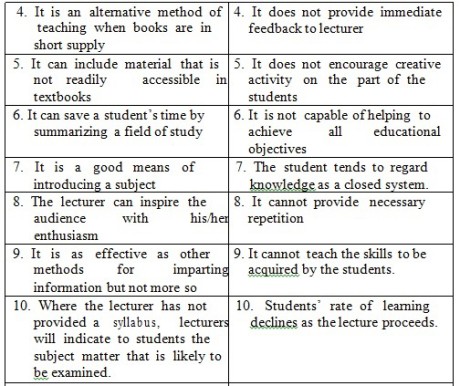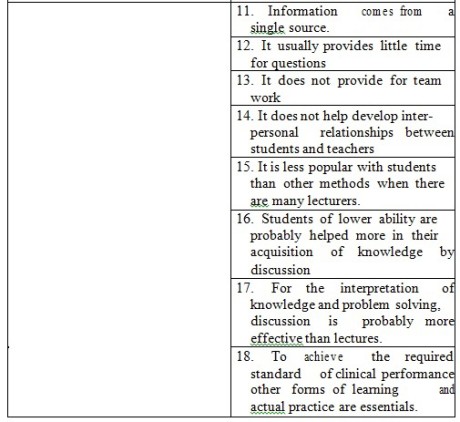 Practical
Practical work is a situation where students learn in their future working areas.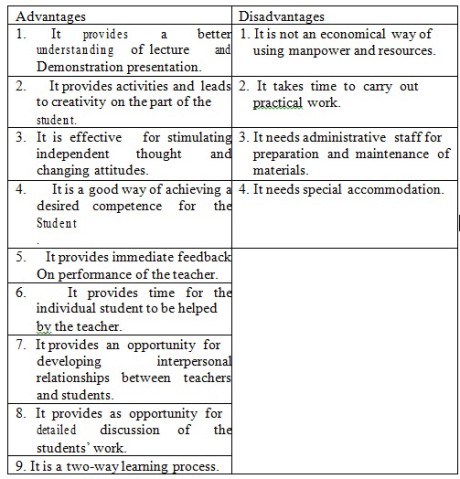 Field Visit
Courses for health-care staff often include field experience. In this case students go away from the training school to actually do the work for which they are being trained.

Demonstration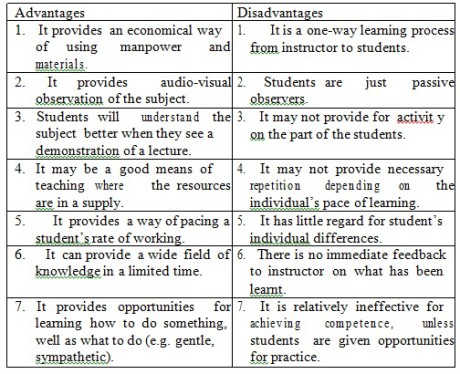 Individual Learning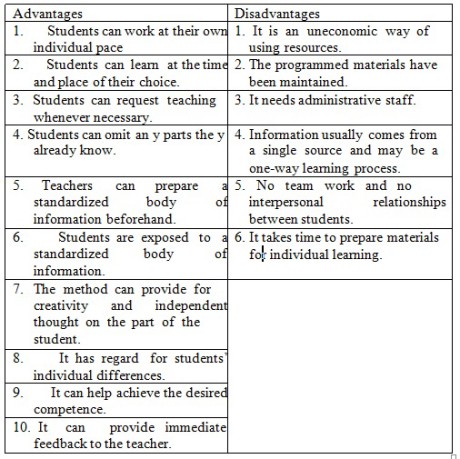 Seminar
A seminar is a session headed by a teacher, a trained senior student or an enthusiastic student from the class, where an assigned subject is discussed. The subject has to be prepared beforehand and presented b y different students. The other students will then discuss, criticize and comment on the material presented.
When the teacher is not present during the seminar, he/she should be available to be consulted by the group. This is important as the students may need to confirm factual information with the teacher.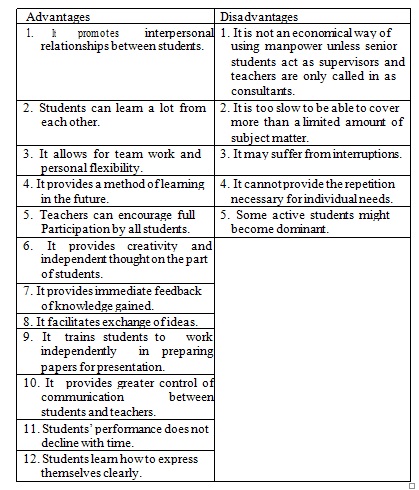 CONCLUSION
It has been seen that for teaching-learning to be effective, methods of teaching learning must be varied. Also, no single method of teaching-learning is perfect in getting information across to the audience rather the teacher should know which methods should be adopted for the benefits of the learners and teachers.
Source: School of Education, National Open University of Nigeria