Our Division
Name and location of our Division
Maps and pictures
– A map is a drawing of an object as seen from above.
– A map is a representation of an object as seen from above.
– A picture is a drawing of an object as seen from the side.
– A picture is a representation of an object as seem from the side.
Differences between maps and pictures
– A map is drawn from above while a picture is drawn from the side.
– A map shows the top part only but a picture shows many parts of the object.
– A map is not easy to understand but a picture can easily be understood.
Similarities
Both maps and pictures represent objects.
Draw and colour pictures and maps of the following objects
| | | |
| --- | --- | --- |
| Object | Picture | Map |
| cuptreepottablehousecarbottle | | |
Elements, qualities, components of a good map
– title/heading
– boundary/frame
– compass direction
– key
– scale
A compass
A compass is an instrument used to show direction. A compass direction has four main points called cardinal or primary points.
A compass needle points to the North when the compass is at rest.
A compass nose shows direction on a drawn map.
Secondary points of a compass direction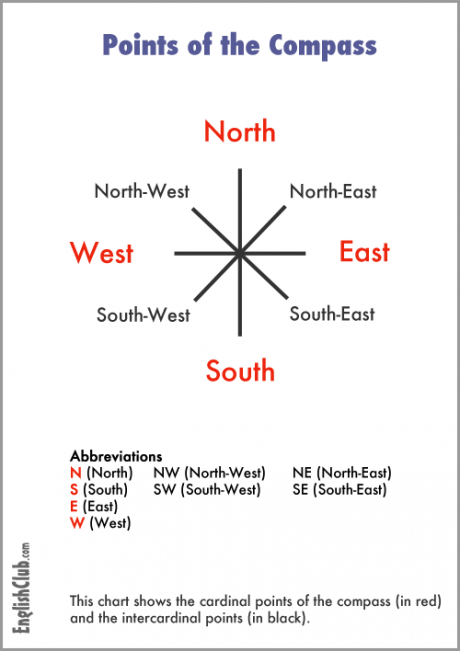 People who use a compass when doing their work
– Pilots
– map readers
– sailors
– Tourists
– surveyors
– mountain climbers
Other ways of telling direction
– By the position of the sun
– By using shadows
– By using landmarks
– By using physical features
The sun rises from the East and sets in the West.
A scale
A scale is used to measure the distance between places on the map.
e.g. km on a map can represent 100 km on the ground.
A title/ heading
– This is the name of the map.
– It tells us what the map is all about.
A key
The key gives the meaning of symbols used on the map.
Symbols used on the map.
The boundary
A boundary shows the map extent (where the map begins and ends)
Why symbols are used on maps
– Symbols are signs used to represent features on the map.
– Symbols prevent the map from being overcrowded.
– They make the map tidy.
– Map symbols make map reading easy.
*Drawing a map of our classroom.
A map of our school showing important places in the school
– Administration block
– Classrooms
– dining room
– gate
– kitchen
– toilet /bathrooms
– dormitories
– field/play ground.
Where I live
.
1. Our continent is called …………………….
2. Our country is found in East Africa.
3. East Africa is made up of three countries. These are Uganda, Kenya and …………… .
4. The people of Uganda are called………………….. The people from Kenya are called…………….
5. The capital cities of these countries are;
Uganda ………………………
Kenya ………………………..
Tanzania …………………….
6. My school is found in Kampala district. Kampala district is found in Central region.
Districts within Uganda
Kampala, Mukono, Ntungamo, Kalangala,
Iganga, Jinja, Wakiso , Mbarara
Kalangala Kamuli Gulu Lira
Alua Apac Tororo Mbale
Kisoro Kabale Bugiri
a) Write down four districts which begin with letters K, M Y etc
b) The district surrounded by water in Uganda are Kalangala and Buvuma.
c) The district neighbouring Kampala district is ………………and east is …..………
Our district
1. The President of Uganda is …………………..
2. The Mayor of Kampala is …………………….
3. The RDC of Kampala district is ………………….
4. The Town Clerk of Kampala district is …………………
5. The Chairman of Central division is ……………………
6. The minister of Education and Sports is Hon. Alupo Jesca.
7. The state minister for primary education is Hon. Bataringaya.
8. The City Education Officer is …………………………..
Neighbours of Central division/ Rubaga/ Kawempe
Kawempe division – North
Rubaga division – West
Makindye division – South
Nakawa division – East
Parishes in Kampala central division
– Bukesa parish
– Nakulabye parish
– Kisenyi parish
– Kamwokya parish
– Old Kampala parish
– Kivulu Parish
Our Division
Physical features in our division
Physical features are natural landforms which give the landscape.
Examples of mountains, hills, valleys, plains, plateaus
Wetlands are;
Lakes, ponds, swamps, rivers, streams
Wetlands are not physical features
Vegetation – forests
Hills in our district
A hill is a piece of land that rises slightly above.
Kampala was formerly built on seven hills.
Namirembe, Kibuli, Rubaga, Makerere, Nakasero, Kololo, Mulago hills.
Other hills in Kampala are;
Nakasero, Kololo and Old Kampala hills
Hills in Kampala district and their important features
Name of hill Important feature
1. Mulago hill Mulago hospital (biggest government hospital)
2. Kibuli hill Kibuli hospital, Kibuli mosque, Kibuli police training school
3. Makindye hill Army barracks, division headquares
4. Old Kampala hill Old Kampala police station, Gadafi mosque, Muslim supreme council
5. Nsambya hill Nsambya hospital, Nsambya police station
6. Rubaga hill Rubaga cathedral, Mengo hospital
7. Kololo hill Kololo airstrip, television masts, heroes' burial place
8. Muyenga hill Water tanks, hotels
9. Makerere hill Makerere university
10. Naguru hill Television masts
Mountains in Uganda
A mountain is a land that rises very high.
Examples –
Mountain Peak
Mt. Rwenzori Margherita
Mt. Elgon Wagagai
Mt. Moroto Moroto
Mt. Mufumbiro Muhavura
Mt Rwenzori is the highest mountain in Uganda.
Importance of mountains
– Good for faming because they have fertile soils.
– Cool environment good for settlement
– They attract tourists who bring money to the government.
– We get minerals from some mountains
– Mountains are habitats of some wild animals.
– Mountains help in the formation of rainfall.
– Mountains are sources of some rivers.
Lesson
Lakes and rivers
Lakes are larger water bodies. They are bigger than wells.
Rivers are small but longer than most lakes.
Examples of lakes in Uganda
Lake Victoria (biggest in Uganda)
Kabaka's lake (man made lake0 in Rubaga division
Lake Kyoga
Lake Albert
Lake Wamala
Lake Edward
Lake George
Lake Mburo
Examples of rivers
River Nile, Mpongo, Kwania, Mayanja, Unyama, Acwa, Lumansi
River Nile is the longest in Uganda
Lesson
Importance of lakes and rivers
– We get water from them
– We get sand from lakes and rivers
– We mine salt from rift valley lakes
– We get fish
– Water transport
– They attract tourists
– They help in the formation of rainfall
– Swimming is done in lakes and rivers
– We generate electricity in rivers e.g. Nile
Problems faced by people living near lakes and rivers
1. Dangerous water animals kill people e.g. snakes, crocodile and hippopotamus.
2. Floods destroy lives, homes, crops, animals and other property.
3. Strong wind (storms) on lakes and rivers make travelling and fishing difficult.
4. People often drown in rivers and lakes.
5. The water hyacinth (water weed) makes fishing and transport difficult.
6. Dirty water from lakes and rivers causes typhoid, cholera and bilharzia.
7. Mosquitoes spread diseases (female anopheles mosquito).
Lesson
Valleys in our district
A valley is a low land between two close hills/ mountains.
An illustration of a valley
Valley important feature
Bat valley bat valley theatre/ primary school
Nakivubo valley St. Balikuddembe market, Nakivubo stadium
Kitante valley Golf club, Garden city, Kitante schools
Katonga valley Hostels
Importance of valleys
1. We get clay for pottery.
2. Brick making is done in valleys
3. Fishing in springs, streams, rivers is done in valleys.
4. Papyrus for crafts and building are got from valleys.
5. Forests in valleys are homes of some wild animals.
6. Hunting is done in valleys.
7. Valleys are sources of some rivers and streams.
8. Farming is carried out in valleys.
Swamps in Kampala district
A swamp is a wetland with vegetation.
Importance of swamps
1. Water for domestic use can be got from swamps.
2. Fish can be got from swamps.
3. People can grow crops like rice, sugarcane, yams in swamps.
4. Swamps help in the formation of rainfall.
5. Papyrus reeds for making crafts can be got from swamps.
6. Swamps are homes of some wild animals.
Problems faced by people living in swampy areas
1. Easy spread of diseases.
2. The area can easily flood.
3. People experience coldness especially at night.
4. People can easily be attacked by wild animals.
5. Water in swamps weakens buildings.
Disadvantages or problems associated with physical features
1. Hilly areas or mountainous areas make transport uneasy.
2. Valleys are not good for settlement because they keep vectors and also weaken buildings.
3. Hills and mountains encourage soil erosion.
Conservation of physical features
1. The government should put strict laws against swamp drainage.
2. Government should stop clearing swamps for building factories.
3. People should plant more trees to avoid soil erosion.
4. People should stop hunting wild animals.
5. Government should arrest people who cut down forests.