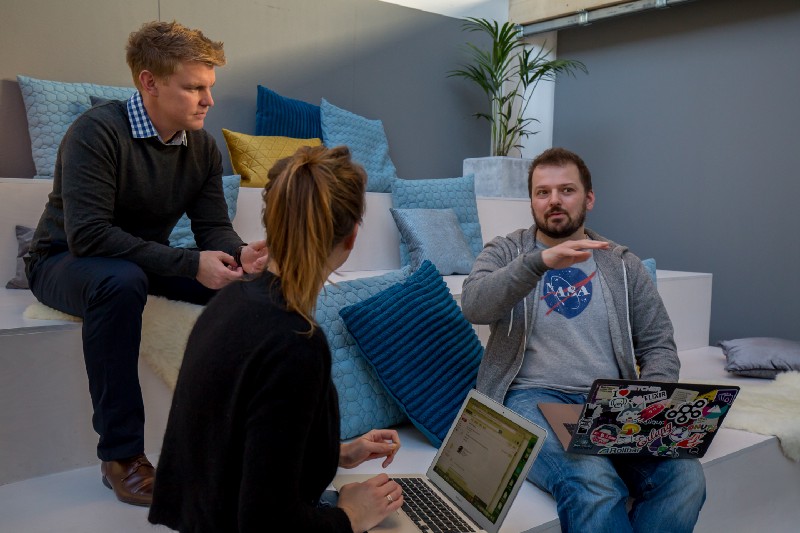 However, there are a number of criteria that must be met before somewhere can be considered one of world's foremost tech hubs. It takes more than just assembling a high concentration of bright minds and investment-worthy ideas in one location. It requires cutting-edge infrastructure — including blindingly fast internet connections (both cabled and cellular), excellent transport links and a strong education system. Overall high quality of life is also vital.
We've put together a list of the most exciting and successful tech hubs around the world. The Bay Area may have been the first, but these international destinations have rapidly become a distinct force in the startup world. If you're looking for an environment that can foster innovation, putting down roots in these locations will give you a distinct leg-up, providing an established community of collaborators, customers and investors on your doorstep.
BEIJING
China's sprawling capital is arguably the closest to taking Silicon Valley's crown as the world's premiere tech hub.
The average amount generated for early stage funding ($682k) is one of the highest in the world. A recent report from CB Insights, meanwhile, found that: "Since 2012, Silicon Valley-based tech companies brought in a total of 12,000 deals, followed by New York area-based companies with 5,000. For funding, Silicon Valley companies brought in a total of $140 billion, with Beijing next, coming in at $75 billion."
And they believe the pendulum is gradually swinging in its favour, with the report concluding that "Beijing and Shanghai are poised to be the tech hubs of the future. They lead among high-growth hubs for unicorns, mega-rounds, and large exits. Company creation is accelerating."
There are a number of factors driving Beijing's rising appeal. There is the extremely attractively low cost of living, for one — particularly important for the many early-stage companies flooding into the city. The Beijing market also has a ravenous appetite for innovation.
Furthermore, China's current censorship of existing tech giants such as Google has left market gaps for newcomers to get a foothold. This seems to be benefiting Beijing in particular, with 66 of China's 151 unicorns as of March 2018 coming from Beijing — including ride-sharing app Didi and electronics company Xiaomi, among others.
LOS ANGELES
Often overlooked because of its Bay Area bigger brother, Los Angeles is a hugely successful tech hub in its own right.
The prestigious CalTech in Pasadena ensures a steady supply of world-class graduate talent, as well as more patents than any other US university. Another of the city's famous educational institutions, UCLA, holds the US university record for most startups. Local tech success stories include Snapchat and Tinder, as well as Elon Musk's SpaceX. In 2017, Southern California tech raised nearly $7 billion — and this number is only set to increase this year.
Success has bred controversy though — Snapchat's rapid expansion in the Venice Beach area of the city has angered some local residents, with claims that the company is aggressively hoovering up swathes of real estate.
BERLIN
Berlin was one of Europe's original tech hubs. 100 years ago, industry heavyweights like Siemens were headquartered here, releasing many innovative electrical products to an eager market. Following its reunification in 1990, the city has undergone a rapid rebirth.
Its diverse, bohemian reputation has made it fertile ground for eager startups, with platforms including SoundCloud starting out here. Low rental rates — the average office rent in 2016 was €16.30 per square meter — have also helped to draw in and retain its workforce.
In 2017, Berlin-based startups attracted an all-time high of EUR4.2 billion in venture capital, and McKinsey projects that this flourishing ecosystem will create 100,000 new jobs for the city by 2020. It is also home to the largest percentage of foreign startups in the EU — 11% compared to an average of just 2% everywhere else. Startups in Berlin absorbed more than two-thirds of all financing in Germany last year — raising a total of €2.97 billion ($3.65 billion).
BENGALURU (FORMERLY BANGALORE)
India's presence in the tech world has been established for some time now, and Bengaluru has risen to be the nation's figurehead in this arena.
It is blessed with an accomplished talent pool of IT professionals, including many who have returned home from Silicon Valley to bring their expertise to the Indian startup scene. Predictions estimate that by 2020, Bengaluru will be home to two million IT professionals, six million indirect IT jobs and $80 billion in IT exports.
A steady supply of venture capitalists in the city has resulted in India's largest startups rising out of Bengaluru, such as iD Fresh Foods. It has also seen investment from around the world. In May 2018, Walmart gave India's startup scene a $16 billion boost when it acquired a majority stake in Flipkart, India's biggest online retailer.
TEL AVIV
Despite being geographically small and having a population of just over 8 million, Israel commands a presence in the international tech community that rivals any other nation on this list.
There are a number of reasons for the success of Israeli startups. Access to venture capital is a major one. Gal Kalkshtein, an active investor and entrepreneur who runs the Startup Lobby in Israel's parliament, noted that:
"Israel is an island of stability. The political/security issues we face do not affect the type or size of investments in the Israeli market. On the contrary, Israel has been globally leading the cyber and IT fields for a few decades due to the middle east conflicts and the need for powerful intelligence forces."
Dan Senor and Saul Singer too examined the issue in their book, 'Start-up Nation: The Story of Israel's Economic Miracle'. They cited both the culture created by the Israel Defense Forces (IDF), which provides potential entrepreneurs with the opportunity to develop a wide array of skills and contacts.
Senor and Singer also credited immigration as a central cause. Immigrants are, by definition, risk-takers, and 9 out of 10 Jewish Israelis today are immigrants or descendants of immigrants in the first or second generation. Immigrants are used to starting from scratch and facing adversity, and this kind of mentality translates well into building innovative startups.
Tel Aviv is the heart of this, with about 2,500 startups in a city of only 435 thousand inhabitants — one of the highest startup densities in the world.
BOSTON
Los Angeles has CalTech, and Boston has MIT. World-leading technology research institutes like these breed innovation. Viral videos from MIT spin-off companies like Boston Dynamics and their U.S. military-funded BigDog robothave thrown the international spotlight on the city, and its pool of bright startup talent. High starting salaries for software developers in Boston (averaging $95k) also attract a steady stream of local graduate and external tech professionals.
Amazon also recently announced that it was expanding its operations in the city, resulting in the creation of 2000 jobs in fields like machine learning and cloud computing. Amazon's VP, Rohit Prasad, commented that "Massachusetts' innovation economy is powered by a talented workforce, exceptional educational institutions and companies like Amazon at the forefront of research and development."
LONDON
Despite Brexit dominating the headlines, London continues to forge ahead as one of the world's most prolific tech hubs. Hotspots like Old Street's 'Silicon Roundabout' drew in £4.5 billion of private equity investment for the city's tech sector in the first half of 2017 alone, according to the Mayor of London's agency, London & Partners. This is more than any other European tech hub, including Dublin and Berlin.
London & Partners added that since the Brexit vote on 23 June 2016, £1.8 billion in venture capital funding for 544 deals in the London tech sector dwarfed the £775m for 136 deals seen over the same period in Berlin.
"We have everything companies need to be successful: policymakers, finance, infrastructure, world-class universities and talent" said Laura Citron, Chief Executive of London & Partners.
Generous government incentives for new businesses continue to draw in a steady stream of startups, with London's celebrated cosmopolitan demographics and social scene further sweetening the pot.
MOSCOW
Moscow has rapidly become an important global tech hub, attracting major investment and generating a diverse pool of home-grown talent. Its placement as Russia's economic centre sees a guaranteed saturation of international commerce, while solid infrastructure investment has resulted in free WiFi on public transport and even out on the streets. Such investments are essential to appeal to the mobile-dependent nature of many startup models.
LISBON
Like London, Lisbon's ever-growing presence as an international tech hub is aided by popular government incentives. The Startup Portugal platform offers a variety of support plans to help tech startups to attract investment and structure their business models, resulting in Lisbon growing into a city rich in innovation. As a result, newly refurbished co-working spaces are springing up around the city, with demand continuing to increase.
Like New York, Lisbon is also home to record-breaking construction projects that cater for the tech community. A 35,000-square-meter incubation project called the Hub Criativo do Beato is currently taking shape, with the goal of fostering all kinds of new startups. Established industry giants are also investing in the city — Volkswagen and Google have both established plans to open up centres here, with a healthy supply of new jobs being created.
NEW YORK
Unsurprisingly, being 'the city that never sleeps' is a boon to business, especially in the tech world. New York may be on the other side of the country to Silicon Valley, but its 'Silicon Alley' is one of the most dynamic tech hubs in the world.
Startups in New York raised $11.5 billion in venture capital in 2017, and more than $100 million is currently being invested to turn the former Biltmore Hotel into one of the city's latest tech incubators.
The city's stock market and investment structures puts a smorgasbord of funding potential within reach of hungry tech startups and entrepreneurs, meaning ample opportunities to scale.
"You have literally every major bank as well as a ton of private equity firms and hedge funds here," said Ryan Williams, CEO of real estate investment startup Cadre. With a concentrated population density too, especially in Manhattan, there is no need to stray far in order to find talent and venues to meet/work in.
SINGAPORE
Singapore has long been a financial hub, and in recent years has developed a thriving and incredibly well-funded tech scene too. The World Bank ranks Singapore as being one of the easiest cities to do business in, highlighting the simple initial registration process, protection of minority investors, and enforcing contracts.This is all aided by the Singapore government's support of new tech businesses, with grants like the Technology Incubation Scheme.
Barriers for foreign startups have also been lowered, with the S$50,000capital threshold that previously discouraged a lot of underfunded entrepreneurs done away with. An abundance of venture capitalists makes opportunities for scaling all the more likely, as does the ready supply of well-educated immigrants from around the world who choose to make the island state their home.
Singapore's value as a tech centre is being utilised by other hubs around the world too. Sequoia Capital, one of Silicon Valley's top venture capital firms, has started using Singapore as a testing ground for expansion of its own existing startups.
AMSTERDAM
 It is the perfect example of how solid infrastructure can translate into a booming tech industry. The city's geographical placement sees it being a gateway to the rest of Europe, especially with the abundance of transport links branching out via land, sea and air.
Hubspot recently hailed Amsterdam as the best European tech city to work in, noting its competitive average net salary of €4,036, and high general standard of living. The Netherlands was also ranked number one in the 2018 OECD Better Life Index.
On the business side of things, the Netherlands boasts some of the fastest broadband speeds in all of Europe, while Amsterdam's village-like feel and bustling social scene ticks all of the cultural boxes too.
PRAGUE
Tourists flock to Prague for its baroque architecture and world-class beers, but this romantic European city is also becoming widely known for its thriving tech startup scene. The history is definitely there — social media analytics firm SocialBakers was founded in Prague, and cybersecurity giant Avast is headquartered here. The city's close proximity to European business hubs like Warsaw and Berlin, coupled with a low 19% corporate tax rate, makes it a highly desirable base for startups.
Where next?
There is no set mold for tech startups, and certainly no international borders. We aim to locate in tech hubs around the world in order to foster true innovation and collaboration, providing a unique business model that best enables flexibility and agility.
And we're not stopping at these locations. We're always looking for the opportunity to expand into new international tech hubs such as the one above. Where else in the world would you like to see one of our offices opened? Let us know in the comments.