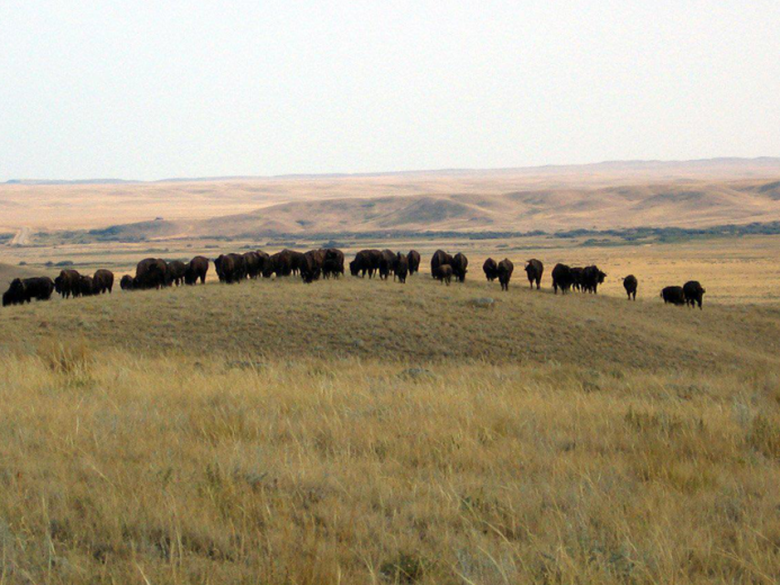 READ OR LISTEN BELOW
CANADIAN PRAIRIES
The prairies are located in the southern parts of Alberta, Saskatchewan and Manitoba. The rest of the prairies extend to the Eastern in the USA and these include:- Montone South and North Dakota where mainly spring wheat is grown. The prairies have a triangular shape with the base in USA. The word prairies is a fresh word meaning grassland. This because of the extensive grassland in the region.
THE CLIMATE OF THE PRAIRIES
The prairies have a cool temperature interior climate mainly because it is remote from oceanic influence since it deep in the interior.
It therefore experiences a continental type of climate with warm or hot summers, temperatures between 180 – 250c, the winters are very cold but clear and bright. Sometimes the temperatures go below freezing point ie 00=210c especially at Winnipeg.
Rainfall is received in summer and it is mainly frontal rainfalls and the amounts range from 300 – 420 mm.
However, rainfall decreases westwards towards the foothills of Rocky Mountains. In winter, there are snow storms, the air masses that affect the climatic of the prairies include:-
Tropical / maritime
Is a warm moist air masses from the gulf of Mexico blowing Northern words
Polar continental
These are cold and dry blowing from the arctic cirde.
Chinook
These originate from the Pacific Ocean and loss their moisture in the western parts of the rocky Mountains as they descend Eastern wards, they warm up and as a result bring in worm conditions on the Eastern areas.
NOTE:
The tropical maritime masses meet with the polar continental. Therefore forming rainfall in the region.
During winter, the land in the prairies is frozen and cars have t be fitted with special antifreeze interior heaters in order to adopt to the conditions.
THE RELIEF OF THE AREA
The relief is characterized by plains that lie at a series of levels if is a gently sloping plain which is lower in the East and rises towards the West up t the lower levels or the Rocky Mountains. It is dissected by river valleys and individuals.

ACROSS SECTION OF THE PRAIRIES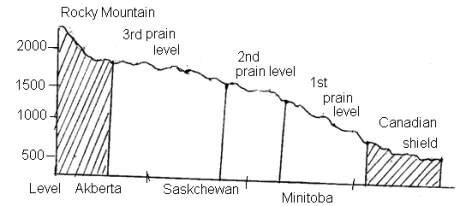 THE SOILS OF THE PRAIRIES
The soils were formed as a result of glacial deposition. They are block, deep fertile soils. Due to the poor methods of plugging in the 1930's the soils suffered from erosion.
VEGETATION
The vegetation of the area is described as cool temperature glass lands. However, there is a great difference in the amount of grass throughout the region.
POSITION OF CANADIAN PRAIRIES SHOWING DIFFERENT FEATURES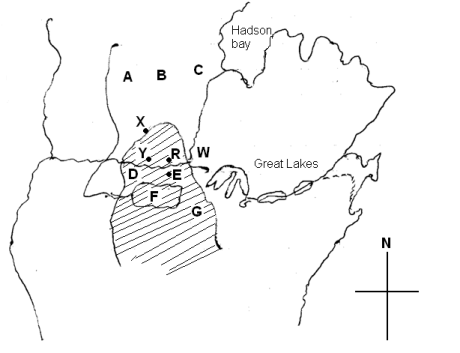 KEY
| | |
| --- | --- |
| A | British Columbia |
| B | Alberta |
| C | Saskatchewan |
| D | Manitoba |
| E | Dakota |
| F | Dakota |
| G | Minnesota |
| X | Edmonton |
| Y | Calgary |
| W | Winnipeg |
| R | Regina |
WHEAT GROWING ON THE CANADIAN PRAIRIES
It is the main crop grown on the Canadian prairies and an individual farmer occupies more than 30% of the farm land.
Plots are owned by homesteads.
FACTORS FAVORING WHEAT FARMING
The relief being gently sloping allows use of machinery and quick irrigation if necessary.
The prairies receive enough rainfall which occurs during the growing season (summer). There is abundant sunshine which helps in the opening of wheat grains.
Presence of deep well drained fertile soils with abundant humus.
Absence of pest and disease
Use of high level technology where by machinery used to do most of the work hence cost of labour reduces
Availability of easy transport ie through the st. Lawrence Seaway
Abundant storage facilities for wheat
Availability of extensive land to carry out extensive farming due to low production.
Research on quick ripening variety such as sounders, red fife. This has led to rapid expansion of wheat both North and South since harsh winters were no longer a problem.
CHARACTERISTICS OF PRAIRIE FARMS
A typical Canadian prairie farm has threes characteristics.
They are extensive in size in very large with an average size 224 hectares. This is due to follow during summer.
The farms are rectangular in shape to enable use of machines.
Most farms are owned and managed by homesteads (families which have established themselves in the prairies. They are also known as home farms.
The labour on the farms is provided by family members but a few part time workers are employed during the busy harvesting period.
The farms are highly mechanized ie most is done by machines some of which include:-
Seed dicers, prepare land for sewing soul seeds and fertilizer at the same time
Tractor plough: activate the filed before wheat sowing takes place.
Swather; cuts the weeds and drops them in a narrow bund for seeds to dry.
Combined harvesters collect the grain a few days later, threshes it and setters the grain.
Other machines include; grain Dearing equipment and elevator equipment.
DRY FARMING
Type of farming carried out due to low amount of rainfall received in the area. In this system, the land is under follow and many regularly be cultivated to kill the weeds they may use up the moisture, leaving land under follow helps to preserve moisture as well as gain its fertility such that high yields are realized the following growing season.
FARMER'S CALENDAR
The prairie wheat farmers have a timetable / calendar to follow and its mainly influenced by climate.
During spring between April and may, the field are plough sown with seeds and fertilized.
Early summer between May and June the crop is sprayed with herbicides to kill weeds. There is high rainfall during this season which encourages wheat growth. Follow cultivation may also take up to dominate weeds.
Late summer, between July and September, wheat is harvested since there is less rainfall. Harvesting may also go up to October, which is autumn.
Winter from November – March the farmer has a bit of holiday and in December he up-to-dates his records and book accounts ie book keeping.
During January and February indoor activities take place e.g. docking and repairing machinery in addition plans for next season are made e.g ordering for inputs fertilizers herbicides, machinery, seeds and pesticides.
Importance of wheat growing
Others include;
Wheat is a source of foreign exchange when exported
Source of revenue through taxes
Acts as a tourist attraction.
Is a raw material for industries hence industrialization e.g. grain milling industry
Infrastructure improved e.g roads, railways.
Development agricultural skills.
Wheat products
Bread
Beer
Biscuits
Cereal
Flour
Cakes
Doughnu
LAND USE IN PRAIRIES
The prairies have 3 major kinds of land use which might be under irrigation. The main types include:-
Wheat farming
This is found in the central part of the praise region and is characterized by extensive growth of wheat. It sometimes referred to as the WHEAT BELT.
This is mainly practiced in the Northern part of the Canadian Prairies. It involved the growing of a variety of crops, some of which may include:- oats, barley, peas etc as well as rearing a number of animals such as Cattle, Sheep and pig.
Crop rotation is also practiced as well as application of fertilizers and animal manure is used to maintain soil fertility.
Additionally, Mixed farming is very important to farmers because they have a variety of source of income ie both from crops and animals.
PRODUCTS OF LIVESTOCK
Beef
Milk
Cheese
Butter
Yourghurt
Ice-cream
Skins and hides etc
Animal farming
Animal farming / ranching; Its practiced in the dry belt of the Canadian prairies ie southwest parts of the region. Its referred to as the dry belt because it receives title rainfall. In this area, there's extensive cattle ranching, mainly for beef-However, irrigation is also carried out in this region and water is obtained from rivers within the region.
A MAP SHOWING LAND USE ON CANADA PRAIRIES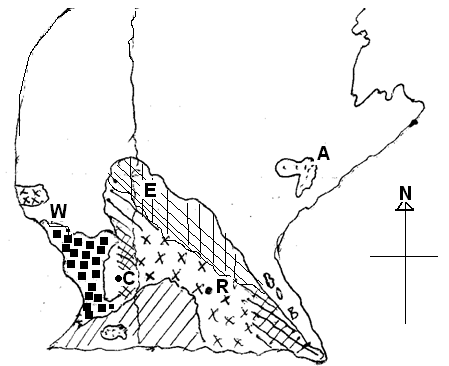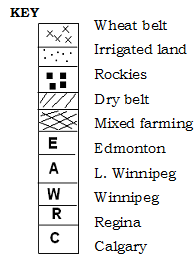 EXPORTATION OF CANADIAN WHEAT
Much of Canadian wheat is exported mostly to Western Europe, china and Japan. Other places include;- its stored in eleators, where its graded, weighed and stored until its boded into railway tracks and transported terminal at a port.
The main ports for condition wheat are Vancouver and Montreal. The other exports on the ports include:-
Prince Rupert on the pacific coast
Thunder bay
Churchill
New York
Canada is the world's leading exporter of wheat followed by USA and then Argentina However, in terms of production the leading producer is common wealth of independent states in Russia, followed by USA and then China.
ADVANTAGES OF MONTREAL PORTS.
Easy access to the sea and Europe
It has ice free conditions throughout the year
The port has been favored by the st. Lawrence seaway
It has enough port facilities etc.
ADVANTAGES OF CHURCHILL
Provides short distance to main market areas of western Europe.
It has deep water
DISADVANTAGES OF USING CHURCHILL
Churchill port is frozen during winter
A few port facilities
Route to the port is remote etc.
EXPORT ROUTES FOR THE CANADIAN WHEAT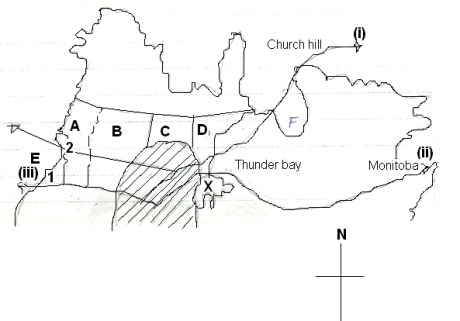 PROBLEM FACING WHEAT FARMING
Soil exhaustion due to monoculture
Soil erosion which leads to poor yields
Over production ie more wheat may produces that what is needed. This has created market problems.
Competition from other producing countries
Fluctuation of prices of wheat on the world market leading to instability in the income of the farmers.
Moisture problems due to limited rainfall in some parts of the region
Hailstones that tend to destroy the wheat.
POSSIBLE SOLUTION
Diversification ie the government has encouraged the growth of other crops, as well as keeping of livestock. The other crops growth include:- cats, corn barley, potatoes, peas, oil seed, grape, silage etc.
Another possible solution is Contour ploughing and creation of a shelter belt. This is possible through the use of wing breaks as well as strip cropping in order to check on soil erosion.
Protection and sublimation this may done by providing subsidies to the former by the government
INDUSTRIES AND MINING IN THE CANADIAN PRAIRIES
| | | |
| --- | --- | --- |
| Sea / Lake | Port | Continent to which what is exported |
| Pacific Ocean(Western route) | Prince Rupert Vancouver | JapanChinaUSSR |
| Hudson bay(Northern route) | Churchill | Europe |
| Great lakes(Eastern Route) | MontrealThunder bayDuluth,ChicagoNew York etc. | EuropeAfricaSouth America |
INDUSTRIES AND MINING IN THE CANADIAN PRAIRIES
The Canadian prairies have now developed into a region with a lot of industrial / activities as well as mining some of the industries are mineral based some of the minerals found in the Canadian prairies are:-
Oil which mined at
Natural gas which is mined in the oil producing areas of Canada. Most of the natural's gas mined in Alberta some in Saskatchewan.
Some of the oil and natural gas is also exported and they are both exported by pipeline.
Coal which is mined at Eastern through open cost mining. It is used to generate thermal power.
Potash it is mined at Eastern hazy and it is used to manufacture chemical fertilizer.
MAIN INDUSTRIES IN THE CANADIAN PRAIRIES
Oil refinery at Edmonton
Steel works and engineering located at Winnipeg and Regina.
Grain milling industry which converts wheat grain into wheat flour
Footwear industries e.g canvas, canvas, shoes, boots.
THIS VIDEO EXPLAINS MORE ABOUT THE CANADIAN PRAIRIES