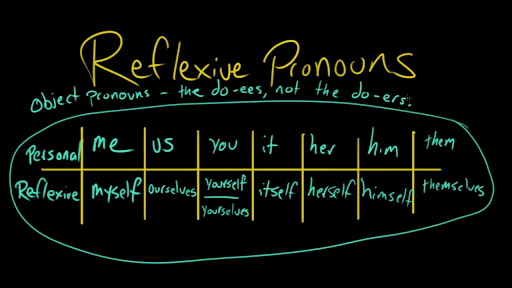 PERSONAL PRONOUNS
A pronoun is a word that takes the place of a noun. Personal pronouns are substitutes for nouns that name persons. Personal pronouns are divided into two classes.
(a) Those used as subjects (nominative case)
| | | |
| --- | --- | --- |
| Person | Singular | plural |
| 1st person | I | we |
| 2nd person | You | you |
| 3rd person | He, she, it | they |
(b)Those used as objects (objective case)
| | |
| --- | --- |
| Singular | Me, him, her, you, it |
| Plural | Us, you, them |
The subject in a simple sentence is usually a noun.
Examples
I came late yesterday.
You are my chief enemy.
He fasted for two days.
She is absent.
It has flown away.
We shall go together.
They promised to come today.
THIS VIDEO SHOWS THE USE OF PERSONAL PRONOUNS
Personal pronouns are used to avoid repetition. Study this short paragraph and see how vague, boring and monotonous it is.
Peter is a school boy in primary five. Peter lives in Tororo. Peter's parents are both teachers. Peter's parents always take Peter to school by car so Peter considers Peter to be a lucky.
To avoid repetition, the name Peter can be replaced by the personal pronoun he.
Exercise
Fill in each blank space with a suitable word from the box.
(I, he, she, it, they, we, you)
Two pedestrians were involved in the accident. ………were badly injured.
The doctor applied some medicine to the wound, and then……………bandaged it.
Abdul sprained his ankle yesterday. So ………..he cannot take part in the school sports this afternoon.
A triangle has three sides,. …………..also has three angles.
5…………have a brother and a sister. My brother and sister are teachers.
Kassim and I are members of the school band……..,have learnt a lot about music.
Lingling and Meimi are orphans. ………..have no parents.
My father wears spectacles. ………….has been wearing them for several years.
The boy was feeding the swans. ……….have black feathers.
The mechanic checked the engine of my car. ……….bought the car two years ago.
You have heard the news. Are …………upset by it?
Mr. Wannie took a picture of the leopards……………were sleeping in their cage.
I sent a postcard to my uncle and aunt. ……….live in Hong Kong.
Ahmed bought a first day cover from the post office. ………cost seventy five cents.
The students found a starfish at the beach…………..were very excited.
POSSESSIVE PRONOUNS.
These are divided in two categories.
(a) Possessive case.
These show that somebody has full ownership of something. These include: mine, ours yours, his, hers, its and theirs. They cannot be used as determiners.
(b) Possessive adjectives
These are used as determiners. Examples include: my, our, your, his, her, its and their.
THIS VIDEO SHOWS THE USE OF POSSESSIVE PRONOUNS
REFLEXIVE PRONOUNS
These end in ….self if used in singular and ….selves if used in plural.
Examples
| | |
| --- | --- |
| Singular | Myself, yourself, himself, herself, itself, oneself |
| Plural | Ourselves, yourselves, themselves |
This table shows the parts of pronouns in a summary.
| | | | | | |
| --- | --- | --- | --- | --- | --- |
| Person | Subject-nominative case | Objective case | Possessive adjective-determiners | Possessive pronouns | Reflexive pronouns |
| 1st person singular | I | Me | my | mine | Myself |
| 1st person plural | We | Us | our | ours | Ourselves |
| 2nd person singular | You | You | your | yours | yourselves |
| 2nd person plural | You, them | You | your | yours | yourselves |
| 3rd person singular | He,she,it | Him, her, it | His, her, it | His, hers, its | Himself, herself, itself |
| 3rd person plural | They | Them | their | theirs | themselves |
| Indefinite | One | One | One's | One's | oneself |
NOTE
themselves, himself, ourselves, itself, herself, yourself etc are written as single words
you is applied in both singular and plural.
-Its ownership/ possessive for it while as it's implies it is (contraction)
How personal pronouns are used in sentences
THIS VIDEO SHOWS THE USE OF REFLEXIVE PRONOUNS
Examples
I saw him at the party.
This pen belongs to me. It is mine.
You should be careful with your pen.
I should be careful with my property.
They should be careful with their property.
He should be careful with his property.
She should be careful with his property.
One should be careful with one's property.
I did the work myself.
We did the number ourselves.
She did the number herself.
He did the number himself.
You did the number yourselves/yourself
They did the number themselves.
One did the number oneself.
Exercise
Fill in each blank with a suitable pronoun.
The kind man found the lost child and took………………home.
The manager told…………….that I should work harder.
Peter quarreled with Ali and refused to speak with ………….again.
Mr. Fang bought a gold chain and gave ………..to his wife.
The clerk sealed the envelopes and dropped ………….into a posting box.
When the patient came out of the room, the nurse gave…………..his medicine.
I am not buying anything from this salesgirl because she was rude to ………..the last time I came here.
We like …………….because you are a kind person.
Peter caught a bird and kept ……………..in a cage.
My mother gave me a ten-dollar bill but I have lost…………..
The principal punished ……………because they had been fighting.
Many people walked past the beggar but no one gave ………..any money because he was rude.
The students visited the old people in the homes and tried to cheer ……..up.
When the lady finished talking, a little girl presented…………with a bouquet of flowers.
As the manager of that company was walking to his car, someone greeted ………..
Complete the sentences below with the correct form of the pronoun in brackets.
The candidates were briefed by …………….teachers.(they)
He told us that the new green car was ……………..(he)
Nabinge is a widow but can live by………………….(self)
The headmistress told us to revise ………work.(we)
They blamed ………………for their own mistakes. (self)
You should not contaminate that water. It's ………….(me)
"……………am not going to assist him," my aunt said.(me)
The dog bit………….own tail.(it)
All ……………answers were wrong, so they had to rewrite the exercise. (they)
One ought not to praise ………………for………… success.(one)
Review of reflexive pronouns.
Exercise.
Complete the sentences below with the correct reflexive pronouns.
My brothers are too young to look after ……………
I won't help you mop the house, please do it ……….
The lion hurt……….while chasing an antelope.
Marvin and I didn't enjoy …………..at the party.
One should not praise ……………..in public.
I cut ……………….while peeling cassava last evening.
They ought to consider ………….luckier than anybody else.
Calvin is an old man who lives all by ……………
Greedy people only care about ……………….
Mr. Coile ………………talked to me about my career.
Who assisted you to carry the luggage? Nobody, I did it ………..
Those orphans need some help. They can't survive all by………..
Don't blame anybody else, you should blame ………….
Nobody helped me to do the work. I did it …………
We can't lift this box by………….We need some assistance.
INTERROGATIVE PRONOUNS
These are used for asking questions. They include, who, what, which, whom, how
Examples
What is your name? My name is Joy.
Who brought you here? My mother …….
Whom do you want? I want my son.
Which of these books is yours? The blue one.
How old are you? I am ten years old.
The use of :
Who ?
Examples
Who saw Paul? Sylivia saw Paul.
Who has my keys? I have your keys.
Who are you calling? I am calling my friend.
Who likes oranges? Walter likes oranges.
What?
Examples
What is your favorite subject? My favorite subject is English.
What did Jill win? Jill won a gold medal.
What time is it? It's nine o'clock.
What is your best colour? Blue is my best colour.
Which?
Examples
There are four umbrellas here, which one is yours?
Which way shall we go?
NOTE
-We use which when we want are thinking about a small number of possibilities.
-What I s more general for example:
(a) What colour are your eyes?(many colours therefore not specific)
(b) Which colour do you prefer? (pink or blue – not specific)
How?
We use how + adjective or adverb to form a question.
Examples
(a)How tall are you? I am ten meters tall.
(b) How old is your mother? My mother is forty years old.
(c) How often do you use your car? I use my car daily.
(d) How long have they been married? They have been married for ten years.
(e) How far is it from here to the air port? It is thirty five kilometers from here to the air port
Exercise
Form questions to these answers.
The book was written by Ogundipe.
I gave the key to the class teacher.
I am looking for my pen.
The trip was very interesting.
Musoke broke the chair.
The film was about the birth of Jesus.
Write questions beginning with
Which bus did ……………………………?
What was……………………….?
Who………………………?
How was ………………………?
Put in …which/what/who…………to complete the statements.
You can have tea or coffee. ………………..do you prefer?
This is a nice house. ……………….room is yours?
……………is your favorite sport?
………………is more expensive, meat or fish?
…………………is older, Anne or George?
………………kind of camera have you got?
…………..nationality are you?
…………….does it take to complete the exercise?
Mary has three cameras, …………..camera does she use most?
…………..is that mountain?o