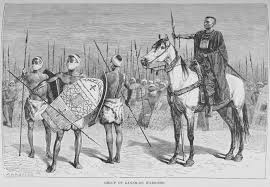 POLITICAL ORGANIZATION OF PRE-COLONIAL SOCIETIES
What is Pre-Colonial period
This was the period before Uganda was taken over by the British.
Majority of people came from neighbouring countries like Rwanda.
Others came from Asia especially India and Pakistan.
The type of organization include
i) Kingdoms
ii) Chief doms
iii)Clans
How did Ugandans rule over before the coming of Europeans?
i) They ruled themselves under kingdoms.
ii) There was a government led by a chief.
iii)They ruled themselves under clans.
Why is it not correct to say that there had no government before the British came
There was governed by a king.
There was a governed by a chief.
There was a governed by a clan member.
THIS MAP SHOWS THE MAIN KINGDOMS IN UGANDA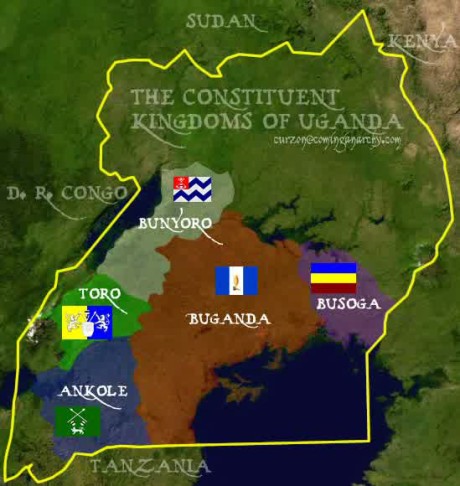 What is a Kingdom?
This is an area ruled by a king.
What is a Chiefdom?
This is an area ruled by a chief.
What is an empire?
An area ruled by an emperor
It was the earliest pre-colonial kingdom/state in Uganda.
THE VIDEO SHOWING BUNYORO KITARA EMPIRE
Who were the founders of Bunyoro Kitara Empire?
The Abatembuzi were the first rulers of Bunyoro.
The first king of Abatembuzi was Ruhanga and his brother was Nkya.
The last king of the Abatembuzi was Isaza. Bunyoro covered the whole are of inter-lacastrine region.
The Bachwezi replaced the Abatembuzi.
The first king of Bachwezi was Ndahura the grandson of Isaza.
The last king of the Bachwezi was Wamala.
The Bachwezi were displaced by the Luo-Babito dynasty.
Both the Bachwezi and Batembuzi are said to be semi-gods.
What is an empire?
This is an area led by an emperor.
State  factors which led to the collapsed of Bunyoro Kitara empire
It was too large for it to be led by one king.
The death of their beloved cow Bihogo.
Internal and external wars
The coming of Luo Babito.
Outbreak of epidemic diseases.
Outbreak of famine.
Contribution of the Bachwezi empire
Economic contributions.
They introduced long horned cattle.
They introduced iron smelting.
They introduced bark cloth making.
They introduced coffee growing.
They introduced pottery.
Political Contribution
They introduced centralized government.
The introduced hereditary rule.
They introduced royal regalia.
They introduced building of reed palaces.
Social Contribution
They introduced new games like Omweso.
They introduced royal regalia.
Royal traditions symbols for powers.
Examples:
Spears.
Drums.
Royal tombs.
Stools.
Robe.
Arrows
Shields.
KINGDOM  TITLE OF THE LEADERS
Buganda                                           Kabaka
Bunyoro                                             Omukama
Ankole                                               Omugabe
Toro                                                    Omukama
Busoga                                              Kyabazinga
Teso                                                   Emorimor
Acholi                                                 Rwot
Buganda kingdom started as a very small kingdom on the northern shores of Lake Victoria.
It broke away from Bunyoro Kitara.
It was surrounded by forests and people who practiced agriculture.
According to the legends, its said that the founder of Buganda kingdom was Kato Kimera (Kintu).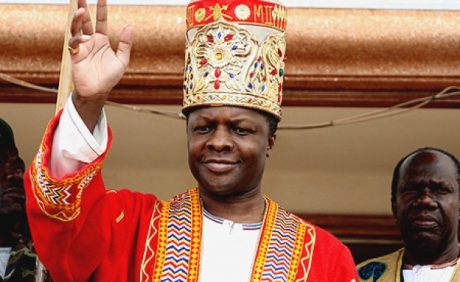 Factors that led to the growth of Buganda kingdom
Had a strong leader.
Had a strong army.
Traded with Arabs.
It has plenty of food.
The coming of Europeans
Advantages of kingdoms
Promote peace and unity.
Promote culture.
Mobilize people for development.
Disadvantages for kingdoms
Promote dictatorship.
Promote the interest of the minority.
THIS VIDEO IS ABOUT THE BUGANDA KINGDOM
Ankole kingdom was formed in South Western Uganda.
It traces the origin of the period of Batembuzi.
British colonialists combined other kings together to form Ankole.
Examples of such kingdoms were?
Igara.
It then got its new name Ankole
Its king was called Omugabe
It is one of the kingdom that broke away from Kitara kingdom.
Prince Kaboyo founded in 1830, Kaboyo was the eldest of the Omukama.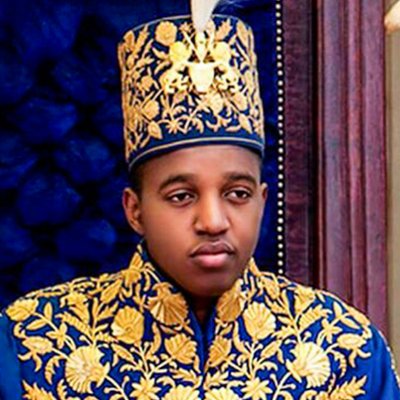 Reasons why Omukama Kasagama of Toro welcomed Captain Fredrick
He wanted to be restored to his throne.
He wanted protection against his enemies.
How did Omukama Kasagama benefit from the coming of Captain Fredrick Lugard
He restored him to his throne.
He gave protection against Omukama Kabagema.
He drove Kabagema out of Toro kingdom.
Chiefdoms were areas ruled by chiefs.
Busoga is a chiefdom.
The title given to a chief is Kyabazinga
KADHUMBULA WILBERFORCE
He was the Kyabazinga of Busoga at the time of Uganda's independence in 1962.
He mobilized his people to support the struggle for independence.
He later became Uganda's first vice president. of Uganda
Chiefdoms in Uganda
Chiefdom                              Title of leader
Busoga                                  Kyabazinga
Acholi                                     Rwot
Iteso                                        Emorimori
Social organization of Pre-colonial people
i) People related by clans were organized.
ii) The children belong to the clans of their fathers.
iii)On the side of religion, spirits received much attention.
vi) Traditional religious leaders such as rain makers, medicine men and fortune tellers got a lot of respect.
v) Education was passed through stories.
vi) They had language,names,customs,clans,totems,values,games,
Economic organization of pre-colonial rule
People grew their own food.
People reared their animals.
People practiced barter trade on a small scale.
People made their clothes from the back of trees and animal clothes, animal's skin and hides.
THIS VIDEO IS ABOUT CHIEFDOMS