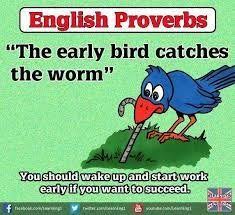 Proverbs are popular sayings in a clever brief manner.
Examples
A bad workman quarrels with his tools.
A bird in the hand is worth two in the bush.
A drowning man will clutch at a straw.
A fool and his money are soon parted.
A friend in need is a friend indeed.
A hungry man is an angry man.
All's well that ends well.
An apple a day keeps the doctor away.
Any time means no time.
A miss is as good as a mile.
A penny saves is a penny gained.
A tolling stone gathers no moss.
A stitch in time saves nine.
A small leak will sink a great ship.
As you make your bed so you must lie in it.
A wild goose never laid a tame egg.
Half a loaf is better than no bread.
Better late than never.
Birds of the same feather flock together.
Charity begins at home but should not end there.
Cut your coat according to your cloth.sh
Don't carry all your eggs in one basket.
Early to bed, early to rise.
Every cloud has a silver lining.
Every dog has its day.
Exchange is no robbery.
Fine feathers make fine birds.
First come, first served.
Forbidden fruit tastes sweetest.
Great minds think alike.
Half a loaf is better than none.
Little boys should be seen not heard.
Laugh and grow fat.
Habit is second nature.
Listeners hear no good of themselves.
Let not the pot call the kettle black.
Look before you leap.
Make hay while the sun shines.
Necessity is the mother of invention.
New brooms sweep clean.
No news is good news.
No smoke without fire.
One good turn deserves another.
One man's meat is another man's poison.
Out of sight, out of mind.
Out of the frying pan into the fire.
Sauce for the goose is sauce for the gender.
Set a thief to catch a thief.
Still waters run deep.
The early bird catches the bird.
Too many cooks spoil the broth.
Two head are better than one.
Where there's a will there's a way.
When the cat's a way the mice will play.
THIS VIDEO SHOWS THE USE OF PROVERBS
The sentences in group A are the beginning of ten proverbs. Give each beginning in group A its correct ending in group B.
A                                                                                                           B
Prevention is                                                              without pain
Out of frying pan                                                       is no robbery
Better be alone                                                           according to your cloth
A rolling stone                                                             better than cure.
Exchange                                                                     and spoil the child.
Spare the rod                                                              into fire
One good turn                                                           the mice will play.
When the cat is away                                               gathers no moss
No gains                                                                    than ill company
cut your coat                                                            deserves another
Complete the following proverbs
………………………………………..saves nine.
Empty tins……………………………………………………
…………………………………………………..is enough.
……………………………………..makes perfect.
All is well………………………………………………………………..
………………………………………………seldom bite.
A fool and his money……………………………………………………
…………………………………………………………..is the mother of invention.
Actions……………………………………………………………………..
………………………………………..is better than riches.
Find a suitable proverb to summarise each of the stories below.
When Mary joined our school last term, she was very poor at spoken English. Although many pupils laughed at her mistakes, she kept on trying over and over again. After one year, she is now the best English speaker at school.
Proverb: ………………………………………………………………………………………………
Mugisha started collecting used clothes give to the poor. He thought he would not get a big collection. He collected a few clothes each month but after to years, he now has a big collection of used clothes.
Proverbs: …………………………………………………………………………….
Obonyo used to steal our books and pens from our bags. When our class teacher talked to him about the evils of being a thief, he stopped the bad habit.
Proverbs: ………………………………………………………………………………………..
Most of the girls in our class said that Birungi didn't know how to play netball. But Birungi said that she would not argue with them. "Let us go to the netball pitch and play, then you will see whether I know netball or not" said Birungi. At the end of the match, Birungi was selected as the best netball in the school.
Proverb: ………………………………………………………………………………………….