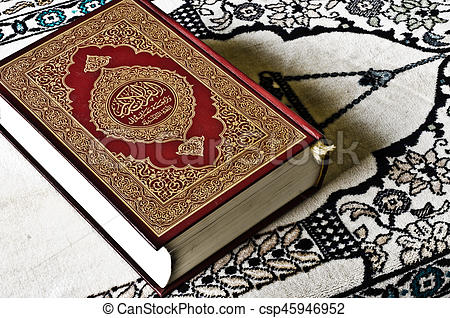 The Quran
This is one of the Holy books in Islam.
The Quran is made of units. These includes;
– Aya (verse)
– Surah (chapter)
– Juzu (section)
Common surahs in the Quran
– Fatiha
– Farrah
– Bayinnah
– Naas
(i) Name the first and the last Surah in the Quran (Fatihah , Naas)
The Quran was revealed to prophet Mohammed on Mt. Noon in the cave of Hira by Angel Gibril (Gabriel)
THE QURAN
Ways how the Quran should be kept.
– In a clean place
– None should be on its top
– Should not touch the ground
People who are not allowed to read the Quran.
– Women in menstruation period
– People who have not performed Wudhu
– Non-Muslim
The 4 revealed books in Islam Equivalent books
Zabur Pslams
Tauret Pentatuach
Quran ___________
Injil Gospels
Prophets to whom the books were revealed.
Zabur – Pprophet Dauda
Taurat – Prophet Musa
Quran – Prophet Mohammed
Injil – Prophet Isa
Prophets in Islam
A prophet is a person inspired by God (Allah) to tell this message.
There are 25 Prophets in islam
The first Prophet is Adam and the last is Mohammed.
These include: Prophet Adam , Noah , Idris , Lot , Zechariah , Idris , Swalleh , Hood , Ibrahim , Musa , yunus (Jonah) , Zul-kifil , Al0yasa , Ismael ,
Ishaq , Yaqub , Yususf , Daud , SUlayman , Yahya , Shuaib , Haruna , Isa , Muhammed, Ayub
FACTS ABOUT SOME PROPHETS
Adam – first Prophet in Islam.
Zul-kifl – went to heaven alive
Ibrahim – Known for his faith (grandfather of all believers/ was about to sacrifice his son)
Yunus – was swallowed by a big fish whale
Sulaiman – Used to speak with all creatures like birds, animals, etc
Ayub – He is known for endurance
Isa – He was born without a father
Nooh – Built the ark
Mohammed – The greatest Prophet in Islam
SALAT (PRAYERS) IN ISLAM
– Salat means prayer
– A prayer are words someone says to God.
– Salat is a second pillar of Islam.
Muslim believers should perform 5 slats a day as shown below;
| | |
| --- | --- |
| SALAT | TIME IT IS PERFORMED |
| Subuh | Early in the morning |
| Zubur | Ealy in thew afternoon (at 1 o'clock) |
| Aswir | Late afternoon (at 4.00pm) |
| Magaribh | Early evening (7.20pm) |
| Ishah | Late evening (from 8 – 11pm) |
The Muazzin calls Moslems for prayers
The Imam leads (conducts ) prayers in the mosque
Juma is a special prayer performed by Moslems on Friday at 1o'clock in the mosque.
NULLIFIERS OF SALAT
These are things which spoil swalat (salat)
They can include:
– Praying at wrong time
– Eating or drinking during salat
– Praying without wudhu
– Drunkenness
– Sleeping during salat
– Urinating or faining during salat
– Praying in impure cloths.
– Talking words that are not connected to salat
– Discuss how one can avoid the nullifiers above with the pupils.
Islamic values
– Patience (swabru)
– Perseverance (Tahamamu)
– Reliance on God (Tawakkul)
Importance of Islamic values
– They create peace
– They can lead to award of blessings
– They lead to unity
– They make faith grow strong (Iman)
ASSIGNMENT : Quran P.3 assignment

MARKS : 10

DURATION : 1 week, 3 days