ROCK BASIN
Rock basins are cylindrical depressions cut into a stream or river beds, often filled with water.
It is an irregular depression in the flow of a U-shaped valley formed by U equal glacial erosion of the bad rock.
This feature often develops when the thickness and weight of the glacier increase i.e. at the junction of two glaciers.
After the glacier melts the rocks basin becomes the sides of lakes.
Sometimes even vertical erosion caused by rocks of different strengths results in the form of rocks steps.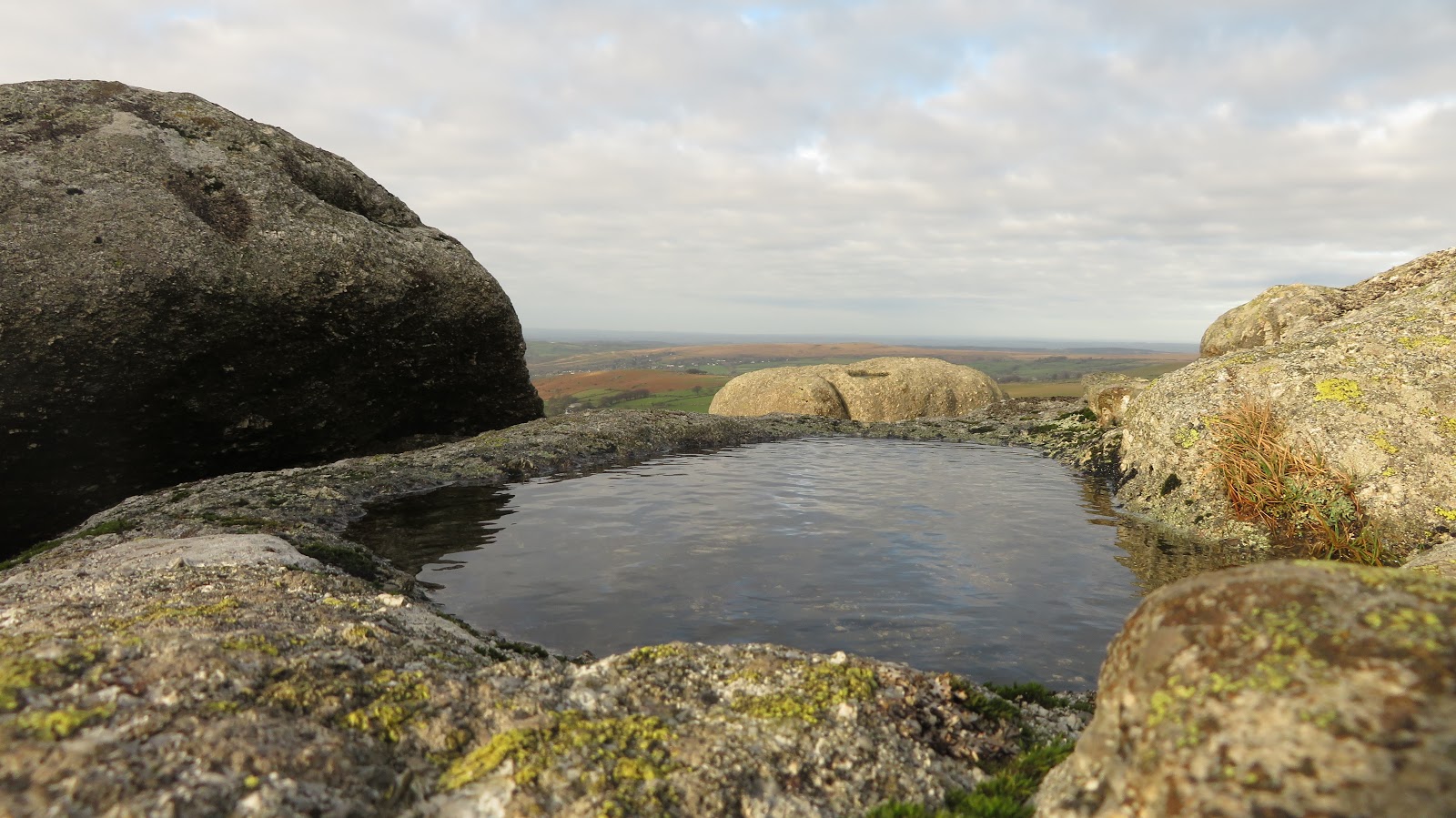 MORAINE
A moraine is any glacially formed accumulation of unconsolidated glacial debris that occurs in both currently and formerly glaciated regions on Earth, through geomorphological processes.
Un sorted rock fragments of all sizes from sand to boulders formed partly by frost action and partly by glacial abrasion transported by a glacier and dumped in ridges or sheets.
A moraine that forms along the sides of a glacier is called a lateral moraine.
That along the front of a glacial is called terminal moraine and that at the bottom of the glacier is called a ground moraine.
When to glacier join the inner lateral moraines join together and give medial moraine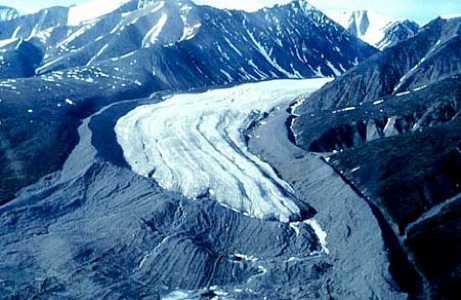 MADE BY SORTED FLUVIO-GLACIAL MATERIALS
A steep-sided rigged, about from high that winds across the country (even over hills). It's made of gravel and sand.
A river flowing inside a glacier is under great pressure and is, therefore, able to carry a large load most of which ultimately deposited in the tunnel through which the river flows.
Esters develop bets in ice that remain stationary for a long time.
When the ice melts, the funnel walls collapse and the Scouted River deposited become exposed on the surface.
Some eskers are formed by a river that emerges from a retreating ice front. This causes the deposits to form a mound that elongates as the ice retreats.
Eskers are at right angles to terminal moraines, and unlike moraines, they are stratified ie their material is in layers.

KAME
A kame is a glacial landform, an irregularly shaped hill or mound composed of sand, gravel and till that accumulates in a depression on a retreating glacier, and is then deposited on the land surface with further melting of the glacier.
An irregular shaped mass of stratified material formed as a delta on the surface of a stationary glacier or at its margin.
Some represent sorted material collected in crevasses.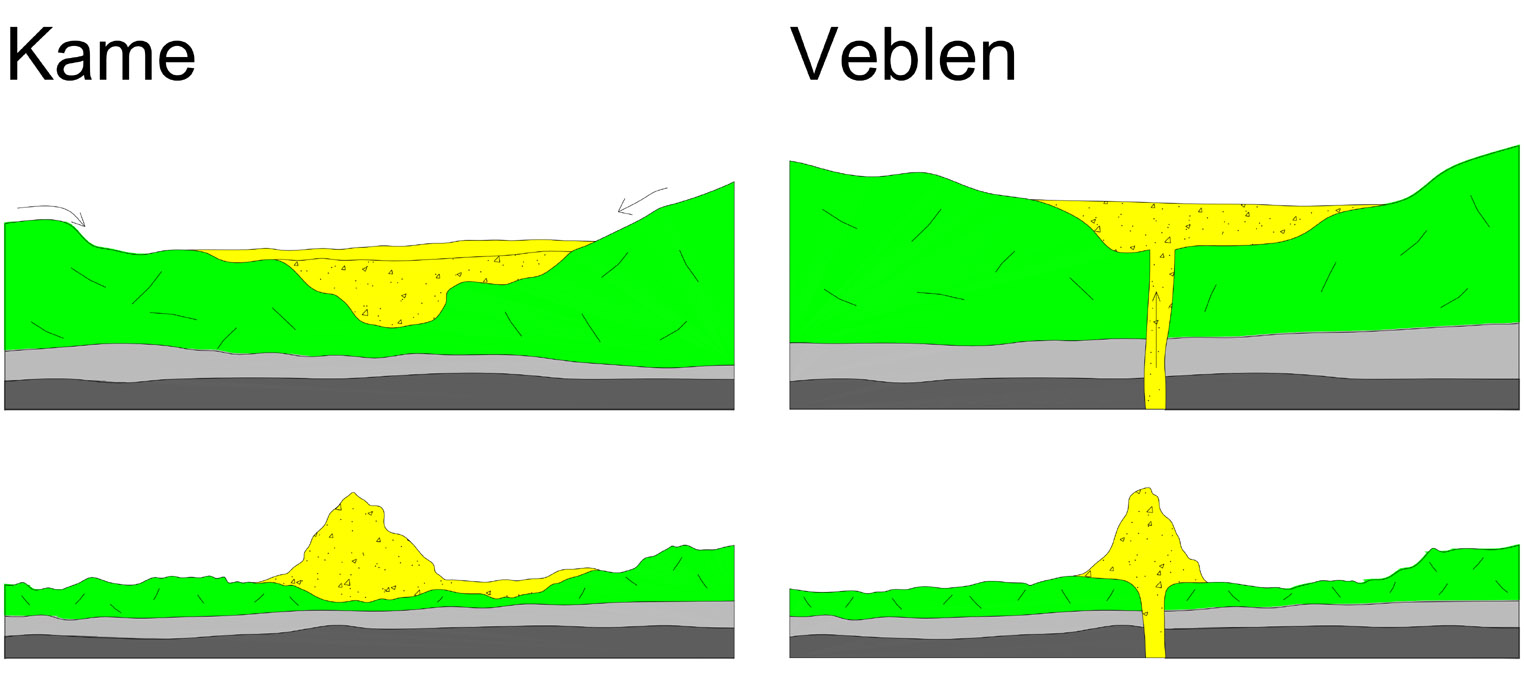 OUT WASH PLAIN
An outwash plain, also called a sandur, sandr or sandar, is a plain formed of glacial sediments deposited by meltwater outwash at the terminus of a glacier.
As it flows, the glacier grinds the underlying rock surface and carries the debris along.
Made of gravel and sand developed outside of the terminal marine by meltwaters from the ice depositing sored materials.
Coaster materials from the plain neared to the terminal moraine but the deposits got finer nary from the moraine.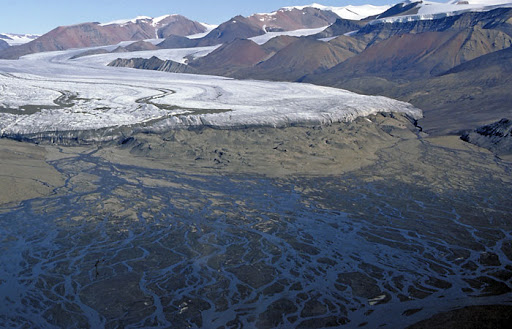 EFFECTS OF GLACIATION ON THE HUMAN GEOGRAPHY IN EAST AFRICA
The melting ice is a source of rivers that provides H20 are domestic and Agriculture purposes i.e. River Mubuku which Glaciated features have beautiful scenery which attracts foreign exchange i.e. Mt Rwenzori, some come for sports i.e. skirting, stating imp climbing.
They are potential fishing ground ie lake.
The melting water on River Mubuku is pushed down due to gravity and provide HEP ie Mubuku power station
They are used for research and study purpose.
Moraine deposits accumulate to form fertile soils.
They have good alpine pastures that are used for animal grazing.
Mt. Rwenzori
Generally, the coldness and the high cloud within the glaciated areas ensure low rates of evaporation and high rainfall totals a condition which is agriculture advantages.
The erratic and rock boulders in the glaciated low land areas can be quarried to form stones used for constant purposes.
Low temp within the glaciated areas discourages disease-carrying vectors e.g mosquitoes.
Some people are employed i.e. guide and people who work in the tourism industries (selling crafts to people /tourists).
GLACIAL TROUGH
These are broad, flat, bottomed steep-sided valleys with a roughly U-shaped cross profile. The U-shaped profile is partly due to the fact that the tongue ice is broader than that of the stream of running water that moved debris from the original valley.
It can also be partly due to the fact that ice flows through this initial depression doesn't easily bend like a stream of water and this lends to straighten a valley with a U-shaped course profile.
In doing this the moving glacier is straightening and removing some of the locking spurs and in the end it will form features known as the truncated spurs.
ROCHE MONTANNE (EE)
Anciout crop resistant rock smoothed by ice on the upstream end into a gentle slope, and plucked on the downstream end to give a steep, jagged slope.
It's the rocks embedded in the base of the ice that smooth down the outcrop, sometimes cutting deep grooves into the surface of the outcrop.
These grooves are called striations. They can be seen on rock outcrops in both glaciated highlands and low lands. Roche mountain may be a small-feature a few metres high or a large feature, more like a small hill, this feature also occurs in glaciated highlands.
Glacial erosion is also responsible for molding masses of rocks that project above the general level.
The ice which is moving on the stream side of such a mass is smoothening and polishing. It form a rounded profile on the upstream.
On the upstream side Abrasion is dominant and on the leeward side it's plucking.
The downstream side of the rock mass is made up of rougher and more irregular profile. This is mainly the work of plucking and it may be well defined if the rock is well jointed.
The resulting feature is known as a Roche mount Anne or a stress and lee. The diagram above shows a Roche e.g around Mubuku valley on mt Rwenzori and on the southern part of downstream Mahwezi on Mt.kilimanjaro.
CRAG AND TAIL
Another feature that formed as a result of glacial erosion is a crag and tail. A crag and lail is formed when some hard abstract mass of rock (crag) lees in the path of oncoming ice. This mass protects softer rocks in its leeward side from glacial erosion.
The ice moves over and around the crag leaving behind a gently sloping tail in its lee. The diagram below shows a crag and tail.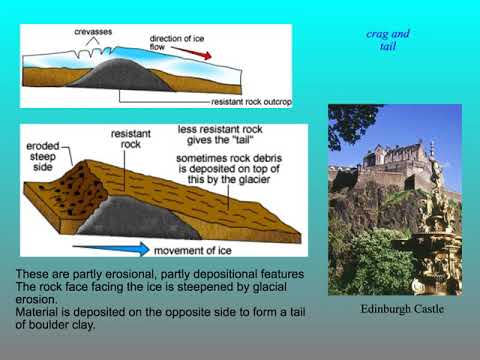 Depositional landforms are divided in these made of unsorted materials and these made of sorted fluoro-glacial material as seen below:
Made of unsorted materials
BOULDER CLAY PLAIN
A monotonous hummocky plain made of clay and boulders, deposited haphazardly by the sheets and glacier over a surface, sometimes, covering up pre-glacial landforms.
Large boulders made of rock, different from that of the region where they are deposited, were obviously carried there by the ice.
They are called erratic.
DRUMLIN
Elongated, oval-shaped low hummock made of boulders clay and about 1km long and 25 to 100m high.
The upstream sides are usually steeper than the downstream sides and they occur in swamps as shown in the figure below.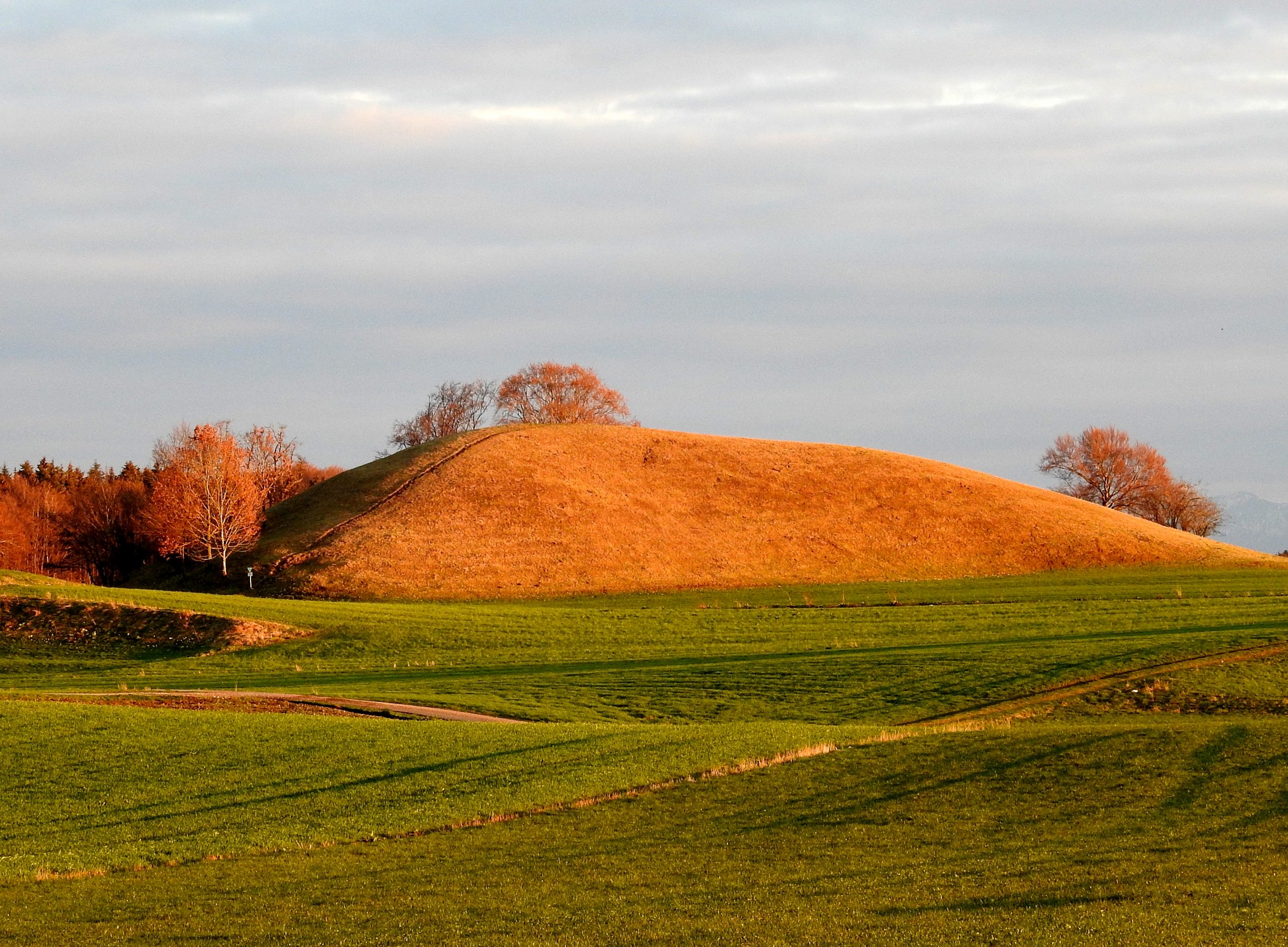 TERMINAL MORAINE
A ridge-like feature made of boulders clays marking the of the edge of the ice, and ranging in height from 20m to over 50m and extending for several kilometers.
Terminal moraines that are well developed indicated that the ice remained stationary for a long period of time. A terminal moraine sometimes interferes with drainage from the Negative.
Glaciated mountains are ragged hence hindering the constant of roads.
Glaciated highlands are associated with avalanches and landslides which are destructive to humans.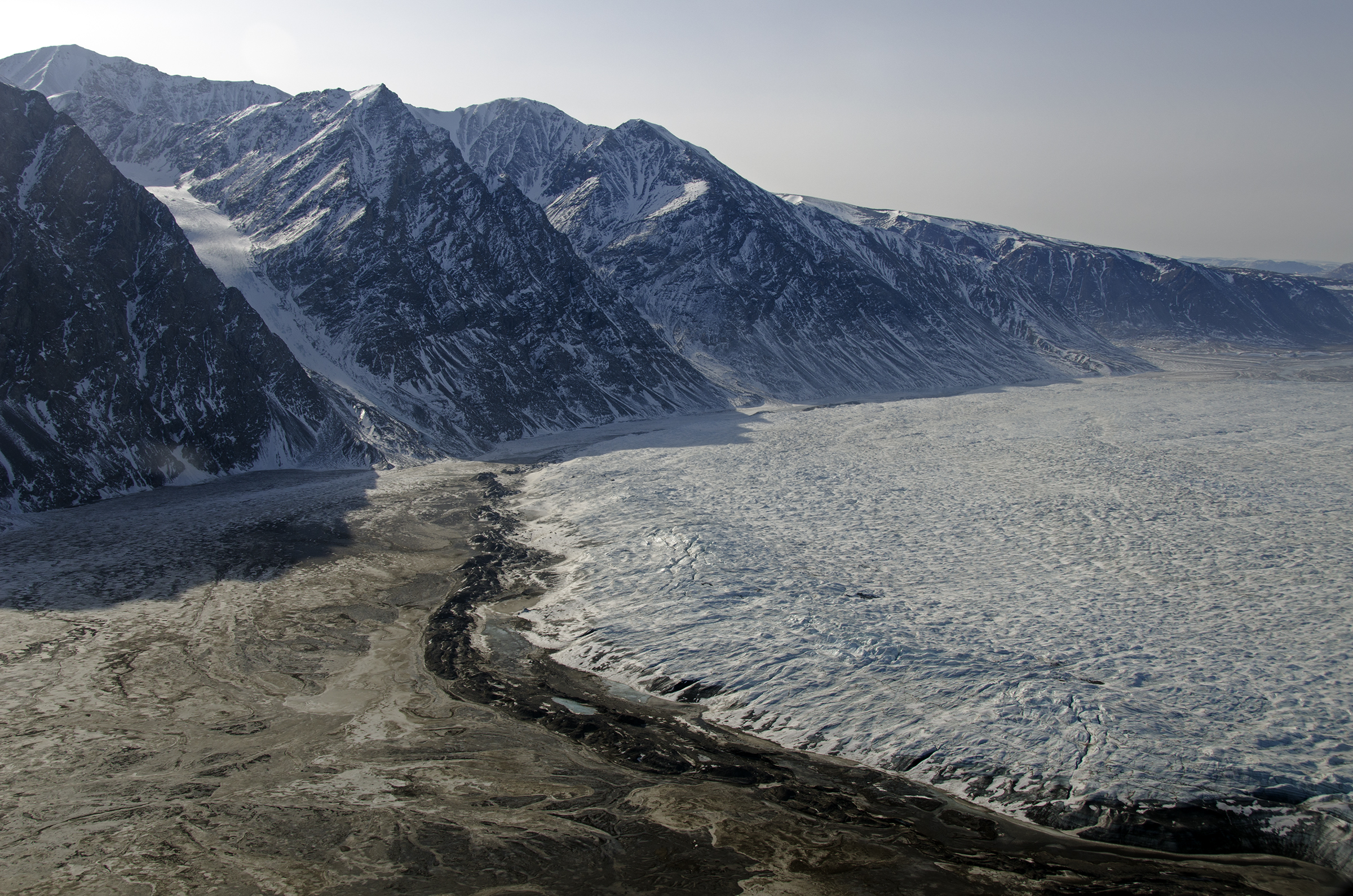 Movement of a boulder along the slopes by moving ice destroys rocks along the slopes where they pass.
Although some moraines give rise to fertile soils, most of them are high weathered down to form thin soils that are no favorable for Agric.
The extreme coldness of the glaciated regions discourages settlement and other forms of settlement i.e. Agric.
The meltwater from glaciers are too cold to use for irrigation purpose i.e. Mwea-Labere irrigation scheme i.e. it grows only one crop per year because of the cold water.