SANITATION
The general cleanliness of our environment
The way we keep our environment clean.
Importance of sanitation
Prevents the spread of germs.
Promotes good health in the community.
Activities under sanitation
Sweeping the compound, house, etc.
Moping the house, classroom
Slashing bushes around our homes, school, road sides, water sources.
Picking and burning rubbish.
Proper disposal of feaces and urine.
Draining stagnant water around our homes, school.
Dusting tables, chairs
Removing cobwebs from the kitchen, latrines and houses.
Digging water channels along the roads, in school and home compounds.
Items used in keeping proper sanitation
Brooms
Rake
Mop/rag
Water
Soap
Slasher
Bins
Waste basket
Rubbish pit
Scrubber
Spade
Dryer
GERMS
A germ is an organism that causes diseases.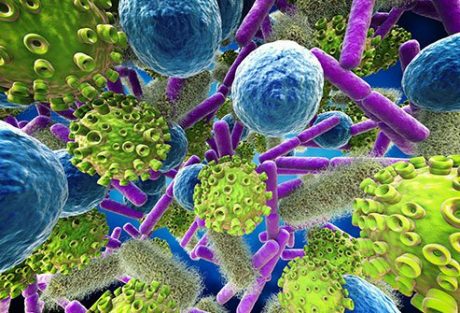 Types of germs
Virus
Bacteria
Worms
Protozoa
Fungi
 Where germs are found
Faeces and urine
Water
Soil
Air
Under dirty long finger nails
On dirty clothes
On dirty beddings
N.B. Germs are found everywhere.
GERMS EXPLAINED IN THE VIDEO BELOW

How germs enter our bodies
Through eating contaminated food
Through the nose when we breathe in
Through open wounds and cuts
Through skin contact with infected persons
Through sharing clothes with an infected person
Through vectors
THE 4FS
It is the path of germs from faeces to the inside of our bodies.
It stands for;
Faeces
Flies
Fingers
Food
Control of the spreading of germs
Boil water for drinking
Wash hands before eating food.
Wash hands after visiting a toilet.
Destroy the breeding places of vectors by clearing bushes, draining stagnant waters, etc.
Kill the vectors by spraying
Prepare food in a clean place
Cover food
Have proper disposal of faeces and urine
Have proper disposal of garbage
Give health education to the people
Have all children immunized.
THREE SIMPLE RULES TO FOLLOW SO AS TO REDUCE THE SPREAD OF GERMS
 ROTTING/DECAY
Meaning
The breakdown of organic matter by bacteria.
It destroys garbage heaps It requires warmth, darkness and moisture.
Importance of rotting/decay
It destroys faeces in latrines and sewerage systems
It produces humus from dead organic matter.
Dangers of rotting/decay
Rotting produces a bad smell
Rotting matter is a source of germs
Rotting causes wounds to be septic.
Common diseases caused by germs
| | |
| --- | --- |
| Diseases | Causative germ |
| i)      Trachoma | Bacteria |
| ii)     Red eyes | Bacteria |
| iii)   Cholera | Bacteria |
| iv)   Typhoid | Bacteria |
| v)    Dysentery | Bacteria /Amoeba |
| vi)   Diarrhea | Bacteria / Virus |
| vii)  Ring worm | Fungus |
| viii)Chicken pox | Virus |
| ix)   Diphtheria | Bacteria |
| x)     Pneumonia | Bacteria |
| xi)   Tetanus | Bacteria |
| xii)  Measles | Virus |
| xiii) Polio | Virus |
| xiv)Whooping cough (pertussis) | Bacteria |
| xv)  Scabies | Itch mite |
| xvi)Malaria | Plasmodium (protozoa) |
| xvii)  Sleeping sickness | Trypanosome (protozoa) |
| xviii) Rabies | Virus |
| xix) Typhus fever | Ricketsia |