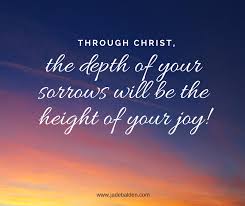 SORROW AND JOY IN LIFE
LENT
Read;
Matt6:16-18
What is lent?
Lent is the fasting period for Christians.
Lent period lasts for forty (40) days.
Christians begin their lent on Ash Wednesday.

Reasons why Christians fast
To repent of their sins
To strengthen their faith
To get blessings
What should a Christian do during lent?
Repenting his/her sins
Forgiving others
Praying to God
Reading the Bible
Activity
What do we call the fasting period for Christians?
When do Christians begin fasting?
Mention any three things a Christian should not do during lent.
Why do Christians fast?
 Jesus' stay in the wilderness
Read;
Luke 4:1-12
Jesus was in the wilderness for 40 days and nights.
He was fasting and praying.
He was tempted by devil or Satan.
Temptations given to Jesus
To turn the rock (stone) into bread.
To bow down and worship the devil.
To fall down from the highest point of the temple.
Activity
For how long was Jesus in the wilderness?
Who tempted Jesus?
Mention any one temptation given to Jesus.
What should we do when we are tempted?
 THE HOLY WEEK
Read;
Mark 14 & 15
What was known as the Holy week?
It was the week in which Jesus died for our sins.
What happened during the Holy Week?
a)Palm Sunday (John 12:9-19)
Jesus entered Jerusalem riding a donkey.
b)Holy Thursday
Jesus   had the last supper with his apostles.
c) Good Friday
Jesus was crucified/nailed on the cross.
d) Easter Sunday
Jesus resurrected or rose from the dead
Activity
Match the following correctly.
  A   B   
Palm Sunday                         -Jesus rose from the dead.
Good Friday                          -Jesus entered Jerusalem on a donkey.
Easter Sunday                       -Jesus had his last supper.
Holy Thursday                      -Jesus was crucified.
THE LAST SUPPER
Read;
Luke 22:14-23
What was the Last Supper?
This was the last meal Jesus had with his apostles.
Jesus had the last supper on the Holy Thursday.
They used bread and wine during the Last Supper.
The bread represented the body of Jesus Christ.
The wine represented the blood of Jesus Christ.
Christians today celebrate the Lord's Supper through the Holy Communion or Holy Eucharist.
Activity
On which did Jesus have his Last supper?
Name the two things that were used during the Last supper?
What do the following represent during Holy Communion?
the bread
the wine