There development of the river basin. The Tennessee Valley Authority (TVA) was established by the act of the government in 1933. It was responsible for developing or improving the conditions of the Tennessee valley which had been suffering from many problems. The valley lies on the slopes of the Appalachian mountain (highland), along R. Tennessee which is about 900 miles which is about (1440km). The River has its source in the Appalachian Mountains and it is a tributary of R. Odio being a tributary of R. Mississippi. The area of the TVA is covered by a distance of 42,000 square miles and includes the following states;
Tennessee
Alabama
Georgia
North Carolina
Mississippi
Kentucky
The Tennessee valley was originally occupies by warm temperate forests which were later destroyed by man's activities before 1933 over a quarter of the land suffered severe deforestation.
This was because the populations increased due to fertile soil, many people were attracted to carryout agriculture. Therefore the TVA Scheme was a plan of controlling the river i.e control flooding, famine and also to restore the valley to it fertile situation as well as to develop it.
The TVA was a multipurpose project, in the redevelopment of the river valley.
In 1933, the TVA begun the great engineering works which brought the river under control and it led to navigation, industrialization, scientific agriculture, reafforestation and general improvements in the conditions of living in the Tennessee valley.
A MAP OF SOUTH EAST USA SHOWING THE AREA COVERED BY TVA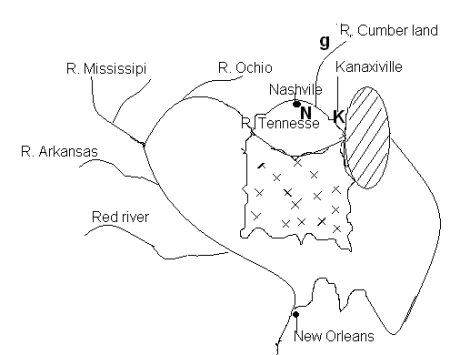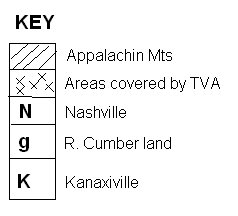 PROBLEMS FACED BY THE TENNESSEE BEFORE 1933
They faced the problem of soil erosion mainly galley and rill erosion.
Floods led to silting of the rivers.
Famine because of un settled population and destruction of crops.
There were diseases for example malaria because of the stagnant water from the floods.
Transport and communication problems due to the flooding of roads, railways, etc.
There was shortage of power i.e no electricity and most residents used to use lamps.
Un employment and poverty i.e there were no job opportunities and most people were low income earners.
Erosion and flooding were the most serious problems
Causes of Erosion
Heavy rainfall received in the area resulted into floods.
Deforestation due to increased population.
The existence of low lying farms down the river i.e nature of the relief facilitated erosion and flooding.
Poor methods of farming for example continued cropping and over grazing.
Lack of enough capital and contacts to finance the project.
Lack of government attention and assistance in term of education, health services and agricultural improvement.
AIMS OF THE TENNESSEE VALLEY AUTHORITY
To control floods, soil erosion and restore the eroded land.
To improve on navigation in order to ease transport and navigation problem.
To eradicate disease and improve conditions of living.
To educate and settle down the displaced people.
To construct dams in order to generate and supply electricity.
To encourage development of industries and other economic activity.
To provide employment and eradicate poverty.
ACTIVITIES OF THE TVA
In order to achieve the objectives the TVA carried out the following activities.
Construction of dams
Nine great dams were constructed on the main Tennessee River. Eleven other dams on its tributary for example Wilson, Warts bar.
The dams were built to hold back flood waters there by forming a series of long, navigable, man made lakes connected to each other by rocks to provide a 650 mile water way for water vessels.
Rocks were built on the dams to rift or to lower the water levels when crossing from one level to another
A waterway was also created by dredging many sections of the river to ensure that deep channels were constructed for large vessels as well.
A PROFILE OF THE TENNESSEE RIVER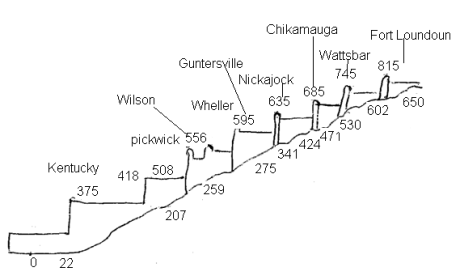 Importance of Dams
It controls floods since most of the water is used.
It helps in generation of hydro electric power.
Improves navigations because man made lakes are used.
Man made lakes formed can be and used as fishing grouds.
Dams can also act as bridges thus improving on communication.
The water stored in the dams can be used for agriculture.
It is a source of employment to the people constructing the dams.
INTRODUCTION OF SOIL CONSERVATION METHODS
These were to restore soil fertility in the area and also to carry out soil erosion preventative methods for example: forestation (planting of trees where they have never existed), Reforestation (planting trees where they have been cut.)
Scientific methods of faming taught and employed through demonstration farming. Examples of methods that can be used to control soil erosion; planting cover crops, terracing and contour plugging, forestation, mixed cropping.
RESETTLEMENT OF THE MISPLACED PEOPLE
People who had been displaced by floods were resettled in that accommodation, health and education facilities were provided. In the provision of health facilities, several methods were used to avoid diseases etc.
INDUSTRIALIZATION IN THE AREA.
Due to the availability of dams. There was power for the establishment of industries such as pulp and paper industry; food processing industry. The TVA helped in the establishment of these industries in order to provide employment as we as develop the area.
DEVELOPMENT OF TRANSPORT AND COMMUNICATION NETWORK
A lot has been done to improve on water transports through the construction of dams and locks which has encouraged trade in the area. Products transported in the water include:- petroleum, coal, Iron and steel, timber, grain etc.
ESTABLIMENT OF THERMAL AND NUCLEAR POWER STATION
A number of thermal power plants were established and to large nuclear stations these were intended to boost the industrial sector.
BENEFITS OF THE TENNESSEE VALLEY AUTHORITY
Floods have been controlled ie no more destruction caused by floods.
Electricity has been provided for industries and domestric use.
Industries and other economic activities have provided employment opotunities to the people
Transport and communication network has been provided
Diseases have been controled in the area.
Recreation facilities were created for people and this has promoted the tourism industries for example Kentackypark.
People were resettled, accommodated given reduction and health services, thus improving living conditions.
It created unity and the sprit of working together among the people and the government
Erosion has been brought under control and people practice better farming methods thus improving agriculture out put.
THIS VIDEO GIVES YOU A BRIEF HISTORY OF TENNESSEE VALLEY AUTHORITY