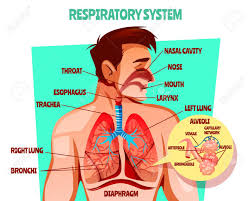 RESPIRATORY SYSTEM
 ORGANS OF THE RESPIRATORY SYSTEM
 The respiratory system:
Respiration is the process by which the body uses food and oxygen to release energy, heat, carbon dioxide and water vapor.
Respiration takes place in the body cells.
A drawn structure showing the respiratory system.
Organs/ major parts of the respiratory system.
Nose
Trachea Or Wind Pipe
Bronchus
Lungs
Diaphragm
Functions of the parts
The nose:
It contains mucus and tiny hair (cilia)
Cilia traps dust that enters with air
Mucus helps to moisten and warm air.
The wind pipe/trachea
It's made up of soft bones called cartilage to keep it open all the time
It also contains hair and mucus
The epiglottis:
Closes to prevent the food from entering into the wind pipe on swallowing.
The lungs:
This is the organ where gaseous exchange takes place.
It has got air sacs (alveoli) with a net work of blood capillaries to absorb oxygen and pass out carbon dioxide.
Rib cage:
Protect the lungs and heart against external harm.
It's also covered with a pleural fluid to prevent friction between the thorax and lungs to the ribs.
Note:
Gaseous exchange takes place at the air sacs.
BREATHING
Breathing is the act of taking in of oxygen and sending out of carbon dioxide from the body.
Breathing involves exchange of gases in an organism
Breathing starts from taking in air through the nose to the lungs.
Types of breathing:
There are two types namely;
Inspiration (inhalation) and
Expiration (exhalation)
Breathing in / inspiration / inhalation.
Inspiration is the act of drawing in air into the lungs through the nose.
The air we breathe in contains more oxygen than carbon dioxide.
We breathe in to increase oxygen supply in the body
Oxygen is used by the body to burn food and produce energy during respiration
Respiration is the oxidation of food to produce energy in the body cells
Events during inhalation / breathing in.
The diaphragm moves downwards. (Diaphragm contracts and flattens)
Ribs move upwards and out wards.
Lungs expand
The chest increases in volume
Air is drawn into the lungs.
Expiration / breathing out / exhalation
This is the act of taking out of air from the Lungs through the nose.
We breathe out to reduce carbon dioxide in the body.
Air we breathe out contains more carbon dioxide than oxygen
During breathing out, we also lose excess heat and vapour from the body.
Events during expiration / breathing out / exhalation
The diaphragm moves upwards to its domed shape.
The ribs move down wards and inwards
The lungs reduce in size
Note:
Carbon dioxide dissolved in the blood plasma diffuses from the capillaries into the alveoli and exhaled out.
Abrupt coughing is caused when an external matter enters the trachea or wind pipe
ADAPTATION OF THE AIR SACS TO THEIR WORK
Gaseous exchange in the alveolus
Gaseous exchange takes place in the alveoli and in the air sacs of lungs.
When blood reaches the alveoli, carbon dioxide is lost and oxygen is added to blood.
Oxygen is able to be added to blood and carbon dioxide is lost by a process called diffusion.
An illustration showing gaseous exchange at the alveoli.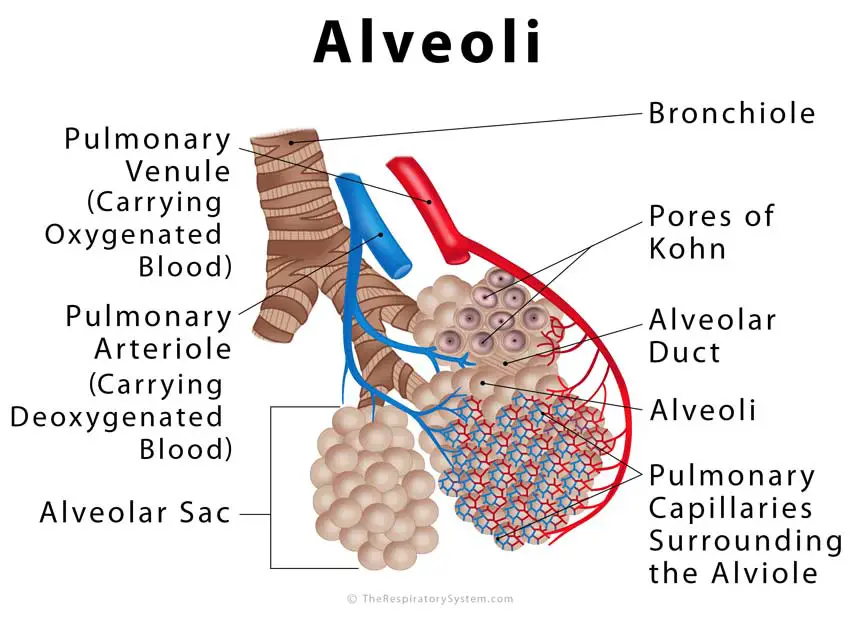 Note:
Alveoli are plural while alveolus is singular.
How are air sacs suitable for gaseous exchange
They are thin walled to allow gaseous diffusion through.
They are surrounded by a network of blood capillaries.
They are many in number to provide a large surface area to ease gaseous exchange.
Summary of the composition of inhaled and exhaled air
| | | |
| --- | --- | --- |
| Gas | Inhaled air | Exhaled air |
| Oxygen | 21% | 16% |
| Carbon dioxide | 0.03% | 4% |
| Nitrogen | 78% | 78% |
| Water vapour | Less | More |
| Rare gases | 0.97% | o.97% |
Note:
As we breathe out, more carbon dioxide is expelled because some is added from the body cells.
Nitrogen is left unchanged because it is not necessary in the body.
We breathe out less oxygen because most of it is used by the body during respiration process.
 DISEASES OF THE RESPIRATORY SYSTEM.
Respiratory diseases are diseases that affect people's respiratory organs i.e. the lungs, trachea, nostrils, and bronchioles.
Some respiratory diseases are communicable diseases spread through contaminated air while others are non-communicable caused by smoking.
Some respiratory diseases are hereditary spread from parents to the babies.
Diseases of the respiratory system.
Diseases
Signs and symptoms
Prevention / control
Lung cancer (caused by smoking)

Chest pain
High fever
Coughing
Avoid smoking tobacco
Seek medical treatment

Influenza (flu)(caused by virus)

Difficulty in breathing
Constant coughing and sneezing
Drink a lot of fluids

Pneumonia caused by either bacteria or virus

Difficulty in breathing
Coughing
Fever
Wear warm clothes during cold weather.
Treat using antibiotics.

Bronchitis (caused by bacteria)

Difficulty in breathing
Avoid smoking
Avoid staying in ventilated places.

Tuberculosis. (caused by bacteria)

Coughing for a longtime
Thick mucus spitting with spotted blood
Chest pain
Isolate the infected ones
Immunise using children BCG
Vaccine
Avoid drinking unboiled milk.

Whooping cough(caused by bacteria)

Blocked nose
Coughing spasm
Difficulty in breathing
Running nose
Drink fluids rich in vitamins
Immunise children with DPT vaccine.
Avoid overcrowded and poorly ventilated houses/places.

Asthma (allergies)

Difficulty in breathing
Body weakness during cold weather.
Mucus flow
Go for medical attention
Keep away from sources of allergies e.g. cold pollen grains.

Diphtheria (caused by bacteria)

Sore throat
Convulsion
Immunise the infants using DPT vaccine
Go for medical treatment in time.