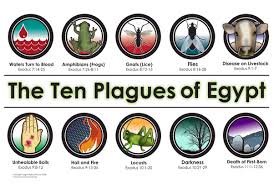 THE PLAGUES WHICH WERE GIVEN TO THE EGYPTIANS
1. While in Egypt Moses was given some power by God to Punish the Egyptians for their
refusal to release the Israelites and these were in form of miracles.

2. The first miracle to be performed by Moses before pharaoh was turning a stick into a snake.
3. Example of the plagues/punishments given to the Egyptians were;
(a) The plague of flies
(b) The plague of locusts
(c) God made the Egyptians suffer from boils.
(d) The plague of darkness for three days.
(e) The plague of water turning into blood.
(f) The plague of the death of every first born child to the Egyptians.
4. What happened to the Egyptians army when they reached the Red sea during the exodus?
-They drowned into the Red sea.
5. Who led the Israelites out of Egypt? Moses
6. Why didn't Moses lead the Israelites to the Promised Land?
-Moses had died at place called Moab.
WATCH THE VIDEO BELOW TO LEARN ABOUT THE PLAGUES THAT GOD PUNISHED THE EGYPTIANS WITH
MOSES AND THE CONVENANT
1. What is a covenant?
A covenant is an agreement made between God and his people
2. What was the covenant between God and Moses?
The Ten Commandments

3. Where did God make a covenant with Moses?
At Mt. Sinai
4. List down the Ten Commandments
(i) I am the lord your God worship no other God but me
(ii) Do not worship idols.
(iii) Do not use my name falsely
(iv) Remember the Sabbath day and keep it Holy.
(v) Respect your father and mother.
(vi) Do not murder
(vii) Do not commit adultery.
(viii) Do not steal.
(ix) Do not accuse any one falsely.
(x) Do not desire another man's property.
5. The two God's greatest commandments are;
(i) Love the Lord your God with all your heart, mind, soul and strength.
(ii)Love your neighbour as you love yourself
WATCH THE VIDEO BELOW TO UNDERSTAND GOD'S COVENANT WITH MOSES AND THE PEOPLE OF ISREALITES