UNEMPLOYMENT AND UNDER EMPLOYMENT
Unemployment refers to failure to obtain job at the ruling wage despite one's willingness to work
Unemployment refers to lack of productive employment and mismanagement of human resources
When people who looking for jobs are more than the jobs available
TYPES OF UNEMPLOYMENT
Voluntary unemployment
When there is work but the labour force is not willing to work
Open unemployment
When people are frustrated and have given up looking for jobs
Casual unemployment
This occurs when some people are employed on temporary basis
Residual unemployment
When some people are not employed because use of being physically or mentally hand capped
Frictional unemployment
When people are changing from one job to another or going for further training they tend to be unemployed for some period.
Seasonal unemployment
This occurs when the activities engaged in are seasonal and during certain time people have no work to do eg agriculture, construction construct.
Disguised unemployment
One appears to be working yet in reality contributing nothing
Structural unemployment
Due to change in technology, people are replaced by machines
CAUSES OF UNEMPLOYMENT
Nature of education system which prepares students for white collar jobs which are not readily available.
Lack of manpower planning, training of labour is not in line with demand for labour
Rural – urban migration leads to owner population in towns which few employment opportunities
Slow rate of economic growth due to lack of capital so jobs are not created
Immobility of labour and lack of information in labour market also lead to unemployment
Poverty, few parents can afford to send their children to good schools and most people are unemployed because of low education
Discrimination in labour market, jobs are given to people basing on political parties, sex and family connections.
Advancement in technology, increase in use of machines may result into unemployment
Political instability which may force to abundant jobs and run away. It also scares the investors
Government policy of retrenchment and those who fall victims rematch unemployed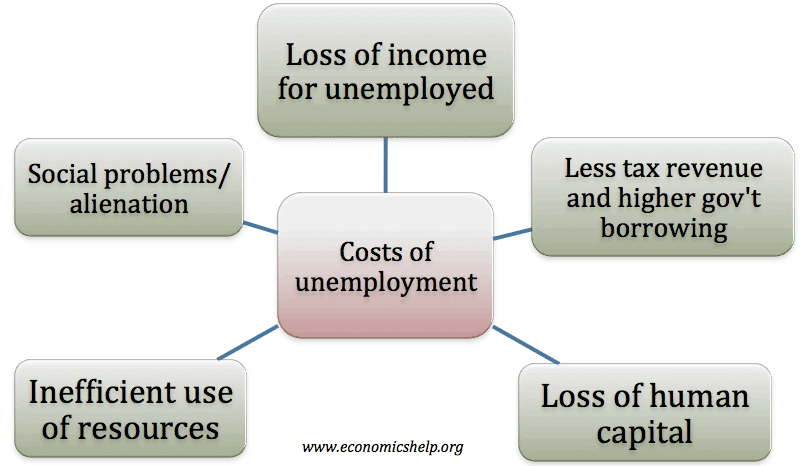 PROBLEMS OF UNEMPLOYMENT
It may result into slow rate of economic development because few people are fully employed yet their income is shared by many who do not work
It may result into high crime rate ie theft and prostitution
People have low standards of living because they lack sources of income
Political instabilities as those without work are always willing to follow the opposition leaders
Unemployment in rural areas results into rural –urban migration as people drift to town.
Unemployment may cause unhappiness or even divorce in a family.
SOLUTIONS TO UNEMPLOYMENT.
Establishment of cottage industries. These are industries which are labour intensive although small
Removing rural urban unbalances by setting up good facilities in the rural area
Development of the agricultural sector
Use policies that will led to reduction in population growth eg family planning
Change the education system so that to create more jobs creates than job seekers
Ensure political stability. This creates investor confidence
Manpower planning to balance of training of labour and man for labour.
Those who have reached retirement age should be retrenched and youths employed.
There should be a method of guiding. Job seekers where jobs are found
Encourage the private sectors to employ many people by reducing taxes for firms which employ many people.
Improvement of working condition help check movements of workers from one job to another
There should be retraining programmes and enable workers acquire different skills.
UNDER EMPLOYMENT
It is a situation where one is doing a job below his qualification. One doing a job he did not train for.
It is also known as disguised unemployment
A situation when one is working for fewer hours than the normal number of hours.
When ones are partially employed