DIGITAL SUBSCRIBER LINE
Digital Subscriber Line (DSL) is a family of technologies that provides digital data transmission over the wires of a local telephone network. It is a high-speed Internet service that competes with cable Internet to provide online access to local customers. DSL operates over standard copper telephone lines like dial-up service, but is many times faster than dial-up. In addition to being a faster than dial-up, DSL does not tie up the phone line. Coexisting with telephone service in this way allows users to surf the Net and use the phone at the same time.
DSL service requires a DSL modem, which connects to the telephone wall jack and computer. The device acts as a modulator, translating the computer's digital signals into voltage sent across the telephone lines to a central hub known as a Digital Subscriber Line Access Multiplier (DSLA M, or dee-slam). In lay terms the DSLAM acts as a switchboard for local DSL clients, routing requests and responses between each client's computer address and the Internet. Voice calls and DSL can coexist on copper lines because each service utilizes its own frequency band.
The DSL "service lane" is split for a two-way traff ic, or downstream and upstream signals. When you click on a link, you are requesting something from the Internet, initiating upstream traffic. The returned webpage arrives as downstream traffic. Since requests only require small bits of data, the upstream lane can be fairly narrow (low bandwidth), but the downstream lane must be much wider (high bandwidth) to send WebPages, multimedia, graphics, files and programs. Thus, standard DSL is called Asynchronous DSL or ADSL, because the download speed is much faster than the upload speed.
3.2.1 ASYMMETRIC DIGITAL SUBSCRIBER LINE (ADSL)
The first technology in the set is asymmetric DSL (ADSL). ADSL, like a 56K modem, provides higher speed (bit rate) in the downstream direction (from the Internet to the resident) than in the upstream direction (from the resident to the Internet). That is the reason it is called asymmetric. Unlike the asymmetry in 56K modems, the designers of ADSL specifically divided the available bandwidth of the local loop unevenly for the residential customer. The service is not suitable for business customers who need a large bandwidth in both directions.
3.2.2 HIGH BIT RATE DIGITAL SUBSCRIBER LINE (HDSL)
The high-bit-rate digital subscriber line (HDSL) was designed as an alternative to the T-1 line (1.544 Mbps). The T-1 line uses alternate mark inversion (AMI) encoding, which is very susceptible to high frequencies. This limits the length of a T-1 line to 3200 ft (1 km). For longer distances, a repeater is necessary, which means increased costs.
HDSL uses 2B1Q encoding, which is less susceptible to attenuation. A data rate of 1.544 Mbps (sometime up to 2 Mbps) can be achieve without repeaters up to a distance of 12,000 ft (3.86 km). HDSL uses two twisted pairs (one pair for each direction) to achieve full-duplex transmission.
3.2.3 SYMMETRIC DIGITAL SUBSCRIBER LINE (SDSL)
The symmetric digital subscriber line (SDSL) is a one twisted-pair version of HDSL. It provides full-duplex symmetric communication supporting up to 768 kbps in each direction. SDSL, which provides symmetric communication, can be considered an alternative to ADSL. ADSL provides asymmetric communication, with a downstream bit rate that is much higher than the upstream bit rate. Although this feature meets the needs of most residential subscribers, it is not suitable for businesses that send and receive data in large volumes in both directions.
3.2.4 VERY HIGH BIT RATE DIGITAL SUBSCRIBER LINE (VDSL)
The very high-bit-rate digital subscriber line (VDSL), an alternative approach that is similar to ADSL, uses coaxial, fibre-optic, or twisted-pair cable for short distances. T he modulation technique is DMT. It provides a range of bit rates (25 to 55 Mbps) for upstream communication at distances of 3000 to 10,000 ft. the downstream rate is normally 3.2 Mbps.
The figure below shows the summary of DSL technologies. Note that the data rate and distances are approximations and can vary from one implementation to another.
3.5 SUMMARY OF DSL TECHNOLOGIES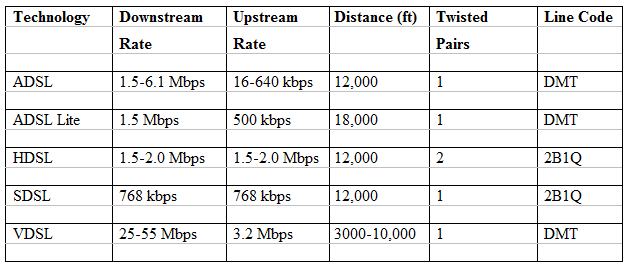 SELF ASSESSMENT EXERCISE
What do you understand by a DSLAM
__________________________________________________________
__________________________________________________________
__________________________________________________________
4.0 CONCLUSION
Digital subscriber line is a high speed, digital, always on the internet access technology that runs over standard phone lines. It is one of the fastest internet connections that is affordable to individuals. A Digital Subscriber Line (DSL) connection can simultaneously carry voice and data, if permitted by the DSL provider. The digital data and analogue voice signals travel over the DSL line to the local switching station.
5.0 SUMMARY
In summary, this unit looked at the basic information about the Digital Subscriber Line. We also considered the different forms of DSL. Please attempt the questions below.