Wheat growing in Canada
Within Canada, wheat is the most important cultivated crop (grown on an average of over 10 million hectares), though canola is increasing in significance.
Only one class of durum is grown, amber durum; however, there are several classes of common wheat, based on factors including seed hardness and colour, sowing time (autumn or spring) and the region where the varieties are grown.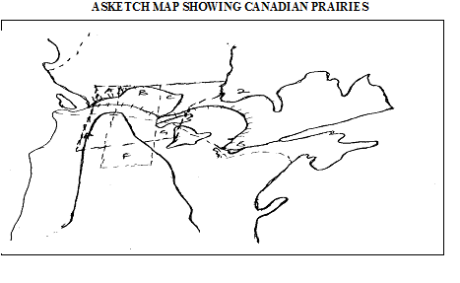 FACTORS FAVOURING THE GROWTH OF WHEAT
-Moderate rainfall between 386mm-510mm a year which is quite ideal for wheat growing.
-The areas have deep natural rich grassland soils (black chernozem soils) which contain a lot of humus for wheat growth.
-Although the area has short growing periods, it has warm temperatures of 160c and dry sunny weather which is suitable from wheat ripening and harvesting.
-There was cheap and abundant land as a result of the sparse population and this facilitated the large scale farming and even some land can be left under fallow.
-The areas have gently sloping land and this ensures good drainage and facilities easy use of machines on the farms.
-Market is available especially from industrial countries like Japan and western parts of Europe.
-There is a good and efficient top network system within the city and on the cost. They mostly use the railways which is a cheap and efficient and export it through the ports of Vancouver price Rupert and Church Hill
-Availability of capital; the farmers have the availability to purchase the farming implements for other machines which are necessary for the effective management of these large farms.
-There is skilled labour; these mostly operate with machines and handle the management skills. During harvesting, they employ manual workers
-The area is well drained and if the rainfall is not sufficient, they can irrigate the crop. This (insufficient rainfall) occurs in the western Part of Alberta.

PROBLEMS
-Pests and diseases for example grasshoppers
-Some tines there is drought due to the shortage of rainfall
-Late or early forest which destroys the wheat
-Price fluctuations on the market
-Dust storms and some tines hurricanes that destroy a lot of wheat
-There is overproduction of wheat resulting into price fluctuation
-Soil exhaustion due to monoculture
-Competition with other wheat-producing countries such as China and Japan
-Manual labour is not easily available during busy periods like harvesting
-High costs of production due to expensive machines
SOLUTIONS
Some of the problems are natural and therefore have no easy solutions but other problems can be solved by:-
– Spraying to control pests and diseases and introduction of disease-resistant wheat varieties.
– Introduction of detectors for hurricanes and dust storms and if the crop is ready, it is harvested
– Overproduction has been controlled by construction of buffer stocks to store excess wheat
– Mixed cropping is also encouraged. It can be controlled by following the lands
– Farmers are encouraged to grow other crops which have high market like soya beans, sunflower, sugar boots and vegetables.
– Labour shortage has been controlled by use of machines and importation of labour from Mexico (South America)
– Soil exhaustion has been solved by following method land and application of fertilizers.
– Economic diversification has been encouraged that is to say; instruction to control problems of price fluctuation.
– Drought can be overcome through irrigation