Application software consists of programs designed to perform specific tasks for end-users.
This unit presents an overview of the major types of application software, that end-users depend on as they work with computers, and as they access computer networks.
Today, there are millions of commercial software products that cover a variety of tasks such as:
making personal and business activities more efficient,
assisting with graphics and multimedia projects
supporting household activities,
Improving education,
facilitating communications, etc.
Classifications of Application Software
The common Classifications of application software include:
Off-the-shelf (standard) software,
Custom (bespoke) software,
Shareware, Freeware,
Open-source, Public-domain software,
Web-based software, copyrighted software,
Special Purpose and General purpose.
Off-shelf software
This refers to packaged software that is designed to meet the needs of a wide variety of end users.
Off the shelf software is mass-produced, commercially sold software, and copyrighted.
Microsoft Office Word and Adobe Photoshop are examples of Off the shelf software.
Custom (bespoke) software,
Custom software is tailor-made software, which is developed at a user's request to perform specific functions.
Sometimes, when a company cannot find packaged soft-ware that meets its unique requirements, it pays computer programmers to write custom software that is specifically tailored to meet the needs of the company.
Custom software usually costs more than packaged software.
Comparison of the characteristics Standard and Custom Software
| | |
| --- | --- |
| STANDARD SOFTWARE IS… | CUSTOM SOFTWARE IS… |
| 1. Easy to use, because it is known by many people. | 1. Unique, and requires extensive training before use. |
| 2. Cheaper because it is massively produced and packaged for commercial purposes. | 2. Expensive because it requires hiring a programmer. |
| 3. Easy to acquire because it is already made. | 3. Difficult to acquire due to the time needed for programming it. |
| 4. More reliable because it is tried and well tested by many users. | 4. May contain programming errors since it is not tested adequately. |
| 5. Containing online help to guide users in case of any problems in use. | 5. Usually lacking online help services. |
| 6. Can not be modified or changed to meet unique user requirements. | 6. Meets all user requirements and can be edited if need arises. |
Copyrighted software
Copyrighted software refers to computer programs with restrictions regarding use, modification, and redistribution.
You have to pay for copyrighted software and must not copy it without permission from the manufacturer.
Copying copyrighted software without paying for it is clearly unethical and illegal.
Shareware
Shareware is copyrighted software that is distributed at no cost for a trial period.
To use a shareware program beyond that period, you send payment to the program developer.
In some cases, a scaled-down version of the software is distributed free, and payment entitles the user to the fully functional product.
Freeware
Freeware is copyrighted software provided at no cost by an individual or a company that retains all rights to the software.
Therefore, other programmers cannot include freeware in applications they intend to sell.
Open-source,
Open source software is software provided for use, modification, and redistribution. This software has no restrictions from the copyright holder.
Open source software usually can be downloaded from the Web at no cost.
Public-domain software,
Public-domain software has been donated for public use and has no copyright restrictions.
Anyone can copy or distribute public-domain software to others at no cost.
Web-based software,
Web-based software refers to programs hosted by a Web site.
Users access and interact with Web-based software from any computer or device that is connected to the Internet.
Many Web sites allow free access to their programs; some charge a fee.
Examples of Web-based software include e-mail, Website builders, online games, travel and mapping software ,e.t.c.
Special Purpose (Specialized) Software
This refers to computer programs developed and dedicated to accomplish  particular jobs only.
Programs that run on special purpose computers  like ATMs are special purpose software.
Other Examples of specialized software include:
Business – Transaction and Sales Management software.
Science and Engineering software etc..
General purpose
This refers to a Wide a variety of application programs that perform many common tasks.
Varieties of General purpose application programs include Word processing programs, Spreadsheet programs, web browsers, Graphics programs, etc.
Uses of Popular Application software varieties and their Examples
(A). Word Processors – Used for producing textual documents like letters, notes, reports, memos, etc. Examples Include:
WordPerfect,
Lotus Word Pro,
Word Star,
OpenOffice.org Writer
(B). Spread sheet software – Used for performing calculations, and the creating of graphs. Examples include:
Microsoft Excel,
Lotus 1-2-3,
KSpread,
OpenOffice.org Calc,
(C).Database management software (DBMS)- Used to create and manage an organized collection of related and structured information (a database). Examples include:
Lotus Approach,
Microsoft Access,
OpenOffice.org Base,
Corel Paradox,
(D). Presentation software – These applications are used for making presentations and slide shows that can aid a speech presentation. Examples include:
Screencast ,
Microsoft PowerPoint,
OpenOffice.org Impress,
Adobe Persuasion,
E) Communications software
One of the main reasons people use computers is to communicate and share information with others. A variety of communications software options exist. Common communications software includes Web browsers, e-mail software, chat rooms, newsgroups, Text messaging, FTP programs, blog software,  and teleconferencing software.
(F).Computer aided design (CAD) software – Used by engineers and architects to produce technical drawings such as designs of building structures and floor plans
Examples include
ArchiCAD,
AutoCAD, e.t.c.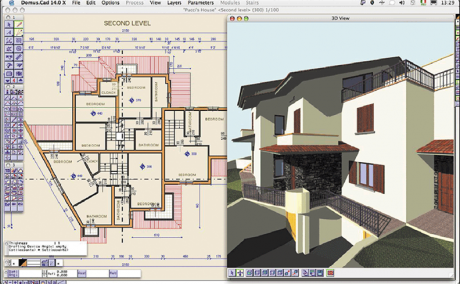 G). Desktop publishing software – These are applications used for creating publications like cards, flyers, calendars, brochures, Newsletters, Certificates, etc. Examples include:
Microsoft Publisher,
Celframe Publisher,
Adobe Page Maker,
(H). Web browsing software for displaying Webpages from the internet or html documents on computers. Examples Include:
Mozilla Firefox,
Internet Explorer,
Safari,
Opera
Netscape Navigator, e.t.c
(I). Web authoring software – Used by webmasters for building websites. Examples include:
Microsoft FrontPage,
Adobe Dreamweaver,
Microsoft Expression Web,
Antenna Web Design Studio
(J). Media Players for Audio and Video playback on computers. Examples include:
Windows Media Player,
Nero Showtime,
JetAudio,
Power DVD,
VLC Media Player, e.t.c.
(K). Graphics software – Used by graphic designers to create and design artistic graphics and to manipulate visual images on a computer such as logos, cartoons etc. Examples include
Paint,
Adobe Photo shop,
Corel Draw,
Adobe Illustrator etc.
A digitally altered photograph shows sports star Michael Jordan (born 1963) meeting famous scientist Albert Einstein (who died in 1955).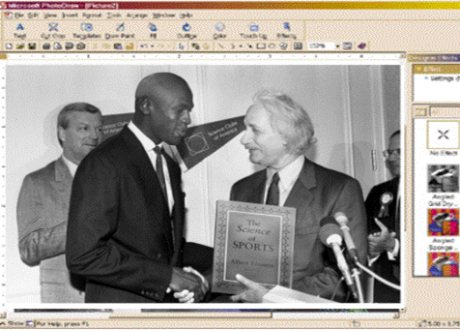 (L) Accounting software helps companies to record and report their financial transactions.
With accounting soft-ware, you perform accounting activities related to the general ledger, accounts receivable, accounts payable, purchasing, invoicing, job costing, payroll functions, etc.
Examples include Quick Books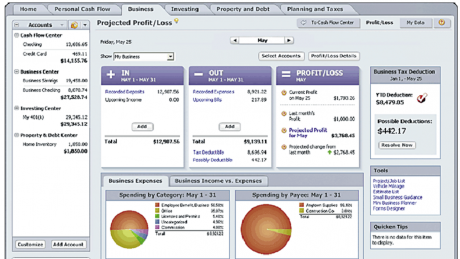 M) Audio and video editing software
Audio editing software lets users produce studio quality soundtracks.
With video editing software, you can modify video clips: you can reduce the length of a video clip, reorder a series of clips, or add special effects such as words that move horizontally across the screen, etc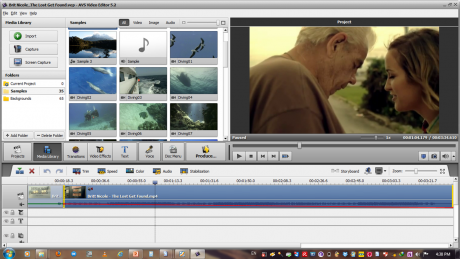 N) Images Viewing software
This refers to computer applications primarily used for previewing digital photographs on the computer screen.
Many have basic features such as viewing thumbnails, slideshows, printing and simple editing such as cropping and resizing.
Examples of Image viewers include:
Microsoft Office Picture Manager, Windows Photo viewer, Picasa photo viewer, etc.
O) Reference software
Reference software provides valuable and thorough information for all individuals.
Popular reference software includes encyclopedias, dictionaries, health/medical guides, and travel directories.
Examples include:
Encyclopaedia Britannica 2011 Ultimate Reference DVD
Microsoft Student with Encarta Premium, e.t.c.
P) Note Taking software
Note taking software enables users to enter typed text, handwritten comments, drawings, or sketches anywhere on a page and then save the page as part of a notebook .
The software can convert handwritten comments to typed text or store the notes in handwritten form.
Examples include Microsoft Office OneNote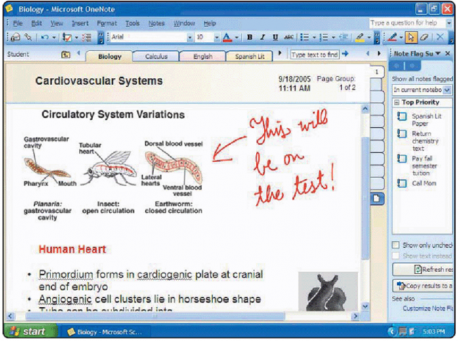 Q) Text Editors
Text editors are simple word processors that are generally used to type without any special formatting.
Text editors are mainly used to create small notes, memos and programs.
Examples of common text editors are: Notepad, Notepad++, Gedit etc.
R) Gaming Software
These are programs developed as electronic game that involve human interaction with a user interface to generate visual feedback on a computer.
Common computer games include solitaire, chess titans, Racing, StarCraft, Need for Speed, e.t.c.
S) Email Software / Email client
Email software (Commonly known as email client) is a computer program used to access and manage a user's email account.
Web applications that provide message management, composition, and reception functions are sometimes also commonly referred to as webmail.
Popular locally installed email clients include Microsoft Outlook, Pegasus Mail, Mozilla's Thunderbird, KMail, Evolution and Apple Mail.
Popular web-based email clients include: GMail, Yahoo! Mail, mail.com, Lycos mail, and Hotmail.
T) Enterprise computing software
A large organization, commonly referred to as an enterprise, requires special computing solutions, because of its size.
Enterprise computing software is designed to help these enterprises manage and control their operations and resources, develop new products and services, manage relationships with customers and suppliers, and develop new business strategies.
Software Suites
A software suit is a collection of individual application soft-ware programs sold as a single package.
When you install the suite, you install the entire collection of applications at once instead of installing each application individually.
At a minimum, suites typically include the following software applications: word processing, spreadsheet, database, and presentation graphics,
SUITE NAME
Word Processor
Spreadsheet
Presentation Program
Database Management Software
Lotus Smart Suite
Lotus Word Pro
Lotus 1-2-3
Lotus Freelance Graphics
Lotus Approach
Microsoft Office
Microsoft Word
Microsoft Excel
Microsoft PowerPoint
Microsoft Access
KOffice
KWord
KSpread
KPresenter
Kexi
OpenOffice.org
OpenOffice.org Writer
OpenOffice.
org  Calc
OpenOffice.
org  Impress
OpenOffice.
org Base
WordPerfect Office
WordPerfect
Quattro Pro
Corel Presentations
Corel Paradox
| | | | | |
| --- | --- | --- | --- | --- |
| SUITE NAME | Word Processor | Spreadsheet | Presentation Program | Database Management Software |
| Celframe Office | Celframe Write | Celframe Spreadsheet | Celframe Power Presentation | Celframe Data Access |
| Ability Office | Ability Write | Ability Spreadsheet | Ability Presentation | Ability Database |
| Kingsoft Office | Kingsoft Writer | Kingsoft Spreadsheets | Kingsoft Presentation | (None) |
| Apple iWork | Apple Pages | Apple Numbers | Apple Keynote | (None) |
| | | | | |
Advantages of using software suites
Costs significantly cheaper than buying each of the application package separately
Easy to learn and use because applications within a suite usually use a similar interface and share common features such as clip art and toolbars.
Easy installation because all the various applications can be installed at once.
Factors to consider before obtaining a software program
Correctness — the software should do what it is supposed to do, according to the design specifications.
Robustness — the software should be stable, and it should respond well to unexpected conditions e.g. wrong input.
User-friendliness — the software should be easy to use by users from the intended audience.
Adaptability — the software should be easy to customize/modify to adjust to the needs of the user.
Reusability — the parts of the software code should be easily reused to build other programs.
Interoperability — the software should be able to interface with other software systems.
Efficiency — the software should make good use of its resources i.e. (memory, disk, CPU, network)
Portability — the software should be easy transfer from one system to another.
Security — the software should be able to protect the information it is responsible for.
Learning Aids and Support Tools for Application Software
To assist in the learning process, many programs provide off line Help, Web-based Help, wizards, and templates.
Off line Help is the electronic equivalent of a user manual. It usually is integrated in a program. In most programs, the F1 key or a button on the screen starts the Help feature.
Web-based Help provides updates and more comprehensive resources to respond to technical issues about software.
A wizard is computer program that guides a user through a procedure of completing a task. The wizard asks the user questions and then automatically performs actions based on the responses.
For example, spreadsheet software includes wizards for creating charts and building functions.
A template is a document that contains the layout and formatting necessary for a specific document type.
For example Word processors contain templates for, cover sheets, flyers, letters, resumes/CVs, etc..