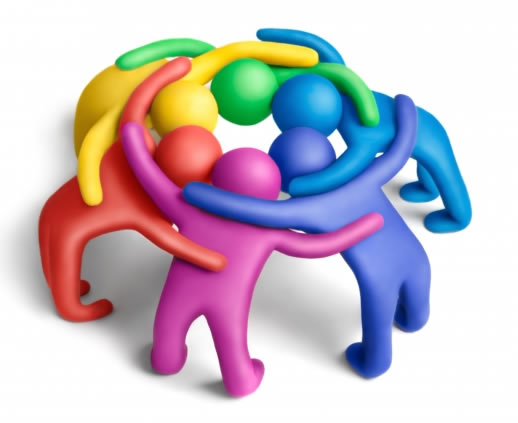 Our responsibility in community
A community is a group of people with common interests and values. Community is characterized by "wholeness incorporating diversity" and may include people of different ages, ethnicities, educational backgrounds and incomes (Gardner 2003). Individuals may be members of two or more communities; for example, one of geographic residence and another of employment.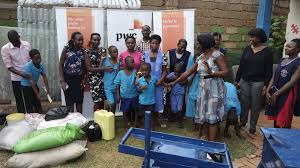 Community responsibilities are an individual's duties or obligations to the community and include cooperation, respect and participation. The concept goes beyond thinking and acting as individuals to common beliefs about shared interests and life. A basic community responsibility is voting in elections.
Each individual is part of a larger community. Family, neighbors, tribe, village, city, county, state, region, country and the world form a larger community in the life of every human being. At the same time, full human potential cannot be reached if individuality is suppressed by society.
In all free societies there is a constant and unavoidable tension between rights and responsibilities. Every right has a corresponding duty (U.S. Department of State).
It is the responsibility of the individual to watch over a community to make sure that standards are objective and beneficial to human life (Machan 2001).
Citizenship today requires individuals be knowledgeable of public problems but, more important, have the capacity to act together toward their solutions (Morse 1989). Voluntary actions by private citizens working together to right injustices, change directions and pursue benefits for the common good are noted throughout American history.
This list includes the abolition of slavery, women's suffrage, public education, community hospitals, the civil rights movement, the women's movement, the environmental movement, the gay rights movement and the organization of migrant workers. In some cases, the movements' leaders achieved great fame and the respect of the nation and the world, such as Martin Luther King, Jr. and Cesar Chavez. (Aviv 2003)
People not easily accepting responsibility for their actions
(Genesis. 3:1 – 8 – 13, 4: 9 – 11)
When you want somebody to take responsibility, you can't just say it. You need to set up conditions that make it happen.
On the flip side, there are factors that stop people from accepting responsibility or accountability. If you're having a problem getting people to step up and take responsibility, look for some of these issues in your team.
1. People Won't Take Responsibility Because They Lack the Skills Or Experience
I've seen situations where leaders tell others they are responsible for tasks that are unfamiliar. Often it happens when people leave a team and aren't replaced.
The boss: "Sarah, you're responsible for handling all the sales enquiries that come in."

Sarah: "But I've never done sales before."

The boss: "Well, you need to take responsibility for it, because Josh left."
Perhaps Sarah does need to take responsibility for sales enquiries. But in order to make it work, you've got to provide her with the skills to do so.
Coaching, mentoring or training are all ways to achieve this. But don't expect people to take responsibility without providing the tools to make it happen.
2. They Don't Believe In Your Approach.
When team members don't agree with a leader's approach to managing the team, they are less likely to take responsibility for tasks. People are less likely to commit because they are doing something they don't believe in.
Telling someone they are responsible for something they don't believe in is a recipe for disaster.
One way managers can avoid this is to communicate the "why" behind their actions.
Some leaders operate on a "need to know basis", telling their team members only the bare minimum of information. But if you want buy-in and need people to step up and take responsibility, they need to know why it matters.
Start communicating the reasons behind your decisions. Otherwise, you're forcing people to follow a path that they don't want to walk down.
You can make your team more accountable, with the Hold Your Team Accountable eBook. Learn how to build trust, improve motivation and build a high-performing team.
3. People Won't Take Responsibility Because They Don't Feel Supported
A critical factor in helping your team members take responsibility is ensuring they feel supported. They need to feel as if you've got their back.
If you tell someone they are responsible and then leave them alone, there is a good chance they'll lack confidence. They will be fearful and feel as if the weight is all on their shoulders.
If you want people to take responsibility, you need to support them. This means being available, listening to concerns, coaching and mentoring. Then you need to make sure you provide regular feedback on their progress.
4. People Won't Take Responsibility Because They Aren't Interested In the Work
Sometimes, efforts to convince someone to take responsibility fail because they just aren't interested in the work involved.
This comes back to understanding what each team member wants to achieve in their career. If they have specific goals in mind, finding work that matches those goals can be a great way to encourage them to take responsibility.
Otherwise, your team member is going to feel the burden of responsibility, but without any of the benefits. If taking on more responsibility isn't getting them to where they want to go, they are less likely to feel invested.
We can't always provide work that excites and motivates everybody. But the better you understand the goals and aspirations of your team members, the greater chance you have of getting them to step up and take on responsibility.
Every leader and manager wants people to take responsibility for their actions and their work. But just saying it doesn't make it so.
You need to provide conditions in your team to help it happen. Otherwise, you are bound to run into trouble and you'll be the one suffering the consequences.
The Bible teaches about our call and responsibility to live within community
There are a number of verses in the Bible that talks about living in a community. Here are some of the verses;
Hebrews 10:24-25 And let us consider how to stir up one another to love and good works, not neglecting to meet together, as is the habit of some, but encouraging one another, and all the more as you see the Day drawing near.
Galatians 6:2 Bear one another's burdens, and so fulfill the law of Christ.
Acts 2:42-47 And they devoted themselves to the apostles' teaching and the fellowship, to the breaking of bread and the prayers. And awe came upon every soul, and many wonders and signs were being done through the apostles. And all who believed were together and had all things in common. And they were selling their possessions and belongings and distributing the proceeds to all, as any had need. And day by day, attending the temple together and breaking bread in their homes, they received their food with glad and generous hearts, …
Ecclesiastes 4:9-12 Two are better than one, because they have a good reward for their toil. For if they fall, one will lift up his fellow. But woe to him who is alone when he falls and has not another to lift him up! Again, if two lie together, they keep warm, but how can one keep warm alone? And though a man might prevail against one who is alone, two will withstand him—a threefold cord is not quickly broken.
Romans 12:3-13 For by the grace given to me I say to everyone among you not to think of himself more highly than he ought to think, but to think with sober judgment, each according to the measure of faith that God has assigned. For as in one body we have many members, and the members do not all have the same function, so we, though many, are one body in Christ, and individually members one of another. Having gifts that differ according to the grace given to us, let us use them: if prophecy, in proportion to our faith; if service, in our serving; the one who teaches, in his teaching; …
Matthew 18:20 For where two or three are gathered in my name, there am I among them."
Matthew 22:37-40 And he said to him, "You shall love the Lord your God with all your heart and with all your soul and with all your mind. This is the great and first commandment. And a second is like it: You shall love your neighbor as yourself. On these two commandments depend all the Law and the Prophets."
Matthew 5:13-16 "You are the salt of the earth, but if salt has lost its taste, how shall its saltiness be restored? It is no longer good for anything except to be thrown out and trampled under people's feet. "You are the light of the world. A city set on a hill cannot be hidden. Nor do people light a lamp and put it under a basket, but on a stand, and it gives light to all in the house. In the same way, let your light shine before others, so that they may see your good works and give glory to your Father who is in heaven.
1 Corinthians 12:25-27 That there may be no division in the body, but that the members may have the same care for one another. If one member suffers, all suffer together; if one member is honored, all rejoice together. Now you are the body of Christ and individually members of it.
Psalm 133:1-3 A Song of Ascents. Of David. Behold, how good and pleasant it is when brothers dwell in unity! It is like the precious oil on the head, running down on the beard, on the beard of Aaron, running down on the collar of his robes! It is like the dew of Hermon, which falls on the mountains of Zion! For there the Lord has commanded the blessing, life forevermore.
Philippians 2:3-16 Do nothing from rivalry or conceit, but in humility count others more significant than yourselves. Let each of you look not only to his own interests, but also to the interests of others. Have this mind among yourselves, which is yours in Christ Jesus, who, though he was in the form of God, did not count equality with God a thing to be grasped, but made himself nothing, taking the form of a servant, being born in the likeness of men. …