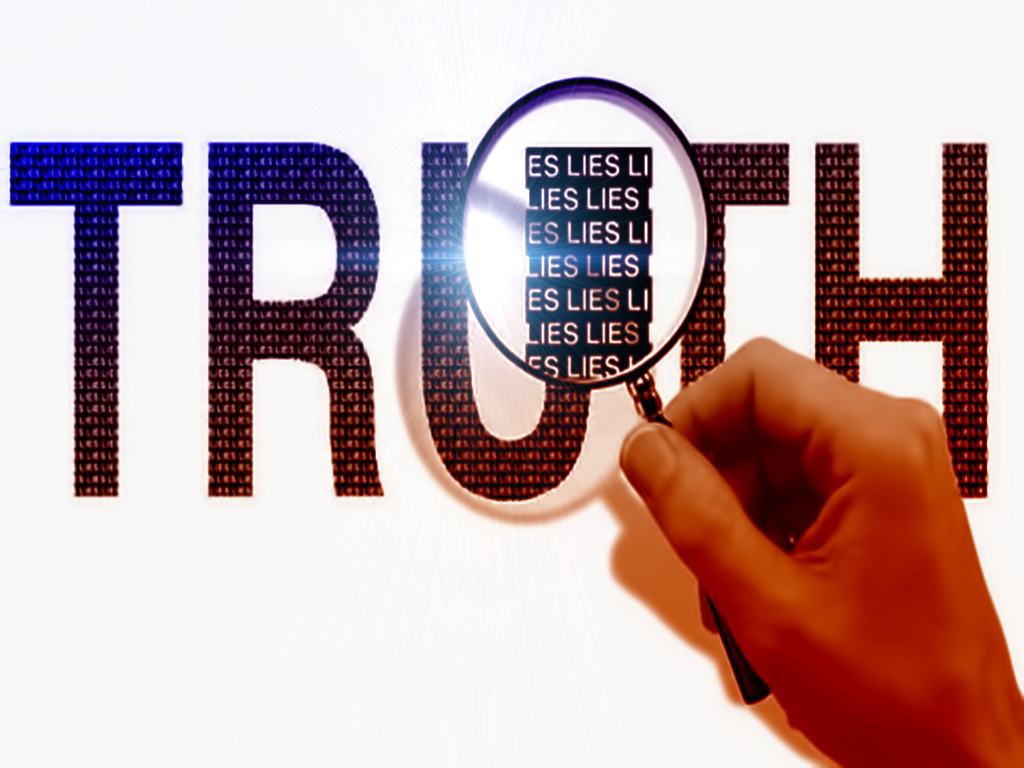 Ways we can learn the truth about others
Provide support.Exodus 17:12 says, "When Moses' hands grew tired, they took a stone and put it under him and he sat on it. Aaron and Hur held up his hands—one on one side, one on the other—so that his hands remained steady till sunset."We all need help in life, especially when God calls us into tough circumstances. It is important to become a part of a church body, serve in ministry, and make friendships because when times are tough people can always  call on you as their own Aaron and Hur—those people willing to lift you up and support you when you are too weak to stand on your own.
Judge, rather than condemn

Have you heard this popular saying? "Who am I to judge?" It sounds nice, but did you know Christians are commanded in Scripture to judge?

1 Corinthians 5:12-13 says, "What business of mine is it to judge those outside the church? Are you not to judge those inside? God will judge those outside. Expel the wicked man from among you."

Much like a judge, we are to discern whether an action is right or wrong based upon Scripture.  It is our responsibility to help our friends when they are immersed in sin. Judgment has its place within the church body, but it is not the same as condemnation.

Judgment says, "What you are doing is wrong, what can I do to help you?" Condemnation says, "What you are doing is wrong, and you are a terrible person for doing it." See the difference?

Be a friend.

"A friend loves at all times," Proverbs 17:17.

That means in the good times and the bad times. Even when a friend is doing something they shouldn't be doing, we should still love them. But love doesn't mean letting someone engage in destructive behaviors.

Make sacrifices when appropriate, like offering to have your friend call you day or night if they need you. Encourage them to attend church regularly. Help them connect with a mature believer who will mentor them into maturity.

"And let us consider how to stir up one another to love and good works, not neglecting to meet together, as is the habit of some, but encouraging one another, and all the more as you see the Day drawing near," Hebrews 10:24-25.

Get educated. Many great Christian resources have been published about replacing lies with truth and how to leave a life of sin. The best thing you can do, in addition to pointing out sin, is researching common reasons underneath sinful behaviors. Someone's sin points to their need. What lies is this person believing about themselves? Are they harboring unforgiveness against a loved one? Have they been hurt by someone and are now afraid to maintain meaningful relationships?

Offer real accountability.

It's not enough to point out someone's sin. It's equally important to help them stay away from repeating the same sin over and over again. Accountability is a great way to help a person get rid of sin. But accountability is more than listening to someone talk about their sin.

Accountability falls flat when the person confesses and their friend, charged with holding them accountable, simply acknowledges it or worse – says, "It's ok." The person needs to know that sin is not ok. Brainstorm practical ways to help the sinner get out (and stay away) from sinful behaviors.

Be firm.

Firmly state what they are doing is not ok. Jesus, after healing the man in John 5, follows him to the Temple. There He says, "Stop sinning, or something worse might happen to you."

Before he knew Jesus, this man was blind to his sin. But once He became a follower of Christ, he was held to a higher standard. We should also be held to a higher standard. Jesus didn't let the man continue in his sin, and we can't allow our brothers and sisters in Christ to continue that way either.

Check in often.

Make it a priority to check in with your friend often. The more time goes by, the more likely we are to forget to help. If you can't meet in person, text or email. This helps to remind your friend that you care about their plight. A simple message like, "I'm praying for you," will communicate a message of love to your friend.

Confronting a friend is always tough. It's messy and at times, and it's scary because it can go wrong and destroy a friendship. But no matter what the result, if you "speak the truth in love," rest easy in knowing you are doing the right thing. You may ibnot see reconciliation between you, but you may eventually see repentance and a reconciled relationship with God in heaven, and that's the best reward of all.
Importance of dialogue
Dialogue is: a form of discussion aimed at fostering mutual insight and common purpose. The process involves listening with empathy, searching for common ground, exploring new ideas and perspectives, and bringing unexamined assumptions into the open.
Long-standing stereotypes can be dissolved, mistrust overcome, and visions shaped and grounded in a shared sense of purpose. People previously at odds with one another can come into alignment on objectives and strategies. New perspectives and insights can be gained, new levels of creativity stimulated, and bonds of community strengthened.
Unlike debate, it doesn't involve arguing for a point of view, defending a set of assumptions, or critiquing the positions of others. Unlike negotiation or consensus-building, it's not a method of reaching agreement or arriving at decisions. And unlike discussion, it can only emerge when participants trust and respect each other, suspend their judgments, and listen deeply to all points of view.
The focus is on common interests, not divisive ones
The dialogue and decision-making processes are separated
Assumptions that can lead to distortions of certain points of view are clarified and brought into the open
People are encouraged to reveal their own insights and assumptions before speculating on those of others
Concrete examples are used to raise general issues
The process focuses on conflicts between value systems, not people
When appropriate, participants are encouraged to express emotions accompanying strongly held values
Participants err on the side of including people who disagree
They encourage relationships in order to humanize transactions
They minimize the level of mistrust before pursuing practical objectives
How to overcome obstacles to dialogue
The Magic of Dialogue, written in 1999 by the late social scientist Daniel Yankeolvich suggests numerous effective ways of removing barriers to dialogue and these are:
Starting with different levels of understanding
Dialogue participants often find themselves at different stages in what Yankelovich calls "the judgment curve," the process of gaining knowledge. Some people in the discussion are just learning about the topic, while others have thought about it for weeks or even months and have resolved the issue for themselves.
How to overcome the obstacle
Invest time in briefing participants so that everyone can get on the same page. And Yankelovich advises allocating "extra time for dialogue. Use the time to invite those who are further along in the process of resolution to recount how and why their thoughts evolved, permitting those in earlier stages of resolution to ask them questions and compare experiences."
In every group of people, there will be those who are very comfortable expressing themselves. But others are introverted or timid. In any case, writes Yankelovich, some people, at least in the early stages, "hold back, unwilling to commit themselves. A key reason that people don't participate is that they don't feel trust. Because dialogue is so open, a certain amount of self-exposure is involved in it."
How to overcome the obstacle
Break the ice. "The approach I like best is to go around the room and ask each participant to say something about his or her own personal past experience that relates to the topic" being discussed, Yankelovich writes. "Eliciting this experience encourages people to move deeply into the subject because they are talking about their own lives and experiences."
Obstacle 3: Listening without hearing
A common obstacle is that some people don't make an extra effort to understand others when they are not wholly articulate. "Most people, especially when conflict-ridden, are unaccustomed to finding the rights words and phrases to express their feelings," writes Yankelovich. Ideally, everyone involved in a dialogue practice empathic listening, the ability to tune in to other people's feelings. But often, especially when tensions are high, impatient listeners just forge ahead.
How to overcome the obstacle
You know this already: The most useful technique is for participants to paraphrase what they think they heard the other person say. Even if the person speaking has been misunderstood, the act of other participants' playing back what they think they heard gives the speaker the opportunity to correct or amplify his/her position.
Showboating, which Merriam Webster defines as "trying to to attract attention by conspicuous behavior," is all too common even among the highest level of leaders. "People, men in particular, can't resist the chance to show off how much they know, how smart they are, how tough-minded they can be, and how active they are as players in the game," writes Yankelovich.
How to overcome the obstacle
Yankelovich advises adding extra time for dialogue because "in most instance, the urge subsides once the showboaters have had a chance to express themselves." In addition, I've found that breakout exercises, especially those involving non-verbal activities like creating a poster, helps manage showboaters. When people have to work together to figure out a problem or build something, the focus is on accomplishing the task, not making a speech.
Obstacle 5: Prematurely moving to action
I'm guilty of this, which Yankelovich calls a "distinctly American problem. In a typical discussion, almost as soon as a problem surfaces, someone is bound to say, 'Well, what are we going to do about it?'" writes Yankelovich. "End of dialogue about problem; beginning of a rush of ideas for leaping into the fray and doing something, almost anything, as long as it smacks of taking action rather than more sitting around and talking." The problem is that a focus on swift action "short-circuits the process of probing the depths of other participants' thoughts, perceptions, feelings and assumptions that can provide a foundation for informed decision-making."
How to overcome the obstacle
Pause and ask team members whether or not more dialogue is needed. Sometimes the problem is lack of mutual understanding and a premature rush to action can only worsen it. So ask participants if they're really ready to make a shared decision. If anyone says, "Let's keep talking," then give the group more time to work things through.
Why  is it difficult to know the truth
The real Truth is knowledge, the only special thing about it is that it is the underlying root of everything it manifests upon. Manifestation of the Truth happens when it is spread through people who thinks differently from one another and they choose parts of the Truth according to their own limited understanding. When this occurs, the Truth is further distorted and people interpret the distorted Truth according to their own selfish desires.
After a length of time and by the people's own limited perception of the Truth, the real Truth breaks up into many fragmented pieces and are scattered all over the place. It is like a clear piece of glass broken by its mishandling, the whole piece of glass breaks up into many tiny raw pieces. Therefore at this point the Whole Truth is broken into its own single properties, each small piece is unrecognized as part of the Truth unless it is interconnected with the other small pieces to once again become the Whole Truth.
Jesus is the truth
Jesus said: "I am the way, the truth, and the life. No one comes to the Father except through Me." John 14:6.
God's Word is true, and the Word became flesh Sin is anything that goes against God's will and His laws. To commit sin is to transgress or disobey these laws. The lust to sin dwells in human nature. In other words, it is contaminated and motivated by the sinful tendencies that dwell in all people as a result of the fall into sin and disobedience in the garden of Eden. This… More and dwelt among us. (John 1:14) So the truth is the life of Jesus – which is to be manifested in us. (2 Corinthians 4:10)
"And we know that the Son of God has come and has given us an understanding, that we may know Him who is true; and we are in Him who is true, in His Son Jesus Christ. This is the true God and eternal life." 1 John 5:20.
The truth that Jesus came to bring
He said in John 18:37, "For this I was born, and for this I came into the world, to bear witness to the truth. Every one who is of the truth hears my voice."
Jesus can testify to the truth and teach the truth because he himself is that truth.  In him there is nothing false, nothing misleading, and nothing fake or uncertain.
He is the beginning and culmination of all that has been true throughout eternity, and that to seek the truth ultimately leads us to seek him.
When we seek to figure out what is the truth and what is a lie, we can measure it against the words of Jesus, who himself is the truth.
How God speaks to us today
1. Through His Word in general.
2 Timothy 3:16 says that all Scripture is "God-breathed." His Word sometimes gives us a warning, a word of encouragement, or a lesson for life. It's "His-story"–written with love as God's guide for life, "so that the man of God may be thoroughly equipped for every good work."
2.  Through His Son, Jesus Christ
The New Testament was the fulfillment of God's special plan. It's the gospel: the good news of Jesus Christ. "In the past God spoke to our forefathers through the prophets at many times and in various ways, but in these last days he has spoken to us by His Son, whom he appointed heir of all things, and through whom he made the universe" Hebrews 1:1-2, NIV).
Through the words of Jesus in Scripture, we can "hear" God's heart and God's voice–and know what God is truly like. These words were not written for a few, select individuals who could jump through the right spiritual hoops ("For God so loved the world…"). Someone in Africa, in Germany, in China, and in Alabama can "hear" Jesus' voice by reading the same Bible.
3. Through Nature and God's Creation
"For since the creation of the world God's invisible qualities–his eternal power and divine nature–have been clearly seen, being understood from what has been made, so that men are without excuse " Romans 1:20, NIV). Through the intricate details and magnificent beauty of all that God has made, we can "hear" His voice. How? By observing the ant's strength to store up food all summer long, we learn about wisdom and industriousness. By studying the heavens, we understand more of God's greatness. And through planting and growing a garden, we "hear" about miracles of death and rebirth. God designed–and spoke them all into existence.
4. Through Other Believers
God may use a friend, a teacher, a parent, or a preacher to convey His message of truth to us. Their words may come as a warning, a blessing, or as a prophetic truth about our lives.Whether we choose to hear it or ignore it, depends on us. Do their words line up with Scripture? Will God confirm or affirm that truth in us? "The wisdom that comes from heaven is first of all pure; then peace-loving, considerate, submissive, full of mercy and good fruit, impartial, and sincere" (James 3:17, NIV).
5. Through Music
Praise brings me instantly to attention, like a sergeant's command to his soldiers. The words and the notes bring a soothing comfort, excitement, and passion that open my ears and heart and lift my spirits immediately.
God "spoke" clearly. He released His power, and Jehoshaphat's army defeated their enemies!
6.  Through Circumstances
When others claim to hear God through circumstances, I try to caution them to test their conclusions with other evidence. God is a Holy God, and often uses circumstances to get our attention. But He will usually confirm it in other ways.
Through Moses, God used circumstances (plagues) to convince Egypt's leader to release God's people from slavery. But Pharaoh wouldn't listen.
Sometimes God uses our circumstances to test our faith. We don't always know how to interpret the things that happen to us.
7.  Through His Spirit
I once heard someone teach about "minding the checks" in your spirit. Some may call it "God's whispers," while others say, "God's still, small voice." We are made in the image of God, and when we confess Jesus and follow Him as our Lord and Savior, His Spirit comes to live in us (John 14:17, 1 Corinthians 3:16). God's Spirit speaks to us through our conscience, helping to make the right decision. When we're tempted, that same Spirit warns and nudges us to do the right thing.
8.  Through Prayer
Each way I've shared that God may speak to us today meshes into the other. God often speaks to us through His Spirit, through prayer. We may not know how to pray, but God's Word tells us His spirit makes intercession for us (Romans 8:26-27).
Often through a combination of fasting and prayer, our minds become clearer and our hearts are more sensitive to God. Again, we may not hear God's literal voice, but His Spirit confirms a certain direction or answer for us. As the distractions fade, we can sense His leading in a new way. Sometimes while praying, God's Spirit will remind us of a Scripture or a truth in His Word that we can directly apply to the situation.