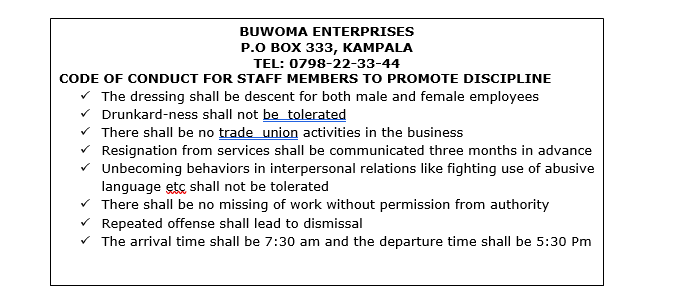 STRATEGIES FOR RETENTION OF EMPLOYEE SHOULD INCLUDE;
Title, name & address + statement
Offering prompt and reasonable salaries.
Recognizing workers for exemplary work done /awarding / appreciating exemplary work.
Offering fringe benefits such as medical allowance, transport.
Training workers.
Promoting good interpersonal relations.
Having a clear promotion criteria/ promoting workers on merit.
Proper management of discipline.
Involving workers in decision making.
Using performance appraisal.
Ensuring good working environment/conditions e.g favourable /convenient hours of work good sanitation.
Handling workers' grievances fairly.
Showing concern for workers' problems.
Promotion of teamwork
Worker optimization
Bonus payment for extra work done
Involving workers in profit sharing schemes.
Clear job description /duty allocation to avoid conflicts
 PROCEDURES FOR DISCIPLINING EMPLOYEES
Title i.e BUSINESS NAME AND ADDRESS PROCEDURES FOR DISCIPLINING EMPLOYEES
Documenting/documentation of the indiscipline /offense
Undertaking preliminary action by the immediate supervisor/ talking to the indisciplined employee.
Writing/giving /issuing a warning letter to the employee if he/she does not change.
Forwarding the indisciplined employee to the disciplinary committee.
Meeting the indisciplined worker and giving him/her fair hearing to defend himself/herself.
Recommending and taking disciplinary action against the indisciplined worker depending on the seriousness of the offence e.g suspending the worker for a specified period, demotion of the worker, making a pay cut on the worker's payment, terminating/dismissing the worker etc.
NB: The procedures should be in chronological order
PROCEDURES FOR HANDLING IN DISCIPLINED STAFF.
Documenting the details of the indiscipline.
Verbal discussions and counseling by the immediate supervisor.
Giving written warnings about indiscipline by the immediate supervisor.
Failure to reform, meet the disciplinary committee to enable the employee defend himself or herself.
Suspension for a prescribed period e.g one month.
Failure to reform –demotion with reduction in salary and benefits.
Termination of the employee / dismissal.
Use present continuous tense or should or action verbs.
The candidate must present the procedure in a chronological order
POLICY FOR REMUNERATION STRUCTURE OF EMPLOYEES
BUSINESS NAME AND ADDRESS
Highly educated workers shall be paid highly compared to less educated employees i.e graduates shall be paid a higher salary compared to diploma and certificate holder.
Salary payment shall be made according to number of hours /days worked. the payment per hour /day shall be (shs) 230,000 and shall be adjusted according to the prevailing economic conditions.
The salaries paid shall be slightly higher (e.g 5% higher than those paid by rival firms/ competitors).
Salaries shall be paid according to the amount of work done e.g number of fish ponds
Workers' salaries shall be increased whenever the demand and prices for business products increase.
Highly skilled workers that are not easily substituted shall be paid highly than the unskilled workers.
More experienced workers shall be paid highly compared to less experienced workers.
Workers' salaries shall be increased 10% every year.
All workers shall be entitled to fringe benefits such as accommodation, medical allowance and lunch.
The salary paid shall be in line with government wage/salary structure.
Risky/more complex tasks shall attract higher pay compared to tasks that are not more complex.
Workers employed on contract basis shall earn a higher pay compared to those on permanent basis.
All work that is contracted shall be for two years, only renewable upon satisfactory performance.
Bonus payment.