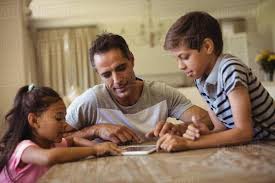 Family members
-father                                -uncle
-mother                              -aunt
-children                            -other relatives
Roles of family members
Father
-buys food for the family
-pays school fees
-work on the farm
Mother
-care for children
Children
-help to wash clothes
-help in the garden
-help in caring for young ones
-help in collecting firewood
Activity
Who heads a family?
Draw and name any two roles of children at home.
Ways of making our thoughts, feelings and ideas known honestly to others.
-Show respect to others
-Love one another
-Help those in need
-Be patient
-Encourage others to work hard
-Be thankful for the good service
-Be at peace with others
Mention two ways of being honest to your friends
Telling the truth
Being patient
Why is it good to be trust worthy?
It promotes love among people.
It promotes respect among people.
It promotes love between man and God.
Use polite words eg please, sorry, etc