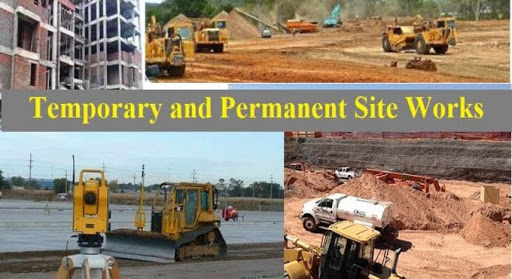 This is the process of laying temporary supports to the sides of excavations and is sometimes called planking and strutting.
The sides of excavations need these supports so as to;
Protect the operatives while working in the excavations.
Keep the excavations open by acting as a retaining wall to the sides of the trench. The amount of timbering required to the sides of excavations will largely depend on the following;
Depth of the excavations,
Nature of the soil to be upheld,
Vibration and loads from traffic or other causes,
Position of the water table,
Climatic conditions,
Time for which the excavation is to remain open.
The timbers suitable for timbering include;
Scots pine
Baltic redwood
Baltic white wood
Douglas fur
Larch
Fig 2.3a,b,c and d show typical details of timbering to trenches in hard soils, firm soils, dry loose soils and wet loose soils.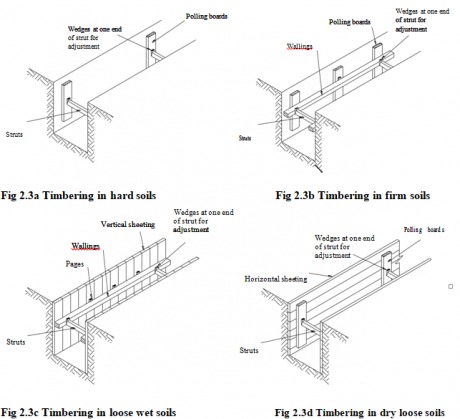 A building site can be given a degree of protection by surrounding it with a fence, which should fulfil the following functions;
It should define the limit of the site or compound,
Should act as a deterrent to the would-be trespasser or thief. Fig 2.4a shows the three types of fences and these include;
Cleft chestnut pale fence
Chain link fence
Close boarded fence.
Degree of security required
Cost implications
Type of neighborhood
Duration of contract.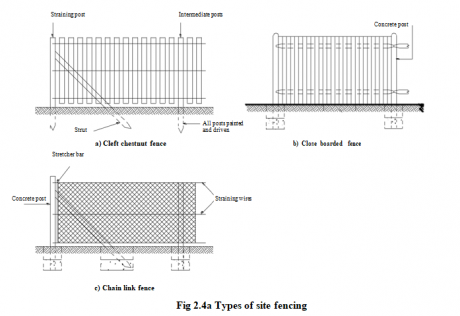 Site hoardings
These are close boarded fences or barriers erected adjacent to the highway or public footpath to prevent unauthorised persons obtaining access and to provide a degree of protection for the public from the dust and noise associated with building operations.
Written permission in form of a license should be obtained from the local authority to erect a hoarding. This license sets out the conditions and gives details of duration, provision of footway for the public and the need for lighting during the hours of the darkness. There are two common types of hoarding and these include the following;
Vertical hoarding: This type of hoarding consists of a series of closed panels securely fixed to resist wind loads and accidental impact loads. It can be free standing or fixed by stays to the external walls of an existing building. See fig 2.5a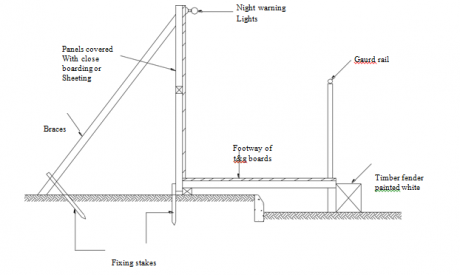 Fig 2.5a Free standing vertical hoarding
Fan hoarding: This type of hoarding is placed at a level above the normal traffic height and arranged in such a manner that any falling debris is directed back towards the building or scaffold. See fig 2.5b