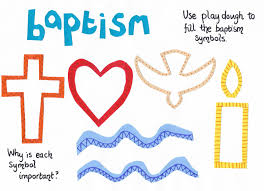 Baptism
What is Baptism?
Baptism is the way we enter into God's family.
Why are people baptized?
Baptism is a symbol of membership in God's family.
Baptism removes the original sin.
Who baptized Jesus?
John the Baptist baptized Jesus.
THINGS USED DURING BAPTISM
-Water
-Oil
-White cloth
-Light or candle
Activity
The cross
I t is a sign of God's love to people.
Jesus died on the cross to save us from sins.
Luke 23:44-45
Mathew 27:45-56