THEORY OF BUILDING DRAWING
INTRODUCTION
Generally, there are two aspects of building technology:
1. Conventional or traditional methods.
2. Modern or industrialized methods.
The first method is covered in the first two years of most building technology courses, whereas the
second is an extension of the first and covered by advanced building courses.

The building team
Building is a team effort in which each member has an important role to play. The figure shows the organization structure of a typical team and the role of each member defined thereafter.
Building owner (the client): commissions the work and directly or indirectly employs everybody.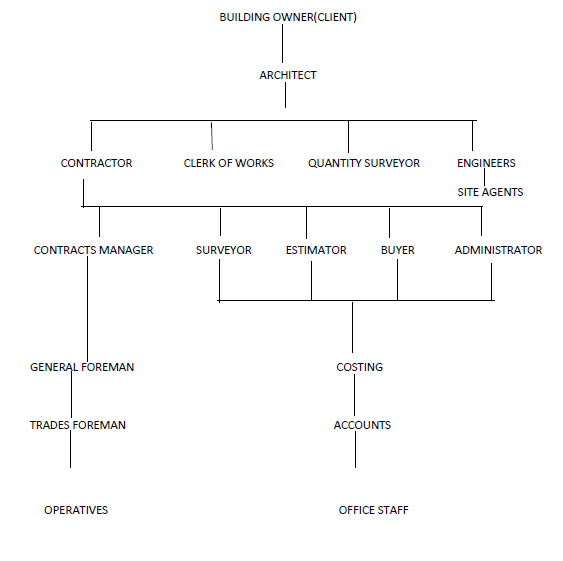 Architect:
engaged by the client as the agent to design, advise, and ensure that the project is kept within
cost and complies with the design.
Clerk of works:
employed as the architect's on-site representative. Has liaison powers and cannot issue instructions on his own behalf but can only offer advice.
Quantity surveyor:
prepares bills of quantities, checks tenders, prepares interim valuations and advise
the architect on the cost of variations.
Engineers:
specialists such as the structural engineer are employed to work with the architect on that
particular design.
Site agent:
employed on large contracts at the engineer's on-site representative.
Contractor:
employed by the client, on the architect`s advice to carry out the constructional works. He
takes his instructions from the architect.
Surveyor:
checks and assists the quantity surveyor in the preparation of interim valuation and final
accounts. He may also measure the work done for bonus and sub-contractor payments. He is employed
by the contractor.
Estimator:
he prepares the unit rates for tender pricing and carries out pre-tender investigations into
the cost aspects of the proposed contract.
Buyer:
orders materials, obtains quotations for the supply of materials and services.
Accountant:
prepares and submits accounts to the client and makes payment to suppliers and subcontractors. He may also have a costing department which would allocate the labor and material costs to each contract to assist with the preparation of future tenders and preparations of accounts.
Administrator:
he organizes the general cleric duties of the contractor`s office for the payment of
wages, insurances and all necessary correspondence.
Contracts manger:
liaises between the office and the site and has overall responsibility for the site
operations.
General foreman(agent):
contractor`s on-site representative and responsible for day-to-day running of
the site.
Trades foreman:
he's in charge of a trade gang.
Operatives:
includes tradesmen, apprentices and laborers – the main workforce on site. The size of contract or building firm will determine the composition o any team. The above combined jobs may be combined for a medium size contract: the surveyor may also fulfil the function of estimator.