MULTIMEDIA JOURNALISM AND PRODUCTION The Multimedia Journalism Skills Course offers practical digital and multimedia skills to working journalists. It also …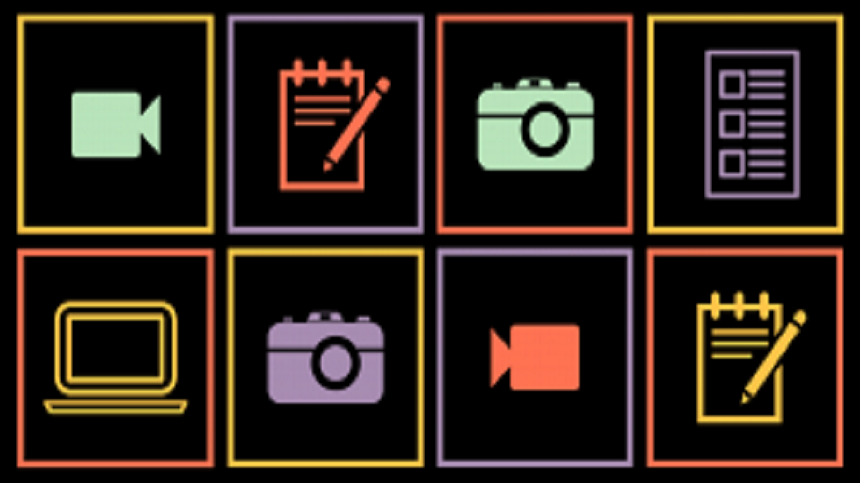 MULTIMEDIA JOURNALISM AND PRODUCTION
The Multimedia Journalism Skills Course offers practical digital and multimedia skills to working journalists.
It also offer skills to media professionals, journalism trainers and students as well as ongoing support to think, prepare and produce innovate multimedia content, products and platforms.
The training is meant to empower a generation of digital media storytellers with the skills, knowledge and strategic implementation and production of digital media content for web and mobile access.
Learners will get equipped with the best practices and tools for telling stories to an online audience—through social media, on the web and to a mobile audience.
They will learn to produce and engage with video, digital photography, audio, writing/ packaging for online and data visualizations.
They will be exposed to the tools and storytelling skills to produce, edit and post content 24/7 well optimized for online and mobile access.
This will include having the skills to implement coding or use tools for quick production of content or platforms.
Upon completion of this program, participants will have the knowledge and tools necessary to apply their new skill set immediately to their professional work in their respective newsrooms.
At the end of the course, learners will get a Certificate in Multimedia and Digital Journalism Skills from Makerere University.
This will be after they produce a satisfactory multimedia story/project published by their media house or company, their blog or our training website.
Course Objectives:
Equip learners with practical multimedia skills for effective 21st century journalism
Enrich the debate and solutions towards journalism and media survival in the digital age
Spur new media practices, thinking and content production
Contribute to the survival and development of journalism and the media.
Boost the role journalism plays through equipping learners with innovative news and information delivery packages and tools.
Make learners familiar with practical set up & operation of news & information packages
SME: Optimising your social media strategy

Unlimited

This unit describes how you can grow your brand using social media.
MP: The New Media Thinking

FREE

00:00:00

This is a foundation class for the digital journalism and communication training we offer. Many journalists and media practitioners were trained as print, TV, Radio or internet journalists, but multimedia is about telling stories in more than one medium. Many media practitioners still think reaching people with news and information is either through newspaper, TV, Radio or internet. Today people have a lot of digital tools and platforms from which not only to access, but contribute to and share news and information. Why is it important for journalists and media houses to tell stories or to reach out to people in more than one medium on these digital tools and platforms and what platforms are available to enable this? Appreciate the urgent need for change to utilize new media tools to tell multimedia stories.

MP: Introduction to Multimedia and multimedia story telling

00:00:00

Before you get to the work of shooting and editing and putting your story together, the real work is learning how to identify and pursue a story that is worth your time and the audience's time.

MP: Elements of good Multimedia storytelling

Unlimited

OJ: Writing for the web (What online media and journalists need to be aware of)

Unlimited

The new media revolution has made many to realize the importance of online and mobile platforms of communication. As more and more people go online to meet their news, information and entertainment needs, and many more use mobile phones and other gadgets to access the news and information, it is vital for journalists and all writers to write and package news and information appropriately for online.

OJ: Web design and online publishing – HTML, CSS, PHP, mysql

Unlimited

Learn what makes good web design, how to find good free web themes and templates or paid ones, how to design your own website templates in photoshop.

OJ: How to create and run effective blogs

Unlimited

This units looks at blogs. I gives common characteristics of a blog, explains how blogging became a phenomenon, how to get started with story writing, how to handle comments, and also gieves Blogging Resources.

OJ: New Media Tools and terms

Unlimited

New Media Tools and Terms This is a glossary of the new media tools and terms you need to know to maximize your digital journalism, communications, advertising and online/mobile communications.

DP: Internet search strategies for relevant course content

04:00:00

This Unit teaches us the different roles of the internet

MP: Digital Audio Production and Podcasting

Unlimited

Digital Audio Production and Podcasting. The power of hearing in communication has long been harnessed as a key tool to inform, educate, entertain and influence.

MP: Digital video storytelling with Movie Maker

Unlimited

MP: Digital photography, photo production and sharing

Unlimited

Photos and good photography is key for storytelling and effective communication of messages. Photos do not only show authority, thus boosting the understanding of the message you are pushing across.

TMJ: Multimedia Design including making logos,banners etc

Unlimited

This Unit explains more about multimedia design tools that is Banner Maker Pro and Canva

MP: Tools for multimedia content packaging

Unlimited

There are many freely available tools and and platforms you can use to achieve impressive multimedia content packages, be they news, information, knowledge or data.

TMJ: Internet Security Basics

06:00:00

This unit is about Internet Security Basics

TMJ: Basic Mapping for news and information

04:40:00

This Unit is about Mapping for journalists for new information

MP: Data journalism and Visualization

Unlimited

This unit is about Data journalism and Visualization

VR: Tools for Immersive Storytelling

01:20:00

This unit looks at tools, approaches & techniques that help us create VR content. Here we discuss the main phases of creating a VR project, the tools & skills needed.

TMJ: Maximizing Social media for better news and information delivery

Unlimited

This Unit is about how to maximise social media for better new and information.

TMJ: New Media Revenue Models

Unlimited

This Unit is about New media Revenue models or digital revenue models. They are areas where one can earn from the work they do online.

DP: Search Engine Optimisation

04:00:00

Search engine optimization (SEO) is the process of optimizing your online content so that a search engine shows it as a top result for searches of a certain keyword. SEO is the magic you have to work on your article in order to make Google very likely to include your post as one of the top results whenever someone searches for that keyword.

TMJ: Live reporting and Live Streaming

Unlimited

This Unit is about Live Reporting and Live Streaming.

OJ: Aggregation and curation: two concepts that explain a lot about digital change

Unlimited

This Unit is about Aggregation and content curation.

PJ: Crowdsourcing and crowdsourced journalism

Unlimited

This Unit is about Crowd sourcing and crowd sourced journalism.

TMJ: Media Convergence and new media strategies

Unlimited

This Unit is about Media Convergence